First, a huge thank you to all of my sewing friends who have stopped their lives to make masks. I feel hugely guilty I'm not participating, because, as I explained in the last post, I don't have any materials, my daughter used them all a couple months ago for Australian Marsupial pouches for all of the injured critters in the fires. I'd have to go out to the store to procure supplies and that would really defeat the point of hiding at home. My daughter was able to find a small pack of elastic in the bottom of a craft bin, and used some scraps to make masks for us. She has a fine metal's bench and rolled floral wire for the nose piece.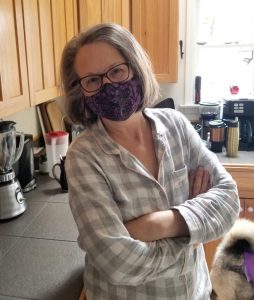 And so I'm working harder than I've ever worked, or so it seems. The big news is I actually managed to, after running a test by a bunch of trusted sewing friends, launch a pattern today. I started with the simplest one I have, to see how this all works. I edited the directions and the intro to the pattern about 19 times. To the point where I just didn't care anymore, which is a dangerous place to be, I can assure you. So for better or for worse, you can purchase the PDF download of my bias top. More patterns to follow.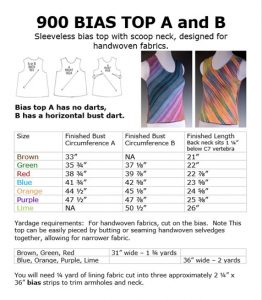 The pattern is available for purchase here, and the directions, which will continue to be free, are now on my website. It is easier there to keep updated. And while I was there, I redid my Extra's page, because the amount of stuff on it was becoming untenable. Found some fun stuff I had forgotten about, like this essay I did on making paperdolls as a kid.
I'm always open to opinions and edits. Obviously the pattern will work for commercial fabrics, but I have always been a handweaver who works with the handwoven community, so yardage requirements are specifically for handweavers. We are working on the 500 vest now, as I write, that's the one with the armhole band. We are into the fourth round of edits.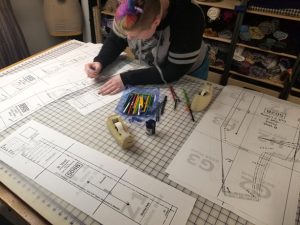 Meanwhile, we are fixing puzzles like crazy, I always have one up in the living room. The latest one, a lovely gift from my sister, is really challenging, I'm sorry to say not my favorite. It is all shades of grey. Dalmatian puppies. Except for a couple little areas with pink feet. I much prefer color. Lots of it.
I finished my dress. This was a challenge as well. Just about everything in my life right now is a challenge, but we weavers are made of stern stuff, and we know how to pick up a shuttle and carry on…
I want to say it takes a village, and after my last blog post, and how I wasn't sure how I felt about the leather, one of my long time friends, Sheila O'Hara, extraordinary weaver who wrote the book on weaving contemporary Jacquard, before digital Jacquard looms became available, casually commented, "Why don't you embroider on the leather?" Yeah, no. Embroidering on leather would be really really challenging, because you can't sew into leather easily, usually it involves pliers. BUT… I could couch yarns, like the kind I wove with… This was a nail biter, I did samples and tests, but small ones, I didn't want to waste the precious leather, and once I started in, there was no going back, you can't rip stitches out of leather because the holes will show. This was quite the nail biter…
I'm so happy with how this turned out. And the closure on the back worked out brilliantly. One of the couched threads as it came off the back neck, I was able to crochet into a loop, and couch it back on to cross the upper back again and end up back at the neckline. Oh, and the dress has pockets!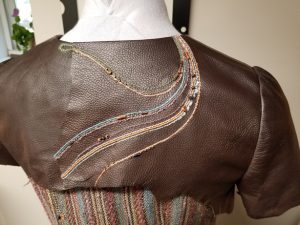 The dress fits like a glove. It actually isn't supposed to, but I'm packing on a little weight here, because all I'm doing is eating and sewing and sitting on my butt by the computer rewriting directions and intros and cover pages. I really have to go back to online yoga, since my local yoga studio is shut down for the quarantine. And stop eating cookies and drinking wine…
And so I was able to cut out the many pieces to make this motorcycle vest in the leftover fabric from the dress and the leftover leather.
I still have almost a full skin and a half to do something fun with.
I'm having fun sitting and sewing, and the 16″ metal separating zipper arrived today from WAWAK.com.
And so dear readers, I hope you stay safe, more than 2300 people have died in NJ, many of them first responders, EMT's, hospital staff, store employees, police officers. I hope where you live it all seems overblown. I can assure you, it isn't here. We are a dense state, and are suffering for it.
Play with yarn, do whatever it takes to be as distracted and productive as you can. I've actually started to pick salads from the garden. There is something renewing about that. Stay off never ending news, it is really really painful. For those of you making masks, I bow down with respect.
Stay tuned…