And here it is July. And no end in sight to the world's catastrophic situation. I'm really sad, because NJ and NY were hit really really hard by the virus back in March-May, and no one listened. I saw friends post things on social media that made it seem as if we were overreacting. They turned it into a political stunt. I almost never ever comment on anything political or otherwise, I'm a moderate, centrist, and each side has a point. The truth is somewhere in the middle. Yet on the spread of Coronavirus, NJ has close to 16,000 dead. And yet the internet is full of people that think this is all a game, a political stunt that will all miraculously disappear in November. There is nothing I can do but stay home, stay masked, and try to do something constructive with my life. At this point, I believe that all of my teaching work for the year has been cancelled. I'm scheduled to start traveling again in January/February with two trips to the West Coast. I have no idea if the world will be safe. I can't even think past this month. This is a true test of living in the moment.
The good news is we are rapidly perfecting the art of remote learning. I've been approached about teaching online, including online guild lectures, trying to wrap my head around what's possible with the equipment I have, because purchasing equipment for streaming is problematic, it just isn't available. I've edited my website offerings to indicate which lectures would work perfectly for remote learning.
Peters Valley has been one of the mainstays of my creative life. A School of Craft in northwest NJ, I've been closely associated with them since the 70's. This year was to be their 50th celebration. That's on hold, but they are hard at work trying to keep the craft community together. Traditionally, each week of instruction at the Valley would be spearheaded by an evening lecture featuring all of the instructors teaching that week, brief presentations in an old church down the road. That has continued, remotely, even though the entire season of workshops has been cancelled. Every Friday night I get to tune in for free and watch 5 fine craft professionals share their work/studios/philosophies/inspiration wherever in the world they are, and they are all over the world, and I get inspired. The series runs through the summer and they are archiving the past Friday night lectures on their You Tube Channel.
Peters Valley, in partnership with the Pike County Library in northeastern PA is also featuring a lecture series, and they actually managed to get a grant to continue that series, which is a more in depth look at an individual craftsman, held every two weeks on a Wednesday night. I was the featured lecturer July 1.
I will say, though I've given this particular lecture many times, and as recently as March for the Portland guild, stood up in front of hundreds of people during a keynote address, I was terrified. I was terrified because this technology scares the heck out of me. Stuff goes wrong. All the time. A typical summer late afternoon thunderstorm can cause the power or the internet to go out and you are screwed. Even a drain on bandwidth can cause the sound and/or video to lag and become unintelligible. And when something goes wrong, I'm so untrained to fix it.
So at the appointed time, even after a rehearsal, I logged in and I have to give credit to my late husband who must have been watching from above, because the thunderstorm headed straight for us split and moved just round my town, all went perfectly, and you can view the archived lecture here.
Meanwhile, my daughter and I are finding our groove so to speak. She is becoming more aware and more involved in running the household. We have a routine with the animals, she monitors the vegetable garden and the ponds, picks up dog poop in the yard, and is happy to do Home Depot, Shoprite, Post Office runs wearing a mask, and grabbing what we need to stay comfortable. We are changing up our routine for eating, she is becoming more involved in meal selection, we cook together, and make enough for multiple meals of leftovers, which is convenient for lunches. My son moved out, found a place of his own, and we are constantly finding things to put in the "give to Eric" box by the door. Last Saturday after being really annoyed by how often she had to rebuild one of the ponds because her four legged child kept chasing frogs right into the pond and completely destroying the plants and the rock wall borders, she went to Home Depot and bought garden fencing and out we went and within a couple of hours we solved the problem. There is nothing like motivation.
And we continue on the current major task of digitizing all of my patterns I use for my classes. The swing coats 300 and 400 were launched a couple weeks ago, and we are finalizing the 600 walking vest as I write. Just waiting on the final edits on the directions. Once the 600 walking vest is released, we only have two more to do, the 800 zippered vest and the 1200 zippered jacket, variations on one another, and I can move on to making support videos. This gift of time has allowed me to do a task that 6 months ago I didn't think would ever be possible. As always, the directions for all of my patterns are available for free here.
The days are quiet and easy (well maybe not so quiet, we have lots of dogs…) and I'm hunkered down and for now I'm safe. I have a beautiful studio, one for weaving, one for sewing, an office with solid equipment (except a working webcam for my desktop, there isn't a Logitech webcam available in this country except for a ridiculous price, I'm looking at you Walmart…) but we are resourceful my daughter and I. We also have a woodworking studio, a metals bench/craftroom, and my daughter has all her knitting machines in her bedroom. We have a craft school right here on the property. All to ourselves. And still, there just aren't enough hours in the day to do all the creative things that make me sing. Oh yeah, and there is music too. A couple of friends, one on recorder and one on cello are coming tonight to sit on the deck, amongst the fairy lights and play a Brandenburg Concerto we have been working on diligently. I'm the other recorder. We keep our distance, drink wine, and play our hearts out. My daughter added fairy lights to the gazebo down the path. My property is magical and this is the first summer since forever I've been able to really enjoy it.
And we always have an ongoing puzzle to make.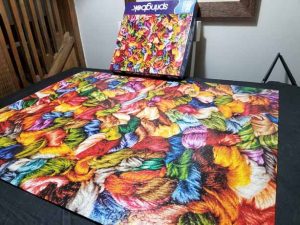 Instead of telling my friends and kids when they leave, "Drive safe", I tell them now, "Wear a mask!". It seems more fitting.
Wear a mask, stay tuned…