My whole family suffers from ADD, and I admit, so do I.  There are lots of pros and cons to this.  We are a bunch of really creative people, who are always inventing new ways to get out of the proverbial box, but living with us is always a challenge.  One of the great features about people with ADD is the ability to hyper focus.  So that's basically what I've been doing morning, noon, and night for the last couple months.  I get into a project, like the web site designs, and I don't come up for air.  So everything around me can get really neglected.  I try to keep up with the laundry and housecleaning, because I, unlike the rest of my family who thrive in clutter, can't stay focused when there is chaos all around me.  But I've put off a lot of little correspondence things, and I had a couple of orders that needed shipping, I promised Tien I'd send her some interfacing samples from my vast stash.  I had some follow-ups, and a huge pile of bills to organize, banking to do, and general desk clean up.  So I took the day to take care of all the stuff that had been piling around me.  It felt really good to do that.  I'm getting to the harder parts on the website, not that they are difficult, they are just frightfully time consuming.  Each lecture and workshop has to be updated, polished, PDF's created, and then pasted and linked into the new site.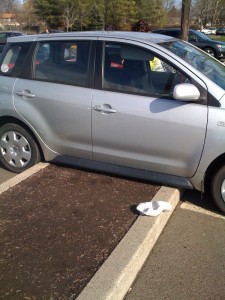 So then there is my creative ADD son.  He got distracted by his friends in the car, leaving the ShopRite parking lot this afternoon, and didn't realize there was a huge curb in front of him?  The photo is of course one of about 200 taken in the parking lot by every cell phone in a 10 mile radius.  The photo is already traveling at breakneck speed through Facebook.  I was afraid to ask how the car got off the strip and into the driveway, fortunately the car was a Scion Xa, and the guys said they just lifted it.  More information than I needed to know.
I will say we laugh a lot in my house.