I hadn't planned on blogging today, I just wanted to curl up in bed, it has been a long weekend, but all the blogs I scrolled through tonight mentioned Mother's Day and I just couldn't let this day go by without a comment!
First, I'd like to think of this as a day to remember all of those who mentored you, who taught you something about life, who were there to bail you out when you needed it the most, and who let you fall and discover on your own what you were made of.  There have been a number of these  amazing women in my life, some were teachers, one was my mother in law, some were friends, one was my editor, and yes, of course, there was and still is my own mom, who I just adore, and owe so much of who I am to her.
And so I am a mother too.  My husband and I married, with the knowledge that most likely we wouldn't be able to have children, I won't go into all the sordid medical issues, largely involving DES, a drug given to pregnant women in the 50's, but we weren't marrying for reasons of procreation, (Bless me Father for I have sinned, I know what I told the priest who married us…) and we had a great life and a lot of fun for 12 years of marriage until one day in my mid 30's, I found myself pregnant.  The doctors were sort of surprised, we were even more surprised, and so unceremoniously began my career as a mother.  Two children later, the rest is history as they say.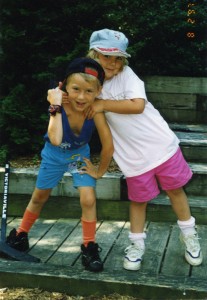 I will be really honest here and say that the baby years were not my favorite.  I had two hyperactive ADHD kids, and they kept me on my toes, and even to this day, their favorite past time with me is to have me recount all the stupid kid tricks they did as toddlers  (and actually not much has changed there, my son is 19 and still doing stupid kid tricks…)
But it was all worth it.  I adore my kids, as teens and young adults, they are really interesting people, with great minds, creative brains, serious ADD, and they keep me laughing and looking foward to whenever they are around.  This is one of my favorite photos of the two of them, my son on the left is three years older than his "little" sister on the right.  This was taken back in 1997.
So today, once I got back from church, dropped my daughter home to help my husband fell the birch tree, (we pulled into the driveway and he was standing there holding the ropes that would guide the tree down, waiting for someone to come home, poor man…) while I took off for Morristown to my recorder rehearsal.  (I play alto recorder for a consort).  When I returned, I went to change my clothes to my gardening attire, and pull my laundry from the washer, I do my things separately in cold water, gentle cycle, and mostly hang my clothes to dry.  To my complete horror, there was some serious laundry things happening in my laundry area (which is off the master bedroom ), my son decided that his basement lair needed a massive clean up, school was almost out and most of his friends would be returning from college and there would be some serious partying to do, so he kindly put all my clothes in the dryer, on a temperature that wasn't good for my clothes, fortunately I only lost one sweater, actually two, but since the second one is one of my favorites, and brand new, I'm not ready yet to call it a loss, even though it is now two sizes too small….  Mother's Day didn't start out well.  Poor kid, he was only trying to help…
Anyway, my daughter gave me cards, chocolate, my son flowers, and a gift card from Bath and Body Works, of course in my son's case, it was my credit card that paid for the gifts since he isn't working at the moment.  But it was a sweet thought, and they both remembered, and made a big deal out of it, and the cards were pretty funny.  So my son cleaned his room.  That was an amazing Mother's Day gift!
I spent the entire afternoon in the garden with my husband, planting the haul from yesterday's blog.  We found the perfect locations for everything, including what will be an 80 ft. Sequoia, and the sun was warm, and the air fragrant, and the ponds gurgling, and the wildlife everywhere, life doesn't get any better than this.  Chipmonks scampered, birds twittered and sang and flew all around the yard, a fat groundhog happily munched on the helicopter pods from the maple tree, and I plotted how to rid my yard of said fat groundhog so he would stop maurading my vegetable garden.  Not one pea plant managed to grow this year, he bit them right off.  I wish I knew how he managed to get into the fenced garden…
Anyway, dinner was courtesy of my free Stouffer's Lasagna, which I get every Easter from my Shoprite instead of a ham.  I popped it in the oven, went back out to work, and it was ready to eat in two hours.  Add a salad and it was the perfect Mother's Day dinner…  I did almost zero work on it!
So, tomorrow I get back to work.  I have to ship my gown to the Surface Design Fashion Show in Kansas City, and tackle the back log that seemed to propagate in the studio while I was playing in a workshop the end of last week…