Huge apologies right up front. I have never posted two blog posts back to back in the same weekend. Yesterday's blog was a story of triumph, but there was lots more to tell on my week of extreme productivity. So indulge me this one…
I worked hard to get all of my floor looms filled with something interesting for the virtual HGA studio tour that we filmed back on October 8th. That meant that every loom had something going on, and my daughter, who is madly prepping for this lecture next week, needed a floor loom or two to be empty, and I've got ideas of what I want to put on a loom that isn't available.
So the only thing to do, is to just weave. I had a couple cranky mishaps with a couple of looms, parts get old and worn, especially cords, and I'll need to do a bit of repair work, or had to repair in the middle of a large piece of yardage, when the front crank broke in two in my hand…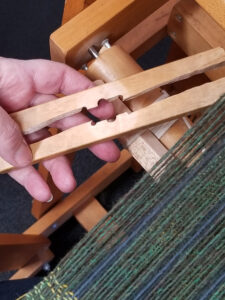 Despite roadblocks, I managed on Monday to clear one of the 4 shaft floor looms, of yardage that has been there for a couple of years. It was a welcome site when the knots came over the back beam!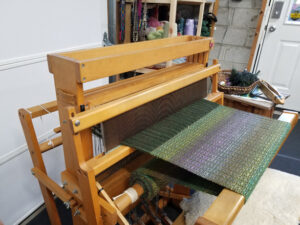 I pulled 7 yards off the loom, and popped that baby in the washer.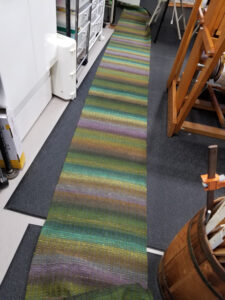 The end result is really pretty. A flower garden. I have ideas for the yardage, but nothing set in stone.
In case you want the details, I wrote up the yarns and the draft back in a post in January of 2019, scroll way down to find the information here…
So Tuesday I had to set up a complicated Zoom class, which I was to give that night, the night of the election here in the states, for a group in Toronto. I spent the morning getting the camera and lighting right for the live demo on the loom. The topic was "doup leno", a structure I wrote about in a lengthy article for Heddlecraft Jan/Feb 2019 I believe.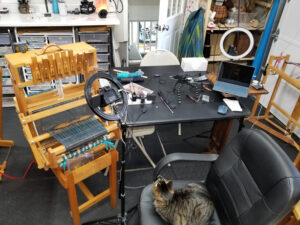 Once I was set up, I decided to kill a few hours until showtime, by weaving on another floor loom. And pretty soon, the knots were up and over the back.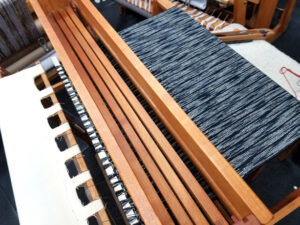 This yardage was one of the ones I put on the loom to play around with one of the new yarns from Silk City Fibers. I combined the Nile cotton tape with their traditional Skinny Majesty Variegated, in a simple plain weave. And after some extensive testing, which I talked about in an earlier post, I ended up using Silk City Fiber's Deluxe Wool Crepe. Which is Merino and rayon. This is my new favorite weft. Highly recommend. I can't wait to do something with this fabric. It feels amazing and the wool crepe weft keeps the rayon in check.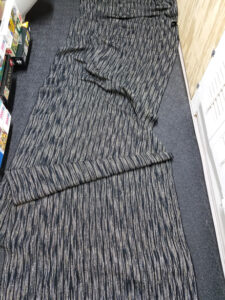 Anyway, because the yarns came from Silk City Fibers, I wrote up the specs and the draft for what I'm calling Antique Jewels and it is available in my eShop for free. Click here.
Wednesday was a tough day. I had to teach again in the morning, after a very successful, at least I thought so, class Tuesday night. Because no results were declared Tuesday night, and I didn't expect them to be, I didn't sleep all night, and I suspect neither did most people in the US. So bleary eyed I logged onto my class Wednesday morning, and I believe all went well, and this time no landscape crew came by to blow my leaves like the class the week before. Wednesday night was my guild meeting and we had a terrific program with an old weaving friend of mine, Sheila O'Hara. I'm blown away by how easy it is to bring a guest speaker from 3000 miles away for an evening lecture. She was fantastic. We are only about a year apart in age, and studied the fiber arts in college about the same time in the 70's, it is amazing how different our paths took as weavers. She was one of the first to truly embrace Jacquard weaving.
So Thursday, prior to the debacle I covered in yesterday's post , I managed to clear yet another loom. This one was also the result of a challenge with yarns from Silk City Fibers. An odd combination, but I took their new poofy Cotton Bambu, and combined it in a light/dark 8 shaft shadow weave with their old standby chenille, in a variegated color. The two worked perfectly together, and I soon had the knots over the back beam as well.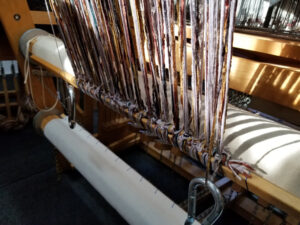 The fabric was a bit coarse when I pulled it off the loom, kind of what you would make a carpet bag from, but never the less, I went to the washing machine and tossed it all in.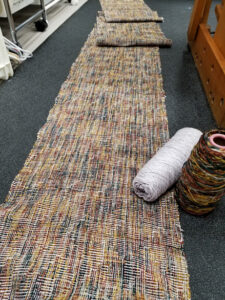 What came out is the most gorgeous, glorious fabric you've ever felt. Cotton Bambu doesn't have any body weight behind it, but in this context it became gorgeously flexible and mixed with the velvety feel of the chenille, I can't wait to weave more in a larger piece of yardage. I wrote up the specs for this fabric as well, which I call Shadow Tapestry, and again, the PDF download with the draft is free. You can find it here.
I'm off to the studio to weave another scarf on one of the other floor looms, and then do stupid stuff like clean my bedroom and bath, annoying Sunday chores, though I can't wait to remake the bed with the new sheets I just got from LL Bean. Portuguese organic cotton flannel. Looking forward to a good night sleep tonight. I had a set from the last couple of years, but when I went to change my sheets with the change of season, from linen to cotton flannel, I discovered that my daughter had swiped them. They were on her bed. So shopping I went for another set!
Stay safe everyone, one of my closest friends was just diagnosed with Covid. These are scary times… Stay tuned…