I'm in the final prep stages for my fall teaching extravaganza, I'll be bouncing all over the country for the next couple of months, with sometimes only 48 hours to change suitcases and head out again. I'd like to think I've got this, and having an assistant has really helped me stay on task and focused.
I've spent the last week redoing all of the handouts I'll be using, increasing font size, rewording things that could be worded more clearly, I do this kind of regularly, but this revamp involves hundreds of slides and there are days I'm completely cross eyed. Cynthia and I laugh when we do really stupid stuff and can't remember where we were and what we were working on. I'll apologize in advance for any minor mistakes in the rewrites because, well, you know that's going to happen. No matter how many times you proof something…
I had cut out a spread in the NY Times a while ago, and pinned it to my bulletin board in the mud room, of a couple exhibits I really wanted to see. At the time, I thought, no problem, they are in NYC and I should be able to skip in this summer. Hahahahahah…..
I revisited that article, and to my horror, one of the exhibits I wanted to see was closing on the 3rd of September. I'm leaving on the 25th for Harrisville, coming back Labor Day weekend, have to immediately drive to Peters Valley to pick up my piece in the faculty show on the 3rd, and then ship it out to Blue Ridge Fiber Show by the 4th. I'm not going to get into the city to see anything if I keep on this path.
I woke up this morning to a rainy dreary Sunday, all set to jump back into handout edits and I thought to myself, just get in the car and drive into NYC and see the damn shows already. Just do it.
And so I did.
In fact, I hit four museums and was home by 2pm, knocking off a number of exhibits that had been on my list. Driving into NYC on a Sunday morning is actually pleasant, the GW Bridge is beautiful and majestic and the Henry Hudson Parkway that follows the river south is dreamy with joggers running along the river on a Sunday morning, so NYC. I parked under the Metropolitan Museum of Art, which put me in walking distance range of three of the museums with exhibits I wanted to see.
First stop was the MET Breuer. There was an exhibit I had read about called Obsession: Nudes by Klimt, Schiele, and Picasso from the Thayer Collection. These were mostly drawings and sketches, little known works from these artists, and rarely exhibited for a number of reasons. But it is the 100th anniversary of the death of both Klimt, whom everyone knows, and Egon Schiele, whom almost on one knows, but is one of my most favorite artists. And of course Picasso. You can't take photos of course, but I've gotten into the curiosity of well known artists' sketch books, considering my own quest to draw daily (which I of course have not done, no surprise there) and it was a pleasure to look at these sketches and see the raw talent each of these artists possessed. I actually hadn't been to the MET Breuer, since the MET took over the building vacated by the Whitney Museum when it moved to the Meat Packing district in lower Manhattan. I don't know why, but more contemporary art, which it mostly houses, doesn't appeal to me the way classic work does. The original MET Fifth Avenue is still my favorite place in the world to spend an afternoon.
Anyway, I walked about 10 blocks north to the Neue Galerie, Museum for German and Austrian Art. The gallery is best known for its acquisition of Klimt's portrait of Adele Block-Bauer I, known as the Woman in Gold. They were also having a centenary exhibition of Gustav Klimt and Egon Schiele's work, because they have a heavy collection of both artist's work, and both artists died 100 years ago this year. Schiele died at only 28 of the Spanish Flu. Klimt was his mentor, and he left an impressive body of work for his short life. His portraiture was erotic, raw, graphic and I fell in love with it the first time I heard about him. And I even love his landscapes. Since I'd been to that museum before I'd already seen many of the pieces and I was in and out of there pretty quickly.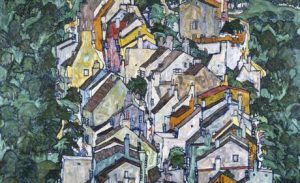 I walked back to the MET 5th Avenue, and decided to pop in and give another once over, as long as I was there, to the exhibit Heavenly Bodies: Fashion and the Catholic Imagination. This has to be one of the best fashion exhibits they have ever done. And it ends October 8th. When I went when the exhibit opened in May, it was super crowded and difficult to navigate, but the brilliance of it all was to incorporate fashion into galleries that the public doesn't usually visit. There were exquisite fashions placed strategically all over the medieval wing, you had to look up sometimes and and of course bump into people trying to capture everything on their tablets. The background sound track was haunting and I did a quick cruise around before checking on a couple other exhibits that were on my list.
One was a pretty obscure little exhibit, in a pretty obscure gallery, in the basement, called "The Secret Life of Textiles: The Milton Sonday Archive." So this guy Milton Sonday was a pretty big authority on the structures of handmade fabrics, particularly woven works and lace. And I'm into weaving and lace. Apparently he created little looms and paper weavings to illustrate basic structures, and large scale lace fragments to show the interlacement or path of the threads in bobbin lace. I didn't take any photos, silly me, except this one which I absolutely adored.
Last spring I did a research piece for a recorder group I occasionally play with, on the works of Pieter Bruegel the Elder, a Flemish painter, juxtaposed to musical works by Susato, who lived and worked at the same time as Bruegel in Antwerp. Both lived and worked in the early part of the 17th century. In my research I came across Bruegel's mentor, Pieter Coecke van Aelst, a painter of considerable merit, but not one I knew. So I was completely enchanted with this work that hung over a display case of paper woven works.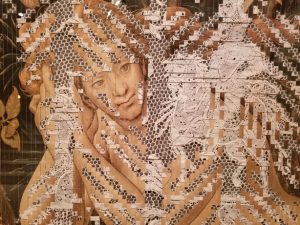 The piece is called "Interlace after Pieter Coecke van Aelst and an anonymous lace designer, 2015. It is woven completely of paper strips.
I went from that basement gallery to the second floor of the MET, the ultimate treasure hunt to navigate this monster of a museum, to an exhibit of drawings of Eugène Delacroix. Again with the sketch book. Small treasures that show skill and yet the beginnings of something wonderful with no regard to the end product. I took a single photo here, of a lovely simple watercolor and pencil that is the kind of thing I'd like to see in my own sketch book, simple rendering of a lovely scene, captured quickly. This piece was the size of a post card and still in the opened sketchbook.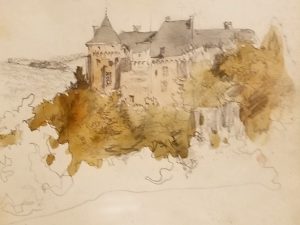 I got back to my car, and decided that if I didn't head up to the Cloisters and see the second part of Heavenly Bodies, I'd never get to see it, as it also closes October 8th and I'll be traveling most of September. The Cloisters is about 15 minutes up the parkway, only a few minutes from the GW Bridge, which I had to cross anyway to get back to Jersey. I love the Cloisters, it is part of the MET Museum, and though I've been there many times, I had never seen the cloistered area gardens because I always seem to get there in the winter. Usually for a concert or something.
So just seeing those lovely wild gardens was a treat. Made me want to sit and paint.
And the Heavenly Bodies exhibit continued. I have to say, this was even better than the first part at the MET 5th Avenue. Everywhere you looked, contemporary fashion was hidden in a way that you totally believed it was there all along. I actually did take a couple photos, since they were allowed, and this one, though not my favorite garment, looked amazing in one of my favorite galleries that houses the famed Unicorn Tapestries. This is a Thom Browne wedding ensemble from the Spring/Summer 2018 collection in white silk organza with white mink.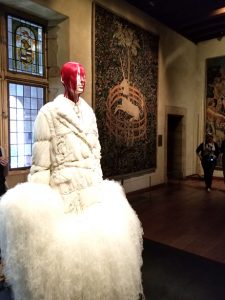 I came into this chapel, and audibly gasped. Ave Maria was playing over the sound system and I just stood there with my jaw dropped. This wedding dress from the House of Dior from 2018 was apparently modeled after the original design from 1961. It is also white silk organza.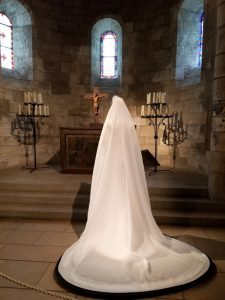 And then I came upon these lovely pieces, there were about six in the collection, set up in a stone hallway that led to yet another outdoor cloistered area.
They were a series of ensembles from 2015 by Jun Takahasi for Undercover. I was not familiar with his work. But I was very familiar with the images printed on the fabrics, they are digital prints from Hieronymous Bosch's triptych The Garden of Earthly Delights. I studied Early Netherlandish painting quite extensively back in the 70's as part of my Fine Arts Degree, and this artist was front and center. He died shortly before Pieter Bruegel the Elder was born, and his work heavily influenced Bruegel. Bosch was a whack job, his images were all over the place, haunting, erotic, grotesque, but the kind of imagery you can't look away from. As a 20 something, I found a kind of naughty pleasure in his work. This is the triptych, it starts with the Garden of Eden on the left, and a grotesque hell on the right. A total expose on the fate of humanity, we are all doomed…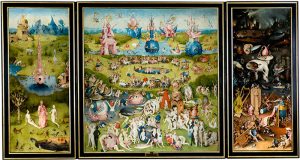 I was pretty proud of myself for achieving the Triple Play, all three MET museums in one day.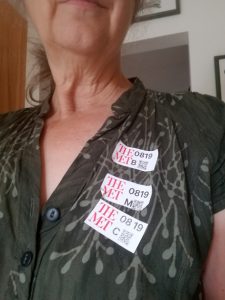 And so I had my fill of inspiration, that should last for a number of months. I will be packing of course my knitting and my sketchbook and pencils and watercolors, and armed with newly updated handouts, and some new patterns and samples, I start with Harrisville in NH next weekend, followed by a five day class in Inkle Weaving at John C Campbell in western NC, immediately followed by Sievers on Washington Island WI. That's the 48 hour turn around. I'm going to try not to unpack after Harrisville. I immediately head to Arkansas and the Ozarks followed by three days of video shoots for Threads Magazine and then my retreat at the Outer Banks of NC. My guild show and sale is in November (I'm the treasurer) and I end the year in December with a trip to the Milwaukee Guild. And then I write an article for Heddlecraft. I do love my life, and I especially love when I can spend an unexpected day getting inspired. I'm madly trying to finish off this Krokbragd band on the inkle loom, so I can take it as a sample to John C. Campbell, and of course my shadow has returned, now that my daughter has moved back home to take a new job in central Jersey.
And about that daily sketching thing…
I did manage to finish up a drawing I did of the kitchen, that I started while I was at Peters Valley teaching a couple weeks ago.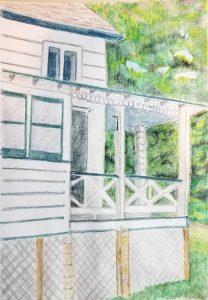 But now I'm inspired to draw people. I know my portfolio of life drawing subjects from the 70's is floating around the attic somewhere…
Stay tuned…