OK, I'm really really tired.  I'm not even sure I can write with any clarity at all.  Yet I'm almost too tired to even sleep…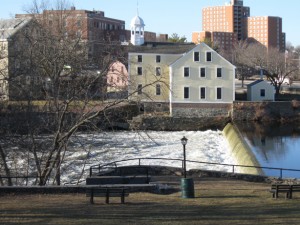 The weekend was wonderful.  I taught one of my favorite classes, on color and inspiration, and the location was so appropriate and so special.  I gave two workshops to the Weavers Guild of Rhode Island.  I've taught for them before, and was thrilled to see so many old friends.  The guild has moved to new quarters since I've taught there, in the most wonderful of all places, considered the birthplace of the Industrial Revolution, the beautifully restored Slater Mill in Pawtucket, RI.
"…in 1793, when Samuel Slater, an immigrant, built the first successful water powered, cotton spinning mill in North America on the banks of the Blackstone River at Pawtucket village, with the talents of local artisans and the entrepreneurial verve of Moses Brown."
The Slater Mill is now home to many of the area fiber guilds, and the space was so filled with history, wall murals, and ghosts of young women who worked so hard to build American industry.  I felt privileged and proud to be teaching there.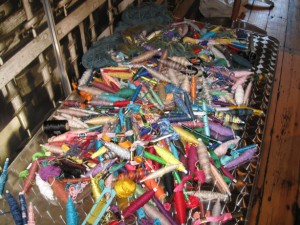 Saturday's class was on Color and Inspiration, and after throwing out some yarn, the participants did some fun exercises, ending up with beautiful warps inspired by magazine pages.
I keeping this blog unusually short, since I'm completely brain dead.  I have only three days to get ready before I head out again to Missouri, and I spent all day today at the Frances Irwin Guild meeting listening to an amazing program with Hitoshi Ujiie, who is the Director of the Philadelphia University Center for Excellence of Digital Inkjet Printing for Textiles.  Hitoshi gave a program called Digital Printing on Textiles, and he brought the prototype for a new digital printing system available for the consumer from Epson, after April 1st.  How funny that I should be in Rhode Island yesterday, in the birthplace of the Industrial Revolution, and be in western NJ today, listening to a presentation about the future of digital textile printing.
So, enjoy the photos of some of the participants warp wraps and the photos that inspired them.