Once again, I'm prepping for my next trip, if it is fall, I'm probably somewhere. This fall I'll be bouncing from NH to WA to WI to NC and points in between. To say I feel like a bit of a yo-yo would be putting it mildly. I have so loved having these last four weeks to myself, to be busy and productive and unencumbered by house stuff and contractors and children. My only issue if you will, is that my beloved Ranger is mad at me because I'm holed up in the studio most days and he has taken to lifting his leg around the house and marking his displeasure. I know he needs to be neutered, but the breeder wants to breed him once more and she owns those rights. So I have to put up with a dog who is pissed at me and give him as much me time as I can. And I have discovered what a black light can uncover…
Meanwhile, I have been working fast and furiously on updating a couple of my class patterns with details that have been requested and were sort of at the bottom of my very lengthy to-do list. I took advantage of some uninterrupted time and really dove in. Drafting a small detail like a hood on my tunic pattern is more complicated than it seems. Drafting the hood was nothing. I did that in about 15 minutes. Then comes drafting all the sizes. And while I was at it, I've had requests for more of a drop shoulder, common on men's shirts, so I redrafted the tunic body as well with that option. Then I had to test it. I did it in a sheet first, and made it to fit my daughter, who is quite a different body than me, and a lot younger, apparently having a hood on everything is popular among millennials. She loved it.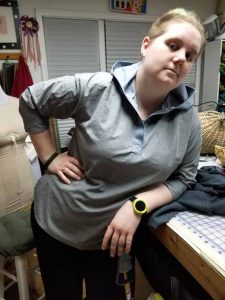 Then I tested it on a version to fit me, with the drop shoulder, in a lovely wool I had in my stash, and I have to admit, I would wear that…
Once I know it is correct, then comes the fun part, not only do I have to copy all the patterns multiple times, but I have to design cover sheets for the pattern and redraw the handout. That meant another dozen or so illustrations, and then once the handout is reworked, converting the whole thing to PDF and uploading to my shop so students who want the directions for the pattern they have traced, can always have the latest version. If you have already bought a version of one of my pattern directions, you should be able to click on the link you were sent and download the latest version. It is free, and available here, but of course, you have to take my class to get the pattern. Please don't write me nasty letters about me not offering the patterns for sale. Know that I want to, and that I haven't had the time or expertise to do that conversion, but it is in the works. I just need to hire someone… More about that later…
And while I was on a roll, I went ahead and drafted the pattern for the combined jacket and collared vest. I had made this jacket a couple years ago, by combining two of my class patterns and a number of students jumped on it, but I had to physically help them do the conversion and there were of course no directions. So on my list was "draft Noro jacket pattern and write directions." Here is the original jacket, woven with Noro Toiyo Lace in the weft.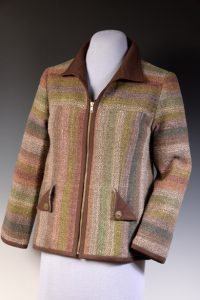 I managed that last week, making copies of the patterns on Monday and writing directions, which I will say I do enjoy, and I love making those little illustrations, but my eyes were bleary and my brain was fogged by the time I got the proofed version. And there is no telling that I got it 100%. Just today I got a lovely note from one of my students who had downloaded my directions for the bias top she had traced in a class. I had added a swing dress to the pattern, and built a handout. I apparently left out a couple of critical steps, oops, she figured it out, but wrote to tell me. So this afternoon, I edited that, reprinted all the incorrect pages for the handouts I prepared for Harrisville next week, and updated the store file here…
Here is the test version of the collared jacket with zipper. This is a lovely woven wool that I bought from Mood fabrics many years ago. It worked out perfectly for this jacket. The directions are here.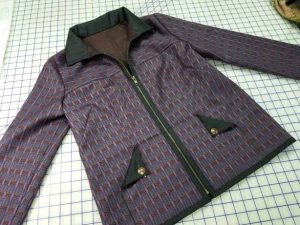 I snuck away this weekend back to Peters Valley to take a class, something I promised myself I would do every summer. Sharron Parker is a wonderful feltmaker, and I had the privilege of rooming with her when I traveled to Cuba back in 2018. When I saw she was teaching at the Valley, I jumped on it. It was terrific fun. I have done a fair amount of felting in my day, but I'd rather thread 1400 ends on a loom than do the physical effort it takes to roll felted fabric. So I assumed I'd be quite sore by the end of the three day class.
Sharon actually had a lovely plan for helping get from point A to point B, the class was mixed levels and everyone had fun playing along. First we made geodes and cut them apart.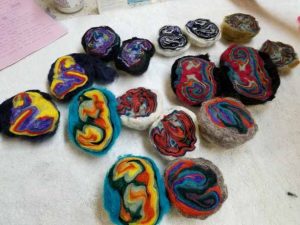 By slicing them further, and laying them on stacked batts, and further felting them into the batts, we made some lovely designs. The geodes did all the work. Later Saturday night I used my sewing machine back in the studio to outline parts and my needle felting machine to make certain areas more secure and flatter. I can still go back and do more work, something to look forward to…
She gave us each a page from a Wolf Kahn calendar, and told us to try to replicate the colors by blending, either with a drum carder or hand cards. I really worked at this to see how closely I could replicate it. I'm pretty happy with how close I came…
And then with another half dozen ideas for directions to go, I spent all of Sunday playing with wool and hot soapy water. I made a small stacked batt piece, and instead of slicing linear like I usually do, I cut into it horizontally and vertically, and loved the effect. I made a second batt, this one much thicker and more colorful, but I'm so in love with the surface I'm not ready to cut into it yet.
The scraps from cutting out the piece above got felted into a lovely work, because with wool, you don't have to waste anything…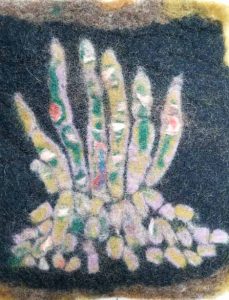 Meanwhile, I watched my daughter in action as the fibers assistant for the class. She didn't disappoint. Felted unicorn horn and matching ears…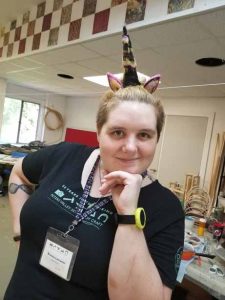 She has been up at Peters Valley all summer as the fibers assistant, and has been exposed to so much, but when I taught my yardage class up there three weeks ago, she had signed up to take a metals class working with tin cans way back in January so was unavailable to help me. Let me just say that I completely get it when she says after each class that the teacher wants to adopt her. And lucky me, I get first dibs and have made the decision over the last couple of weeks that I do need help taking my own business where I want it to go, especially after losing my beloved Cynthia who moved to southern NJ. My daughter is really really good. Of course if you have followed my blog regularly over the last ten years, you'd know that. There is a lot for us to work out, especially with the financial arrangements, and the thought that I'm taking on the responsibility for an employee and that she is related to me. Like today, when I was training her (she is between classes at the Valley and came home to help with the final prep for Harrisville), on how to create the composite handouts and upload to the eShop, she kept rolling her eyes and saying, MUTH-ER… I'm a millennial and I know my way around a computer…
One of the jobs I gave her today besides binding all the handouts, was to relabel all the Texturized Weft interfacing I sell, because when I bought another 400 yards, I got caught in the trade war with China and had to pay an additional 30% tariff on the two rolls. I knew the company who designed it was French, but the fabric actually is made now in China. Sigh… Anyway, I needed her to cut more of the Fusi Knit, and package and label, and handling 200 yard rolls x 60″ wide interfacing is brutal. Those things must weight 70 pounds. She did about two packages and said, I have an idea and she disappeared…
She returned with a bunch of poles and connections from my old craft fair booth, which we keep in old ski bags in the garage because well, you never know what fun things you can do with poles and connectors. She rigged up this…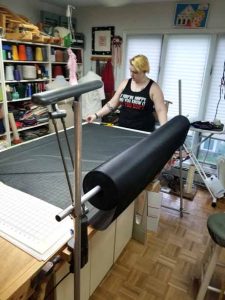 And then after cutting another package, she disappeared again and came back with more poles, because she wanted an underneath support, so came up with version 2.0…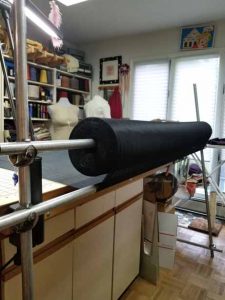 This is why I need to hire my millennial daughter, who is as bright as her late father, and needs to be in a position to grow her own brand and develop her own life as an artist and develop her own workshops and seminars and I wouldn't be who I am today without the support of my late husband, and I feel like I owe that to her, she is talented and really really good. And I've already downloaded the classes for her to learn Adobe Illustrator which will allow her to convert my patterns, once scanned into vector drawings… Stay tuned for that…
And I'm even managed to do some weaving. The towels are progressing, and I love this pattern, from Webs, their Kaleidoscope towels, because you can change the weft and get all sorts of different effects. I think I've completed seven so far, on a 14 yard warp.
And I finally got the Retro Palette scarves up and running. I love the subtle coloring of this one, and I got to play with my new toy. Peters Valley had one of these and I immediately ordered it. It is a large lit magnifying glass that really helps for tasks like threading and in this case hemstitching on the loom. I want one in every room…
And because I desperately wanted to squeeze in one more thing, I made a padded bag from the leftovers from a towel run I did a few years ago. The last bit wasn't big enough for a full towel, and the guild show and sale is coming in a couple months, and I have a lot of scrap to get creative with…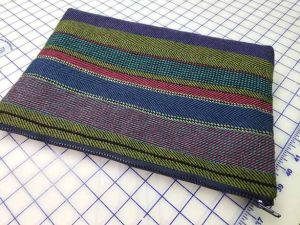 Stay tuned…