I have a great story to share, one of those "Small World" stories, one where I have been waiting for a final chapter for many years, and now I can put some closure on it.
So here is the set-up.  One of my favorite seminar/lectures I give,  is one I do on finishing fabric, and selection of setts, for handwoven yardage, which is quite a bit different than the sett you would chose for a hand-woven scarf. (For the non weavers reading this, sett is how many threads you put together in one inch).  I love this lecture for two reasons, one, it involves a whole pile of touchy-feely samples, lots of before and after, as in a) straight from the loom, b) gently washed in the bathroom sink and air dried, and c) thrown in the washer and dryer along with the regular laundry.  The other reason I love this lecture, is the look on the participant's faces when they see how the washer and/or dryer can be a fabulous part of the design team.  Most handweavers lack the courage to plunge their yardage, into the washing machine, and then throw it in the dryer, thinking it will produce a mess, or cardboard.  This is one place where sampling is a fantastic and absolutely essential idea.  Sharon Alderman, author of Mastering Weave Structures from Interweave Press,  wandered into my classroom during one of the breaks and happily added her support of "It isn't finished until it has been washed"!
But that isn't the actual story.  A number of years ago, I was giving the lecture at a conference, the name of which escapes me.  It may have been 2001, at a conference called Creative Strands, a small venue in the mid-atlantic region, which was held at Bucknell College in PA.  Anyway, I do know the conference where I gave this lecture was somewhere in the north east, I can picture the classroom, but not much else.
I gave this lecture, on finishing your handwoven fabric, and after the lecture, one of the participants handed me a lovely, drapey piece of yardage, which she said, after listening to my lecture, wasn't finished properly, sett properly, or was even pretty.  I didn't agree about the pretty part, I loved the combination of aqua, plum and brown, and the gorgeous collection of knitting yarns that were used for the weaving.  It was at least three yards of fabric as I recall, and the participant, (whose name escaped me shortly after the conference and I've been wracking my brain ever since to remember), didn't want the fabric anymore, and insisted that I take it.  Not one to ever pass up a free addition to the stash, and very confident that this fabric would really be great once I washed it aggressively, I agreed to take it off her hands.  I assumed that the workshop participant was actually the weaver.  Little did I know…
So after I returned from this conference, many years ago, I washed and dried the yardage, as I normally would, seven times.  Nothing happened.  Which led me to finally realize that the yarns were mostly acrylic, and no amount of washing and drying would change the ultimate structure of the yarn.  So I was left with a lovely, poorly sett fabric, for garments purposes, it would have been great for a scarf.  Which means, we go onto plan B.
Plan B would probably require fusing something onto the back of the fabric, like Fusi-Knit or a Texturized Weft product, and then the yardage would be fine for a jacket or vest.  There probably wasn't enough fabric for a jacket, but all the fall fashion catalogs were showing the cutest tweed skirts with just fringe on the bottom.  My rule for handwoven yardage, is it must be stable enough to support the construction details for the garment design I have selected.  If it isn't, then I support it in some way, like a fusible interfacing, or possibly the Chanel method of mounting the fabric directly onto the lining with rows of machine stitching, which I outline in my book on Seams and Edge Finishings.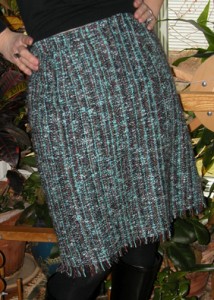 So what if the garment I am making has little in the way of construction details?  What if I made one of those cute little tweed skirts, and interfaced the waistband, and then just let the skirt hang from the waistband, with fringe on the bottom?  I had just enough fabric for this adventure, and I decided that this piece of donated fabric would become a skirt.
I made the skirt up, and put in a drop lining.  I have worn the skirt for years, it is one of my favorites, still in style, with black tights and black boots, it fits neatly in my suitcase, and I just love it.  I always get compliments, even after all these years.  and the sett has held beautifully, no sagging, and I'm thrilled to have been the recipient of the yardage.
So fast forward to the second day of my three day jacket class at the conference last week in California.  I am giving this lecture to my students, and as I tell this story, and pass around the fabric sample I keep in my bag, one of the participants gets the oddest look on her face.  She holds onto the fabric, studying each of the little visible warp threads, and suddenly says to the class, in a sort of embarrassed way, "I think I wove this fabric!".  We were all sort of speechless, and then once I recovered, trying to figure out how the fabric got from this student in California to a conference in the north east, we started putting together the puzzle pieces.  Some are still missing, because it wasn't Patricia Martin, my student in the California workshop, who originally gave me the fabric.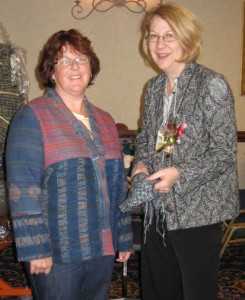 Apparently she wove a lot of yardage like this about 15 years ago.  A prolific weaver, Patricia has a great eye, and churns out work effortlessly.  This particular yardage, which she became increasingly confident she had woven because she recognized all of the warps used, some were still on her shelf, was one she didn't particularly like once she was finished with it, and passed it on to some unknown person in some unknown situation, maybe at a guild swap.  How it traveled across the country is still a mystery.
So, I am really thrilled to include Patricia Martin in this blog, she shouldn't be embarrassed, we all have things we aren't particularly drawn to, even after we make them, but that doesn't mean they aren't wonderful and someone else may think it is the greatest thing since sliced bread.  My only regret is I didn't weave this, because it is actually one of my favorite pieces of yardage, and one of my favorite skirts to wear.
Take a good look at the jacket that Patricia is wearing in the photo.  Patricia brought to class, three small cuts of handwoven yardage, some with additional shibori dyeing, none of which were enough to make a jacket by themselves, but with a lot of patience, and some creative cutting and piecing, Patricia combined all three pieces of yardage into one wonderful jacket.  There are still a lot of pins holding it together, but she looks terrific, and it gets the gold star for being one of the more creative jackets made in one of my classes.
So I've now discovered the original weaver for my skirt.  I couldn't have been happier.  I am wearing the skirt as I write.  Thank you Patricia, for taking the class, and being a great handweaver, and generously allowing me to tell the story!