It is rare that I write posts back to back, most subscribers don't want me filling up their inboxes with emails about a new blog post. But I'm on a role, and it is important to me to document this moment, with all the looms in my possession warped. It is a ridiculous amount of looms, I admit, but I've been asked if I had to downsize, which one would I pick. I can't answer that. Each loom has a purpose. Until I have to move, or can't weave anymore, they are all staying as a happy family. After my husband died, I went through a brief period of really evaluating all of my fiber holdings, especially since I am an educator and have 15 of everything, 15 drop spindles, 15 dog slickers for hand carding locks, 15 small frame looms, 15 inkle looms, etc. My daughter who caught me contemplating this, declared that I couldn't get rid of anything because well, it would all be hers when I die. Did I mention she holds on to stuff like her father? With that idea of downsizing nixed, I just began to add to the mix when the opportunity presented itself.
So to continue the loom inventory from yesterday's post, here are the main table looms. Starting with the Tools of the Trade looms, all are 25″ wide except this one, which is only 16″ wide and an 8 shaft. I really love Tools of the Trade table looms, they fold for easy transport, are quite sturdy, have metal gears, and the back of the loom drops away with the removal of two bolts making threading a dream.
This 16″ loom I found on eBay, years ago, and had shipped from maybe the Chicago area. I'm bad at keeping the provenance of my used looms. The outside castle frame turns out was a bit bowed, and shafts would slip out of the tracks, but I moistened the wood and put a huge pipe clamp on the side walls of the loom and that stayed on like a brace for a couple of years. It is fine now. Looms for the most part are pretty indestructible, though truth be told I've seen some pretty horrific mistreatment. Anyway, its name is "EMH" (from Star Trek Voyager, meaning Emergency Medical Hologram). I probably wouldn't have picked that name, but my daughter loves to print labels, and is a Trekkie, so it is a magical combination. I don't interfere. On it is a four shaft Doup Leno spread over 8 shafts. I use it when I'm demoing for an online class. The yarn is all handdyed cashmere I think, there was no label on it, but it is buttery soft, and took the acid dye well. Once the tension is released, it should collapse into a soft airy scarf. I think this will be one of my priorities to clear. I wrote a Heddlecraft issue on the subject of Doup Leno, issue #19.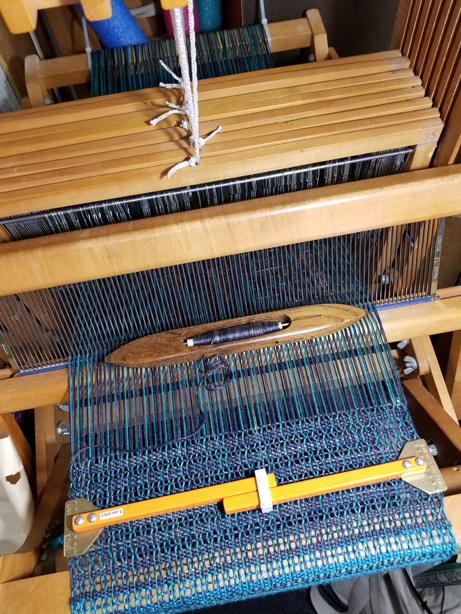 Next to it is also an 8 shaft, but this one is 25″ wide. I remember buying this from my guild, because no one liked the loom, they thought it was heavy and awkward. My guild, Jockey Hollow Weavers, has loaner looms available and no one was using it, so they offered it to me and I paid a chunk of money to have another 8 shaft loom. It is precisely why I liked the loom so much, it is heavy and therefore sturdy. I can tighten that warp as dense as I want. This loom is named "Chakotay" (Star Trek Voyager) and on it is a Bateman Blend, #110, which I set up for the issue I wrote for Heddlecraft Magazine, issue #38, on combination weaves. I sampled, cut it off and washed it, photographed it for the magazine, and started weaving again. I don't remember how many yards I put on, it is slow weaving, but beautiful cloth.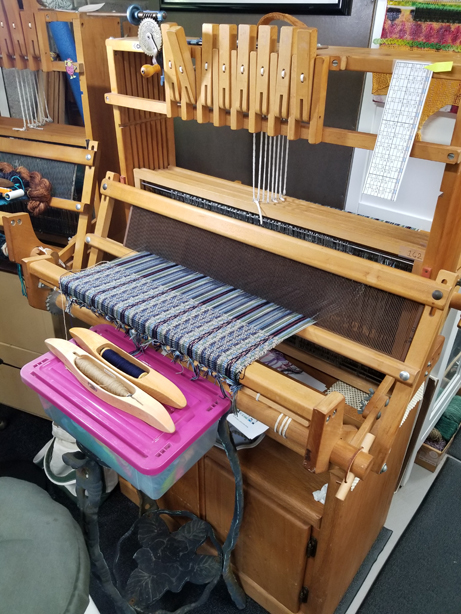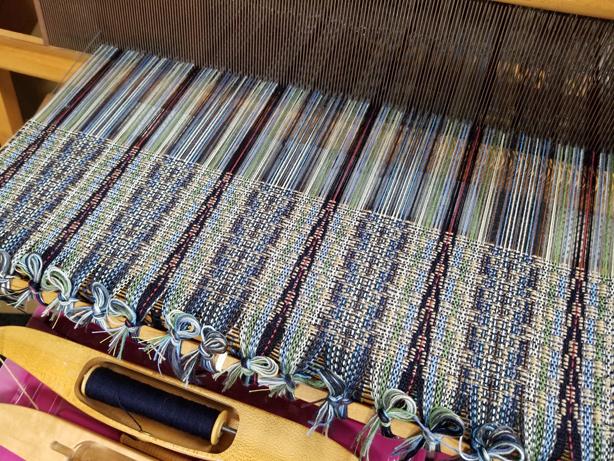 I talked about "Kim" in yesterday's post, which has the Rep weave experiment. I ended up cutting off what I wove, washing it, tossing it in a hot dryer to see how much it would draw up. I'm happy enough with the cloth that I'll leave it sett at 32 ends per inch. I laid awake last night thinking I should try to resley, but I'm glad I looked at the cloth after washing. Always a good thing. It is still slightly damp, so the color is probably a little richer than it will ultimately end up.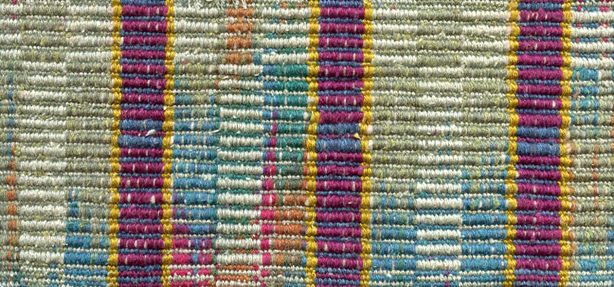 I have another 8 shaft Tools of the Trade table loom, also 25″ wide, and I have a vague recollection of helping someone who rescued this loom and refurbished it, with lots of pictures and support, and ultimately purchased it from her. I think my sister lived near her and did a pick up for me. There may be a series of emails somewhere in the archives, but that really doesn't matter to me. I love the loom, and I think this one is cherry. Its name is "Tuvok" (also from Voyager) and though it is 8 shafts, my daughter set it up for a four shaft Split Shed workshop we took together back in the fall of 2019, with Deborah Silver. We each set up my two 8-shaft Tools of the Table looms, because I think the 4-shaft looms were busy. Her loom still has the warp on it from the workshop, so it isn't mine to touch, but here are the samples that are on it so far. I would love to have the 8 shafts back in rotation again, but I have enough other looms to keep me busy.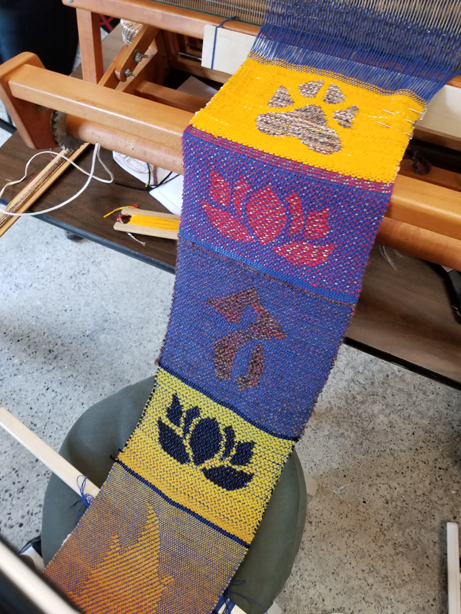 I needed my 8-shaft Tools of the Trade set up for the Split Shed weaving class for the Bateman sample I talked about above. Because the Tools of the Trade looms are basically interchangeable, except for the size of the castle, I was able to preserve the leftover warp on "Chakotay", by just swapping out the entire back of the loom with a 4-shaft named "Paris" (again from Voyager), so I could continue the technique. So now, my Split Shed warp is on a more appropriate 4-shaft loom, and I started a complicated design, which will probably take the rest of my life to weave off, and truth be told, I should have put on a different warp than the green carpet warp for the class, but I can recall the technique easily by sitting down at the loom.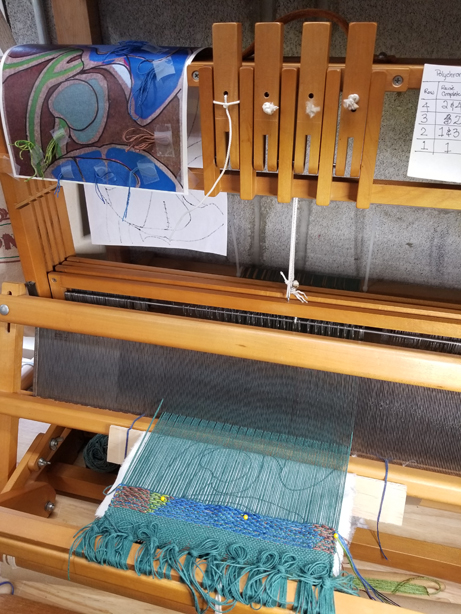 The last of the Tools of the Trade table looms is one I set up just a couple weeks ago. It is for Zanshi fabric, which is a Japanese philosophy of wasting nothing. I wove a length of cloth in this technique a couple years ago, since I spent an inordinate amount of time in Zoom meetings at the start of the Pandemic, and just sat and tied all my thrums or loom waste together into balls. Simple overhand knots. The resulting balls get woven in a basic ground warp, knots and all, and I wove off the length of yardage in record time.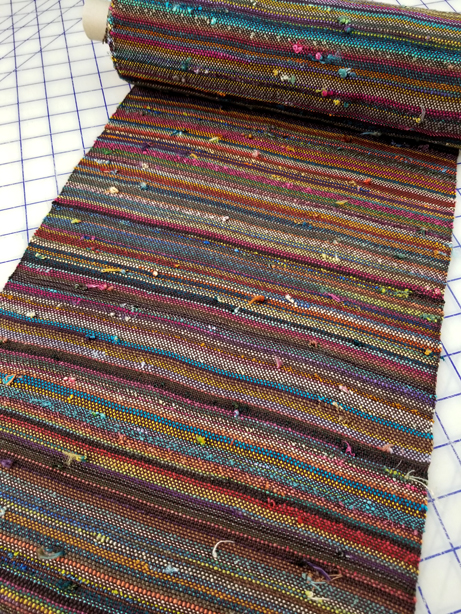 I wanted another warp to weave my endless stash of Zanshi thrums, so I set up the last of the 4-shaft Tools of the Trade table looms, "Torres" (again, from Voyager) with a fine black 10/2 cotton, and experimented with a couple different structures, plain weave, twill, ultimately settling on a rib weave, which is two shuttles. If nothing else, this should slow me down.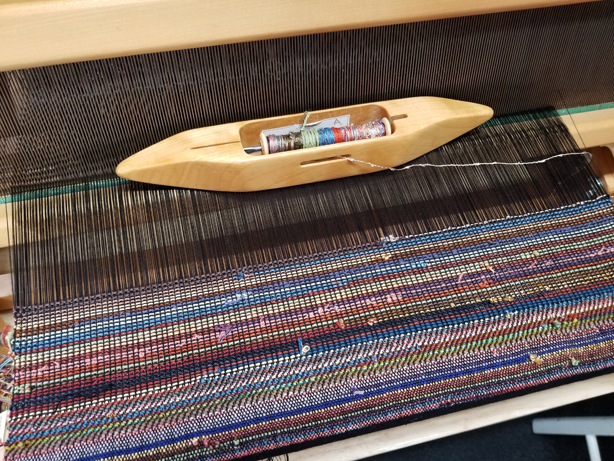 I should also mention that there are a couple of additional table looms in the studio, two of them are Leclerc looms, one a 12-shaft Dorothy, which my daughter bought from the estate sale of one of our own beloved guild members. She calls it "Data". Right now it is the only loom without a warp, because it is my daughter's and not mine to warp.
The other Leclerc is a folding Voyager, 16″ wide, also 12-shaft. We named this one "Janeway". I bought it from another guild member, who is buying and selling looms all the time. I don't think I ever sold a loom that came through the studio, I almost did once, but changed my mind at the last minute. My first Tools of the Trade 4 shaft table loom. I did permanently loan someone a loom, another Dorothy, a young weaver that needed a jump start, and I had a wooden Structo that got beat up in the garage before it was my studio, that I donated to someone in the guild who vowed to clean it up, but now that I have a real space for all these looms, I'm careful to protect each one. Anyway, "Janeway" has a 12 shaft Echo weave on it, which I wrote about just a couple of posts back. (The draft is from Denise Kovnat, from her collection of WIF files for Echo Weave available on her website. This is a variation.)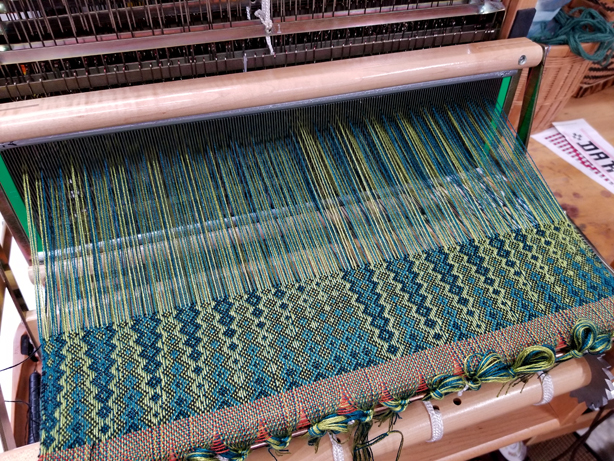 And finally my daughter's folding 8 shaft Ashford table loom. When she went off to college in 2011, she wanted a loom to take with her. Friends suggested a rigid heddle and she looked at me like I had three heads. "Why would I want a rigid heddle loom when I can turn a jack loom into shaft switching!", she declared. So the folding Ashford 8 shaft was her go to loom away at college for four years. It has seen a lot of yardage, because she is my daughter and that's what we do. Unless we are specifically weaving towels, we never have a plan for what we weave. All that comes later. So, this is "Spock", her first love in Star Trek, and her first loom of her own. Right now there is a warp that's been there a while, from a couple of hand painted warps she procured from a Kathrin Webber class in my guild a number of years ago, and says that the 8-shaft structure is a modified Atwater Bronson from Strickler. Whatever she says.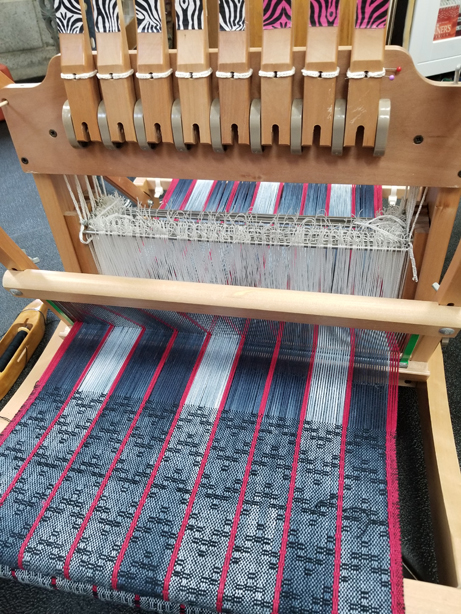 I should mention the one remaining floor loom in the studio that isn't a Tools of the Trade and caused a lot of Sturm Und Drang when it first came to me in very poor condition. I spent a lot of money rehabbing it, much to the consternation of the other looms, but they all seem to get along now, and each has its purpose. This one is a 25″ 8 shaft Macomber from the 1970's. It is a full size loom with two warp beams. We call it "Mac". Because it is a Macomber after all. I've never been a huge fan of Macomber looms, but this one does get the job done, and after all these years it is still a workhorse. And it was the loom that got me weaving one armed when I broke my shoulder the end of 2021. Right now I have an 8 shaft combination warp on it, from my 12-shaft draft I wrote for Heddlecraft Magazine, issue #38, which upon studying closer I found I could convert to 8 shafts easily. Sometimes I just amaze myself. Most of the yarns are hand dyed, which is something I tend to do in the dark winter months.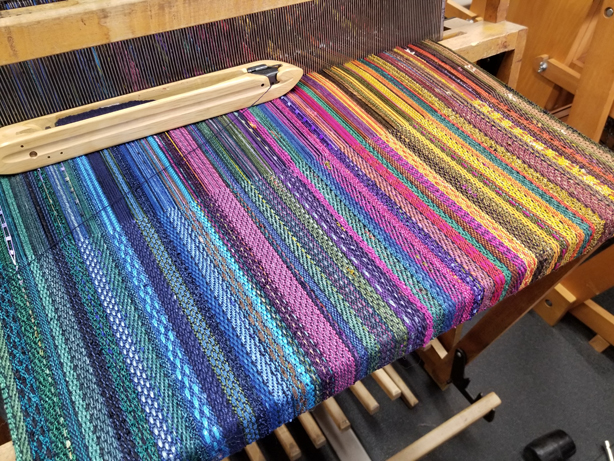 The rest of the looms are my collection of 26 Structos, and 5 Leclerc Sample looms, and multiple inkle looms including a Gilmore Wave, and one from John Mullarkey, all named after Star Trek characters. I'll cover them in a follow up post, because they are all warped, or most of the inkle looms anyway, some are on loan to a guild mate who is doing a program for our guild.
Definitely stay tuned…