And I'm home. It has been a challenging, wonderful, inspirational four months, I've met so many wonderful people, saw some incredible things, reconnected with old friends, taught some pretty terrific students, and the support along the way has been absolutely critical. A huge thank you to all who put me up, put up with me, who picked me up at airports and restaurants, who made my life manageable, and who cheered me on from the sidelines. It is all a fitting end to a well done year.
My last stop was Wisconsin Handweavers, a quick in and out, direct flight to Milwaukee, and though my plane was a couple hours delayed getting in, we still had time to hit the Milwaukee Art Museum to see what treasures we could find. I adore art museums, I've been able to see so many this year, not just on the road. The week before I left my daughter and I spent a Saturday at the Newark Museum, and saw the Kimono as Fashion exhibit. The entire museum has been updated, renovated, and though I worked in it teaching in the arts workshop for many years, I didn't recognize much. It is fresh and interesting, with exciting mini collections from all over the world. The Kimono exhibit was worth the trip just by itself.
So my lovely hostess Paula took me to the Milwaukee Art Museum, the one with the famous gull wings that open to the sun.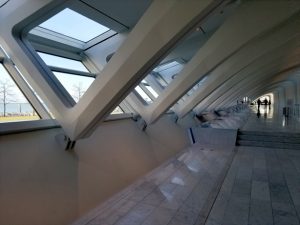 I've been there a few times, but this museum has also been renovated, it was fresh, with wonderful collections and the current exhibit was really unusual. The website description says it all
Serious Play: Design in Midcentury America explores the projects of over 40 designers who advocated for playfulness and whimsy within their creations for corporations, domestic interiors, and children. The exhibition presents play as a serious form of inspiration, experimentation, and problem solving. In midcentury America, such playful design occurred against the backdrop of a booming consumer market and as a counterbalance to Cold War–era anxiety. Furniture, toys, textiles, films, posters, ceramics are among the objects featured.
It was an eclectic collection of stuff from the middle of the last century, a lot of Eames designs, and curiously, or sadly, I'm not sure which, I found myself wandering around thinking, "We had that in our kitchen growing up, or I played with that, or I remember that!" It was very eerie to see your childhood in a museum. That said, there were treasures to be found and I came around a corner and saw this…
Wow, just wow. This is a rug designed for ALCOA, Aluminum Company of America, woven by Marianne Strengell in 1957 for an ad showing the new aluminum fibers. A copy of the ad was also featured. I have used metallic fibers throughout my weaving career, and I haven't ever given them a thought, that prior to 1957, they were not a thing. This was a gorgeous textile, beautifully preserved, and worth the trip to the museum.
Paula and I wandered through the permanent collections. I came across this Georgia O'Keeffe I had never seen before.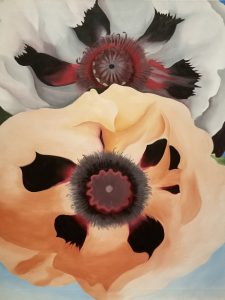 And I saw a few works by Gabrielle Münter, a German artist that has only recently come across my radar, there are a couple of her works in the Neue Gallerie of German and Austrian Art in NYC. This was painted in 1912.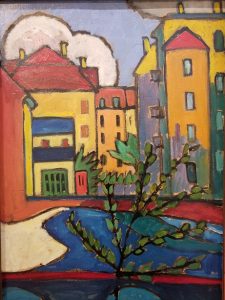 And there is an exhibit of Haitian Art, and I fell in love with this painting, which I took a picture of and made it my wallpaper on my computer. It is by Jasmin Joseph and was painted in 1958.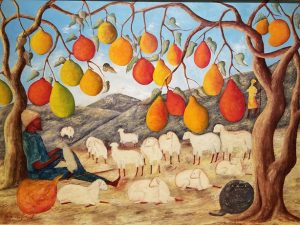 And then I did a two day workshop. I will say that hands down this was the best workshop space ever provided by a guild, at least for this particular workshop. I had four tables to lay out my newly numbered and ordered patterns and though there were a couple minors errors, this all went swimmingly well. So thank you to all who complained over the last year about how tough it was to keep everything straight, I seemed to have solved all the problems in one fell swoop! This is a great two day workshop for a guild, called Custom Fit and Fabulous, and we even had time to explore sewing with handwoven fabric and things you need to know to sew the garments together.
Saturday I gave a lecture on Color and Inspiration to the main guild, and there must have been 100 people in the audience. I even had beloved friends come down from Washington Island, and there were a number of my Sievers students as well. I got a photo of Crystal, LuAnn (in a short sleeve version of a Daryl Jacket) and Cindy, all wearing stuff they made in my class or as a result of my class.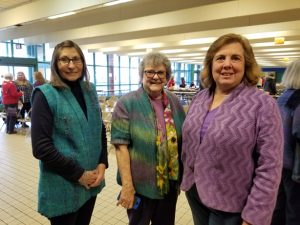 One of the cool perks of what I do is the interesting people I get to stay with. Husbands of weavers are just the best. Paula's husband was just one of the most interesting people I've ever come across, (although the geologist with the succulent collection in Northern California is a pretty close second), Andy has traveled to the most amazing places like Somalia, Sudan, Ethiopia, places I wouldn't ever imagine people travel to on purpose, and taken gorgeous photos. We spent hours pouring over his vast collection of books, not only of photography, but mostly botanical illustrations and illustrators. We both love a good botanical illustrator, and I told him about Mindy Lighthipe, who was a former weaver in the 1980's, and he immediately bought a book she wrote on botanical illustration, Amazon delivered it the next day, and he turned me on to Margaret Mee, whom I had never heard of, but immediately bought the book and it was waiting on my doorstep when I returned.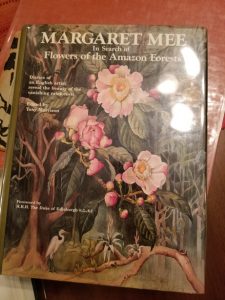 And so, my trip home was uneventful except for the 150 MPH tailwind which got me to Newark from MKE in less than an hour and a half. Gotta love tailwinds…
And that threw me back into instant reality. Right before I left my daughter did this…
Which has been declared a total loss. So I'm down a car, which isn't actually a terrible thing, since I had three after my husband died. She still can't afford her own, so at least I have something for her to drive.
Monday I drove to CT to the annual Threads Magazine Holiday Party, it was great to see everyone, and I was thrilled to have an office party to attend, I've worked for myself since 1979, and never had an office holiday party, this is my third one at the magazine and I feel like family. And I spent some time talking to Pamela Leggett, a fabulous designer, her patterns are mostly for knits, author and frequent contributor to Threads Magazine, and she gave me some insight to creating digital versions of my patterns. So I'm mulling that over in my head. It is far down on the to do list, but it is at least on the list…
The ice maker on the brand new refrigerator failed after the first week, so now that has been replaced. The gas stove people have been here and I've put a deposit on replacing my wood stove with a gas one. That should happen towards the end of January once all the permits are in. I've been to the eye doctor and ordered new glasses. And the towel run is off the loom, washed and ready for hemming. That's tomorrow. And today I started planning my next article, this one for Heddlecraft Magazine. This one will require a lot of loom sampling…
It never ends, and I wouldn't have it any other way… stay tuned…