Wow dear readers, lots to catch up on!
It is snowing. Before Thanksgiving. Sigh… Sorry everyone, I don't care what side of the political fence you sit on, but weather patterns are changing rapidly and it isn't a pretty thing. My heart bleeds for all those who lost everything between the devastating hurricanes this fall and the wildfires on the west coast, storms seemed to be vying for cable news attention in a big way. Knitting was cancelled tonight for bad weather. We shouldn't be having snow days in November, not in NJ. I have always joked that one day NJ will no longer be here and that the Delaware River will be beach front property, but I didn't think I'd be seeing it in my lifetime, or my children's lifetime.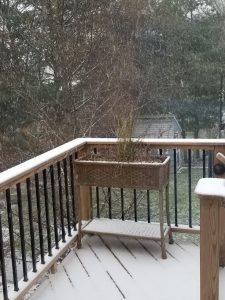 That said, I'm doing what any self respecting fiber enthusiast would do, I'm making stuff.
First off, my guild held its annual show and sale this past weekend. The guild did really well. Which is a wonderful thing. I'm the treasurer, I do numbers. This will help with our wonderful programs, two of which were rebooked from snow events last spring, which blew our budget this year, which I wrote, and we haven't reached December yet! In a last ditch effort to have something to sell, I made two totes out of scraps from one of the last handwoven garments I made, currently on exhibit in Asheville at the Blue Ridge Fiber Show. I made two, forgot to photograph the second one, it was nearly identical, and both sold to the same person in the first hour of the show on Saturday. This person, who has bought a ton of stuff from me over the years, loved that they were the same but with different color linings, and bought both for two different sets of files. Go figure…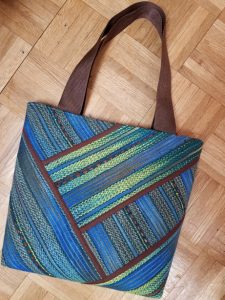 When I was in CT filming video for Threads magazine a couple weeks ago, I had partially made five garments to illustrate specific techniques we were going to be filming. I have since finished two of them, and have already worn both and am enjoying the newest additions to my wardrobe.
The first one is this lovely pencil skirt, from an old Vogue pattern 8677; I've made it before. It has a high waist with waist stays, which I made from plastic cable ties with the box end cut off. The skirt is really comfortable. It is made from a Ralph Lauren cotton I picked up in Nashville a couple years ago, and the skirt is completely underlined, which was the point of the video I was shooting.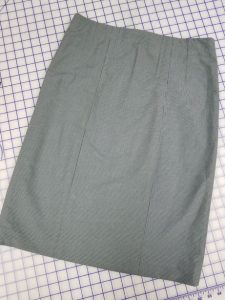 The second garment I finished up in the evenings at the OBX retreat last week, or was it the week before! This is a quilted cotton vest, with a raw silk lining on the inside, trimmed around the perimeter with bias cut linen strips. There is a thermal interlining between the layers and it is toasty. The vest is supposed to be reversible, and I trimmed it that way on purpose. The video I designed it for was specifically for illustrating how to bind off a perimeter edge, miter corners, and join the two ends together. There was a lot of handwork on this but it is really fun to wear. The pattern is from my class patterns, the collared vest.
Speaking of…
Because of the number of patterns I offer, when I teach a class like I did in Reno, and like I will be doing in Wisconsin in a couple of weeks, the biggest takeaway I got was that I need to present the patterns in a way that people can keep track, of what goes with what and what pieces are needed for each silhouette. I've been mulling this over for a long time, and making notes, tweaking and reworking because once I assign a number to a piece, and write it on, I can't change my mind without retracing the entire pattern section. Just to let you know, in a class where students are all tracing different things, I have 9 different silhouettes, with multiple views, and multiple copies of each of the half dozen pattern pieces in that particular silhouette. We are talking hundreds of pattern pieces floating around. Things get put back in the wrong envelopes, and in the case in Arkansas where space was tight, students were falling all over each other trying to find the next piece they were looking for. I know it is an issue. I have additional silhouettes in mind, but had to first get control of the pattern situation.
So this is what I came up with. Each of the silhouettes will now have a hundred number to identify beyond the description, and each pattern piece will be numbered accordingly. Plus each pattern envelope will have an image and description of what's in there, with a line drawing of each pattern piece and the match points clearly marked. I have four of the nine silhouettes completed, at least that envelope part, but I won't write on the actual patterns until I'm really really really sure! Even this morning, I looked at what I had done yesterday and found mistakes. This kind of task takes a lot of proofing. A lot. And still, I know I'll get something wrong. But my wonderful students don't hesitate to point out when I do! (Which I'm really really grateful for. Really)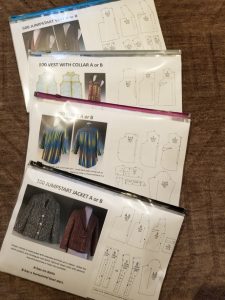 Please don't write and ask me if I sell my patterns. I do not. I can't. Not yet. Mass producing these for sale will take a whole other block of time, research and investment and that will be a goal down the road when I give up teaching but for now, these are for student use in my workshops.
Meanwhile, the latest issue of Threads Magazine is here, issue 200, a very big milestone in publishing. I have an article about Crocheted Edges in the Embellishment Column, four pages. Great technique for handweavers. I also shot a video of the techniques which will come out sometime next year.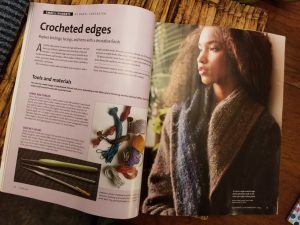 Because time is getting close and I'm an overachiever anyway, I needed to get my holiday towels on the loom so they can be woven off by the first holiday party, which is coming up right after I return from Wisconsin. I've got this… While I was in Arkansas, Debbie the owner of Red Scottie Fibers and I spent a lot of time talking about Bockens Nialin Cotton and Linen vs Brassard Cottolin, which I can get from Webs much cheaper. Though I don't want to come across as cheap, these towels are all gifts and I've never had a problem with the Brassard Cottolin, and its Webs American predecessor Valley Yarns Cotlin. They both made nice thirsty towels. I decided to see what all the fuss was about, and bought the Bockens, which is Swedish, from Debbie and will report back what I find, though I won't be able to say how good they are to use or how absorbent they are because they aren't for me. So if you are on my list this year, you know who you are, you'll have to give me feedback on the more expensive yarn. So far, winding the warp was a dream, the yarn is smooth and clean. I'm using a draft I picked up at Webs awhile ago, for their Cabana towels. The towels are woven in a mock basket weave, and look to be quite dense and lofty. We will see.
The biggest thing is to keep the cat away from my 11.5 yard warp. That would not be pretty. I'm getting use to this cat thing, which my daughter brought with her when she moved back home, and I can't trust it to even leave my charging cords alone. I just got this one with my new tablet. We hadn't treated it with BenGay yet, which is supposed to keep cats from chewing phone chargers. They cost about $17 to replace from Samsung, ask me how I know that, and they are specific for fast charging. The things I learn that I wish I didn't have to know…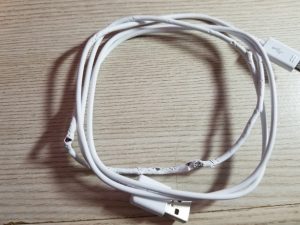 So dear readers, stay safe in this first winter storm of the season, to my fiber friends in California, there are no words to describe how my heart bleeds for all of you. To those who have lost homes, studios, businesses, animals and even loved ones, this is a cruel world and I hope that in all this pain and darkness we find a way to come together as one family.
Stay tuned…