I just got an alert, my dress, Frosted Florals is on the front page of the Threads Magazine website!  Thanks Tien!
The conference is going well, course I haven't done anything all day but hang out, chat, and set up my class room.  It is beastly hot here.  I'd say 110 degrees in the shade.  And the poor vendors, are in an airless gym with no AC, and people are dropping like flies.  Still, it is a feast for the eyes, enjoy the photos, looms, yarn, shuttles, books, too much to look at!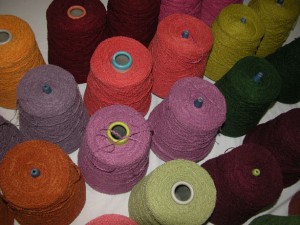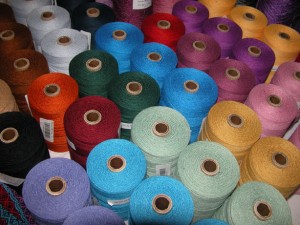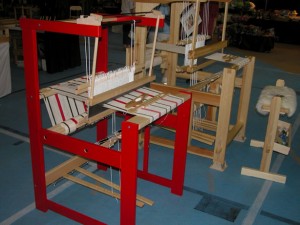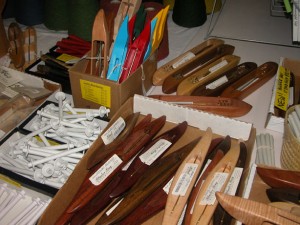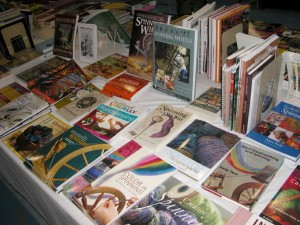 The cute looms are from Glimakra, I spent a lot of time in their booth, though I'm not in the market for a new loom, I can't help but be impressed by their ability to keep up with new trends in looms, always thinking and redesigning, and they are always a joy to chat with.
I spent some time with Joanne Hall getting a real demo of their band loom.  I like this loom, and I think I'll put it on my wish list, it is for making inkle bands, and has a warp and cloth beam so very long lengths of bands can be done without having to rewarp the inkle loom every couple of yards.  Hmmmm…….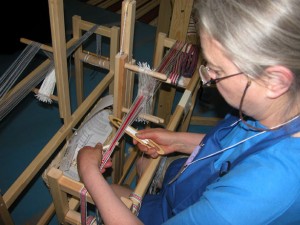 I was able to get back to the Faulconer gallery this afternoon to take a better look at the Small Expressions Exhibit, and grab a couple of gallery shots.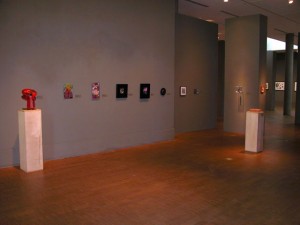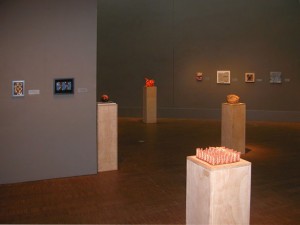 This is a beautiful space, and I enjoyed the intimacy they were able to achieve with all of these very small works, if you can believe, my tiny post card size works are in the first photo  all the way in the corner furthest away from the camera.  Sort of the last pieces on the wall on the left.  You can't even see there are two pieces side by side.
So I don't cause you any further eyestrain…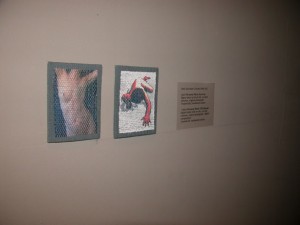 I got my classroom set up, and I have to say this, I have died and gone to faculty heaven.  I want to be buried in this classroom.  It is high tech, just popped my little pen drive into the system (and after much fiddling, etc.) my presentation came up on the huge wall, I played with the little wall switch for awhile, making the window shades go up and down electronically, the table space is huge, and there is a nice wall in the back to hang my garments for display.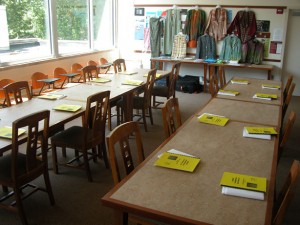 And as I walked across campus, I grabbed some shots of the gorgeous colors in the gardens, I think these would make beautiful palettes for fabric, especially the ones with the greys.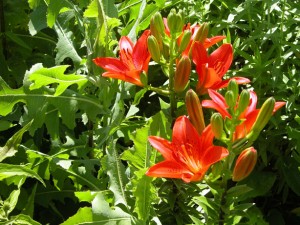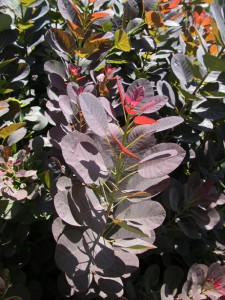 The keynote address is tonight, it is always a joy to listen to Madelyn van der Hoogt, editor of Handwoven Magazine from Interweave press.
I have to say, I adore mid-western weavers.  They are so great to work with, so helpful, and so kind.  Lots of smiles, and lots of hugs, though we are all doing virtual hugs because of the heat…   And there isn't a lot of handwoven stuff being worn today, I can assure you.
Stay tuned…