Happy First Day of Spring!  In the northern Hemisphere, spring officially started at 7:44am.  Course you couldn't tell it by looking outside!  This is the picture outside my balcony when I got up!  Little puffs of heavy snow on all the buds.  It was quite lovely.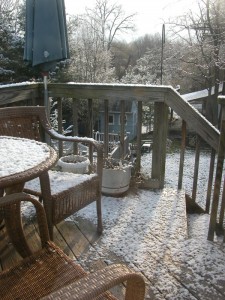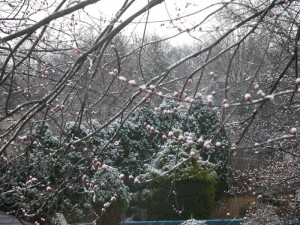 I woke up this morning a little later than usual, since I was up until 1am Thursday night processing the last of the 32 pages for my sister's website.  I FINISHED IT!  What huge relief to be able to finally say, I'm done.  I expect there to be edits and changes and updates, but those are usually quick fixes, the bulk of the work is done.  The site is up and running in its entirety, and after looking at a couple hundred magazine looking shots of gorgeous homes, I'm a little depressed by my average 100 year old home I've happily lived in for more than 25 years,  it is beginning to show signs of neglect…  Could it be I am too busy weaving and having other grand adventures to deal with painting and repairs?
Anyway, my sister's firm, Ebeling Noe Associates is very happy with the new site, and I'm hoping it helps her connect with some future clients.  I really enjoyed getting to know her work over the past 10-15 years more intimately, and I have a huge respect for what she does.  After all, she is just my younger sister…
Now I have to tackle my woefully outdated website, and one for my weaving guild…
Sunday is my husband's birthday.  He will return from his ski adventure with our son tomorrow night, so far no broken bones…   Anyway, I took the day off to run around and shop for some things for him, I had been doing research online all along for ideas, who had what at what price, the internet is good for stuff like that, and I took today to do the final shopping.  And I had a coupon at Kohl's and with their sales, I managed to do some serious damage to the charge buying some new things for myself!  You see, it all started with the cancer thing.  And the weight gain from the chemo (yes I know it was 7 years ago), and then the instant menopause, and the weight gain from that, and then the tamoxifen for five years.  Apparently now that I've been off Tamoxifen for over a year, my body is strangely returning to its original shape before I had cancer.  Which was pretty thin.  So over the last year I've dropped 12 pounds.  I know all of you are rolling your eyes, this would be a good thing under normal circumstances.  But all my pants were too big.
So, armed with my coupon, I hit Kohl's with a vengance, and bought pants in my new size, and a couple pairs of shoes while I was at it, because my favorite pair of travel wedges broke last fall, and I haven't been able to find a pair that are comfortable to walk and travel in all day for a week or more, so I had to buy three that had possibilities and I have until June to break them in…
You can tell I was really roughing it today.  And I did manage to get my husband quite a few gifts while I was at it.  Please note that I almost never shop.  I make clothing last for years, and largely if I shop, I buy coordinates to wear with my immense wardrobe of handwoven jackets and tops.  But the pants thing was a really a problem.  So, just like that, problem solved!
As I traveled around today, doing my shopping thing, I loved going into stores, fresh with spring merchandise, garden centers waking up, fully stocked, after having sat in my studio for the last week with my nose in the computer screen.  I even picked up a handful of packets of seeds, for the cold weather crops, lettuces and such, I always have such high expectations for a garden, and as my life gets out of control, so does the garden, last year it was decimated by the groundhogs, who tunneled in from the outer fence perimeter, so I always have to wonder why I bother?  I bother because it is important to keep trying, and I love to watch things grow and eat what I plant.  So, depending on the weather tomorrow, it is suppose to be a high of 51 degrees and sunny, I'm hoping to get quite muddy and clear the garden of the winter debris and plant some seeds.
The sand paper seems to be holding the friction brake on the loom  I mentioned a couple days ago.  Thanks for all the great suggestions on what to do.  I did stop at the local bowling alley on my way to the High School Thursday night, to pick up a bag of rosin, which Sandy Gunther from Weaver's Cottage suggested as a surefire way of getting a non metal friction break to hold when it starts slipping.  Alas, my bowling alley pro shop was out.  So now I have to search further, but for now, I wove a bit into the second mat, and all seemed secure.  Stay tuned.
And one final note, I spent the afternoon on the phone with Sandy Bowles from the HGA.  She very graciously spent hours pouring over my Design Challenge presentation, all 80 slides, and had some wonderful editorial suggestions, cleaning up some copyright issues, and helping to point out things that weren't quite clear.  So I've made the changes, will send her the final copy, and hopefully get my HGA Good Housekeeping Seal of Approval and then I can add it to my webshop and offer it to any guild that would like to present it as a program without having to fly me in!  And I'll be writing a very condensed version of it for the Summer Issue of Shuttle Spindle and Dyepot.  I'll keep you posted…