The house was quiet while I sat having my morning tea, and I leafed through the latest issue of Vogue magazine, that came in the mail yesterday.  If you have an extra $4.99 hanging around, run to the nearest supermarket that carries magazines at the checkout, and grab the March issue.  It is more than an inch thick.  It is the spring Power issue I think.  I'm not talking Vogue patterns magazine (though I think that one came in as well), I'm talking the big Vogue fashion magazine, with Michelle Obama on the front cover.  The spring fashions are gorgeous, and there is no better fashion photography anywhere.  Pay special attention to the Neiman Marcus, Saks. and Nordstroms spreads.  They have some incredible cuts, and lines, and the fabrics look as if a group from the Surface Design Association came in and ran amok.  The surfaces, the textures, the fabrics, the clothing, I'm not usually a fan of spring/summer clothing, much prefer the tweeds and cuts for the fall, but these are simply beautiful.  And you will really get a chuckle of the shoes, they are like architectural works of art, that one supposedly puts on their feet, no one I know or hang with would dare, we'd all end up in the emergency room with a broken ankle, but they are amazing to look at, and refreshing for the eye.  I'm going to keep this issue around awhile.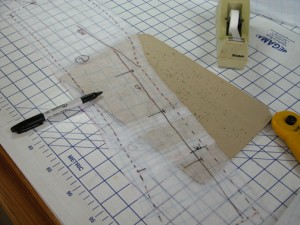 Lots of email today, lots to answer, spent awhile at the shipper getting everything in order to head to California ahead of me.  Once I finally plowed through all that stuff, I got to do what I really wanted to do, which was make progress on the jacket.  First I had to alter all the pieces to lengthen the waist, so I spliced in some additional pattern paper, and because my original pencil lines were fading, I traced everything again with a black sharpie.  I used a hunk of cardboard underneath because the pattern medium is so porous that the ink bleeds right through all over my rotary cutting board.  I had to respace the buttons as well.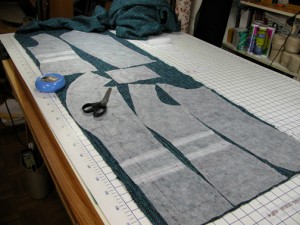 The next step was to layout the pieces to make sure I would have enough fabric.  I ALWAYS cut handwoven fabric singly, you only have to try it once doubled to know that no matter how accurate you are, the underneath layer will be a couple grainlines off and then the whole left or right side of the garment will be off as well.  So I carefully layout everything, remembering to flip when I cut the opposite piece.  It was pretty clear I would have plenty of fabric, and then some (maybe enough to squeak out a little pencil skirt?)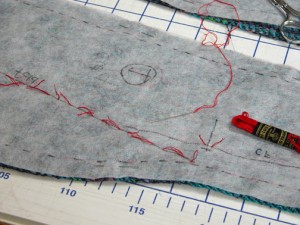 There are a lot of pieces in this jacket.  Before I removed each pattern piece to flip for the other half, I transferred the marks with tailors tacks, which need only be one pass through since the fabric is single.  I learned a trick when I was teaching in Colorado, to use a single strand of six strand embroidery floss as the tailor tack thread instead of sewing thread which is really smooth and falls out easily.  The floss is spun in a way that it stays put much better.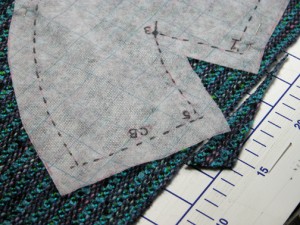 In one area, the collar/front piece, which is a cut four, because the whole thing acts as a facing as well, was a fraction too wide for the fabric.  So I did my quick trick of taking a hunk of selvedge from another area, and whipping it together with the other selvedge, and violá, instant wider fabric!  Handwoven selvedges are really easy to butt, and they are really invisible unless you have messy selvedges.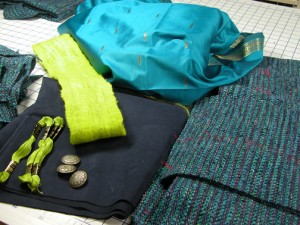 I still have to cut the lining and the interfacing, I'll interface the entire garment with a fusible, which one I'm not sure since I still have to test on some scraps, but I assembled all the elements I have so far for the jacket.  I found a half yard of navy blue Ultrasuede that I'll use for the lips of the bound buttonholes, and the welt pockets, and I have tons of floss in the same color as the felt belt I want to cut up for piping, in case I decide to couch some details.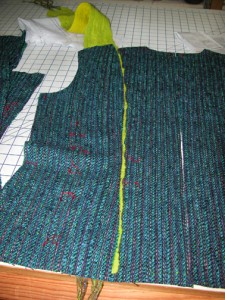 Thanks for all your great comments about the lines of the felt/piping, I should say that I am rather embarassed, I got so carried away in Photoshop I failed to notice that the princess lines come from the shoulder, not the middle of the sleeve, so in fact the piping line comes straight over the shoulder and I think will give a great line to the jacket.  It is one of those things that I won't know until I actually sew the thing, worst case is I hate it and take it apart.  You can do that with sewing.  I do it a lot…