Yes, I'm still alive.  Thanks to all who emailed me and saw me at the guild meeting this morning, with good wishes hoping I was feeling better.  I'm still not completely myself, still a bit queasy in the stomach, and food not appealing (but the glazed pound cake at the meeting went down really well…), but I'm alive, and sort of working on about three cylinders.
I spent the day yesterday hunkered down, with manuals in hand, and huge amounts of files, it is hard to imagine but my sister is even more organized than I am, a pleasure to work with because she knows exactly what she wants and it is my job to execute.  She is an architect in the northern Maryland area, and is in need of a website.  And I am in need of income.  It is a perfect match.  Bless her, she has given me a deposit, and I'm off and running and outlined a site for her, which she enthusiastically approved, now we are down to hours of processing photos and building pages and links, but I'm enjoying learning how to use the Dreamweaver software, and the new Photoshop CS4, along with Bridge, and it was a good day to just sit quietly by the computer.  I did manage to get out around noon to join an early music recorder group for a rehearsal, I'm playing Alto.
My daytime guild, Frances Irwin Handweavers, met this morning, I just love this group.  The talent here is amazing.  One of our members gave a presentation on Turned Tacquetté, which is like a Summer/Winter on opposites but turned so only one shuttle is needed in the weft.  And of course, I do love the show and tell.  We have a couple prolific weavers who always have a bag full of stuff.  This is the guild who very kindly last month, pointed out the beach ball in the back of my dress (see blog from about a month ago…)  They were thrilled to see the resolution, and I showed the coat which received numerous accolades.  It is a pretty cool coat, and I am really proud of it.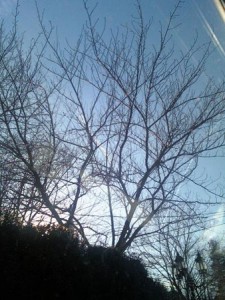 The hour trip home was tiring.  I'm still not myself, and I didn't eat lunch because it just didn't appeal to me.  And I got stuck in horrible traffic on Interstate 80, largely because it was the perfect day for road crews to be out there filling the crater size pot holes from the brutal winter.  So by the time I got into the driveway, I was ready for a nap.  But I didn't bother to go inside the house.  I've done this before, and it is such a cool thing to do, at least I think so anyway.  (And you can't do it in the summer!).  I reclined the seat in my car, which was warm and cozy, and dozed, with the sun streaming in the car, for at least a half hour.  It felt so wonderful.  I slowly woke, and this was the view I saw out the window. (And I just figured out how to use the camera in my cellphone!) This beautiful blue sky, with black leafless tree branches, gently swaying in the breeze, the occasional ribbon of clouds lazily drifting by.  I stared at it for maybe 20 minutes.  It was so restful and restorative.  Now I am ready to go to the HS, pick up my daughter from play rehearsal, and get her to her snow make up volleyball practice, (where I'll continue on my knitting), and then on to trombone lessons.
And in the mail today were contracts for teaching at the John C Campbell Folk School in Brasstown, NC in January 2010.  I'll have more on that once I finalized the details and sign the contracts.