There is probably some sort of literary word that describes multiple plot lines of a story, all coming together to create a spectacular ending. I won't say this is a spectacular ending, but I'm at least amused by it all…
A little backstory here…
When Covid shut the world down, I was not unhappy to have to cancel all my bookings and reevaluate my life. I was tired, and Covid gave me a great excuse to just stop. Get off the merry-go-round of endless airports, suitcases, shipping and prep and doing it all over again just a couple weeks later. Most of my peers (not in the weaving world) were retiring from their careers, moving to warmer digs, but I'm an artist. Sort of. Creative people don't retire. They just reinvent themselves.
For most of my creative life, I've had to focus. That's sort of a thing in the art world. Defining your vision, narrowing your focus for your work, is really important if you want to show/exhibit/sell your work. I started my career as a production weaver, making other people's work, and then narrowed my own vision so I could get into craft fairs. You can't do one of everything. It doesn't work that way.
My first craft booth, circa 1980, did have everything I'd ever done to that point, tapestries, table linens, scarves, shawls, garments, rugs, throws (we called them afghans back then). I found out that to get into serious shows, I needed to narrow my vision.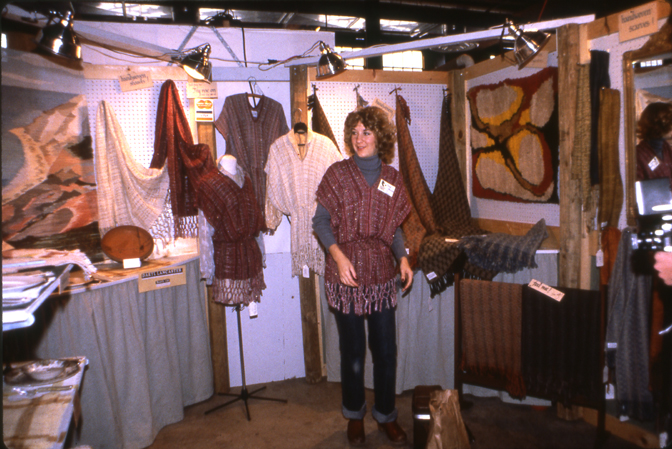 I make clothing. I'm good at it, and I pretty quickly found a way to link garment construction and handweaving, and though I'd often wander off the path, my work is pretty consistently mine, and I'm proud of it all. Wander through my gallery…
From the beginning, I avoided participation in weaving guilds. I didn't have the time to devote, and take workshops, and be a part of a team of guild members, and I was lecturing to many of them, so it was sort of a conflict of interests. But truth be told, I was jealous. I was jealous of the family a guild creates, and the exploration of different structures, ideas, cool things to try. I didn't have the time anyway, but I always wondered what it would be like to do what I do as a hobby, and not as a career.
So when I found myself unexpectedly retiring from teaching on the road, and locked down in my studio for a couple years, I thought to myself, what's the one thing you always wished you could do? I started telling people, "I want to try all the things…" As a matter of fact, I said something to that effect when Kathi Grupp, host of HGA's Textiles and Tea asked me, "What's next for you?" when she interviewed me March 22, 2022. I just wanted to try all the things…
I managed to take a few workshops where Covid allowed, and I listened to a lot of remote lectures and conferences. All sorts of things crossed my radar, but the one thing I really wanted was to be better at woven structures. I am a good weaver, I should be, I've been doing it long enough. But I stayed in one path, and rarely deviated.
Over the last couple of years, since my daughter and I built a new weaving studio in the garage, after she moved back home with her five looms and paraphernalia, more looms have found their way in to add to the mix. Especially Structo looms. There are 26 small metal Structo looms, and 5 small 10″ Leclerc Sample looms alone. I have 14 Tools of the Trade looms, 4,8, and a 12 shaft loom, some are floor looms and some are table looms. And we have a mix of others, from Leclerc and Ashford, a huge assortment of inkle looms, Ashford, Schacht, Beka, Gilmore, and Glimakra, and a custom tablet weaving loom from John Mullarkey. I lost count after 50…
During one of my remote guild meetings, someone asked me when it came up that I had this ridiculous number of looms, "Are they all warped?" I laughed, of course they weren't all warped. But that thought sort of nagged at me. Over the last year, I became a bit obsessed in seeing if I could set up all of the looms. I loved researching a structure, and coming up with what I thought would be a draft that would interest and inspire me, and then pick the loom most appropriate. I'd put on however many yards the loom could hold based on how much yarn I had and again, what I thought was appropriate. There is no plan as to what any of these warps will become. For the first time in my life I'm just exploring. I had a blast doing something like a warp a week. I didn't have to actually weave any of it off. I just wanted to see if I could actually get all of the looms operational at once. Many of them came in needing some major tender loving care. The Macomber (yeah, I've got on of those too), was in really poor condition and I spent more than $1000 getting it up and running, much to the annoyance of all of my Tools of the Trade looms. They weren't happy when I brought in this "other" brand floor loom. Did I mention I think of my looms and equipment with anthropomorphic traits?
With more than 50 looms, there is a lot of noise in the studio on a daily basis, all of them shouting for attention, all of them needing to be "dressed". They quiet down when they have a cool warp on them, and know I'll eventually get to weaving on them. So I'm coming down the home stretch. There were only four looms that were left to be warped, one is a 12 shaft Dorothy from Leclerc, which belongs to my daughter, which isn't mine to warp, but I had two 4 shaft Tools of the Trade looms, both 25″ wide, one a floor loom and the other a table loom left to dress. I hesitated, because it is always good to have a loom at the ready for emergencies. I couldn't imagine what that might be, but it seemed like a good excuse.
The fourth loom was a "frankenloom" of sorts named Burnham. I created it from all the piece parts I had around the studio and in the attic after that huge shipment of Structos and parts I got from a school across the country. I blogged about that here.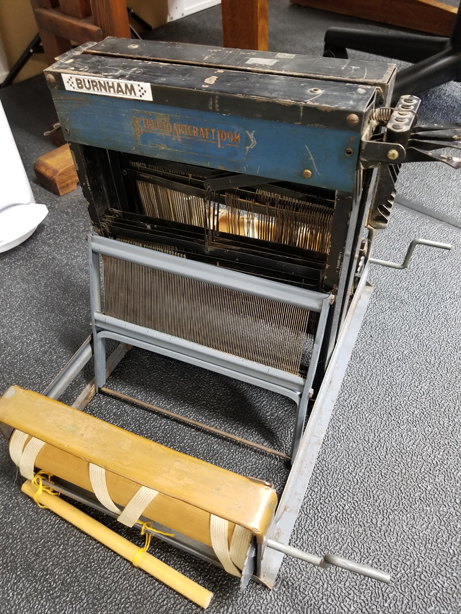 It was 8 shafts, and I actually had some spools with usable cotton thread left on them, so I thought, what would be fun on this loom that I haven't already tried. And "Rosepath" popped into my head. Strickler's book of 8 shaft patterns has a number of pages devoted to Rosepath designs, a basic point twill, but the designs give the ability to weave little pictures of simple flowers, trees, hearts, anything that can mirror repeat itself over 16 threads. And so I set up this odd "FrankenStructo" and it is really happy to be part of the mix.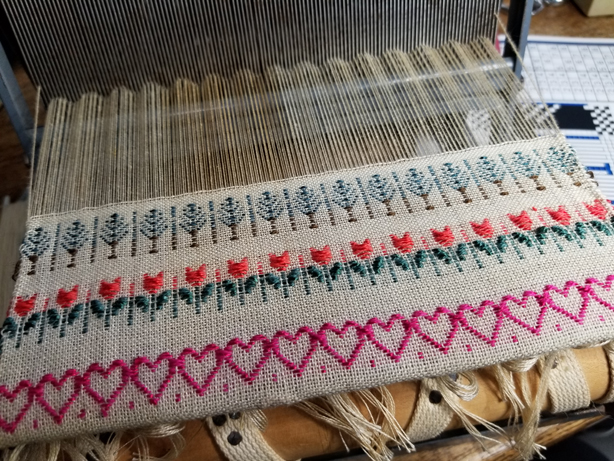 I was driving to music rehearsal the other night, and I got a call from a friend, who wanted to know if I would weave a commission for a table runner. I immediately said, "No", and then continued to ask what the specs were, what was she looking for. She couldn't do it herself, because like me last year, she was out of commission after a fall. I was driving so couldn't get too involved, but I told her to send me pictures, of what she was looking for, and thought I was 99% sure I was not doing a commission for anyone, I said I'd check it out when I got home.
That kind of thing is like a light switch for me. I did have two looms without warps, but this would need to be woven quickly, so it would need to be a floor loom. I couldn't stop thinking about how I would do something like this, with the limited equipment I had left. This is the sort of emergency project I figured might come along, needing a loom. I could always clear a loom, but I had this now ridiculous goal of warping every one of them. I asked my friend what kind of structure she had in mind. She said, "What's your favorite?"
Well my favorite structure is all of them, I mean combining as many as I can into one warp. I wrote an entire issue of Heddlecraft magazine, issue #38 specifically on the subject. Typically I use an 8-shaft loom, but alas, I only had a 4-shaft floor loom available. I sent her one of the WIF files from the issue, one I used from G.H. Oelsner's Handbook of Weaves that was actually 4-shaft.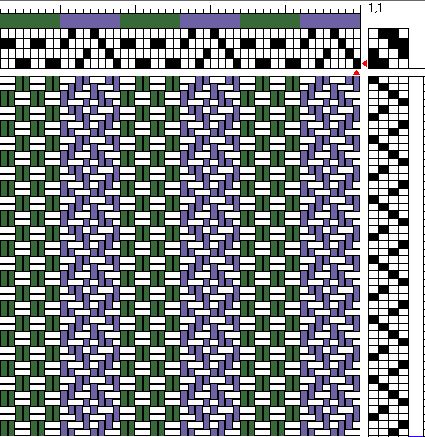 She liked it, but I kept thinking, how can I make this more of my own? I went back and read the issue that I wrote…
I picked four colors from my vast stash of 8/2 cotton, based on the interior photos she sent, and she liked those choices.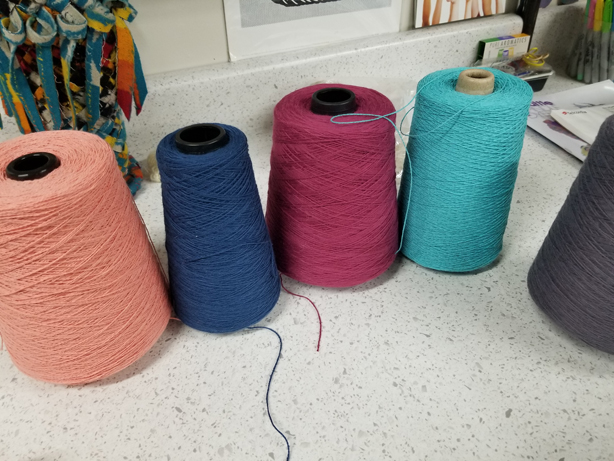 I spent a few hours working on a draft, playing with repeating side by structures and tossing in some basic straight draw twill. I added a bit of color and weave effect, and she liked it as well. I was really shocked at how varied the draft was, with only 4 shafts. So I wound the warp, dressed the loom, and this morning I started to weave.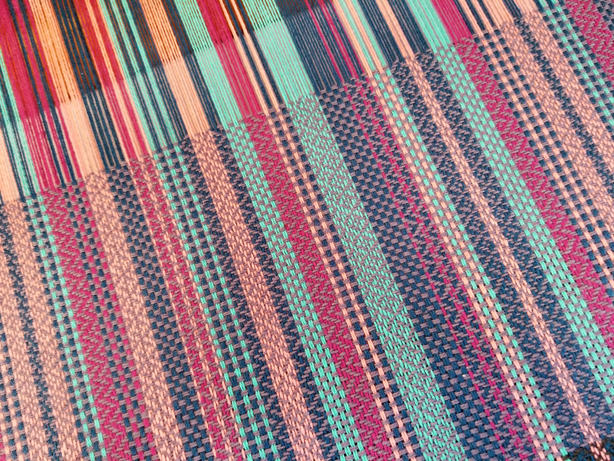 Needless to say, I'm pretty proud of myself. Necessity is the mother of invention? Or using up all your looms and not leaving any options? I'll eventually make the draft available, maybe put it in my shop as one of my $2.99 downloads.
And while I was winding the warp, I heard this pitiful little voice back in the corner on the floor of the garage studio, "What about me?"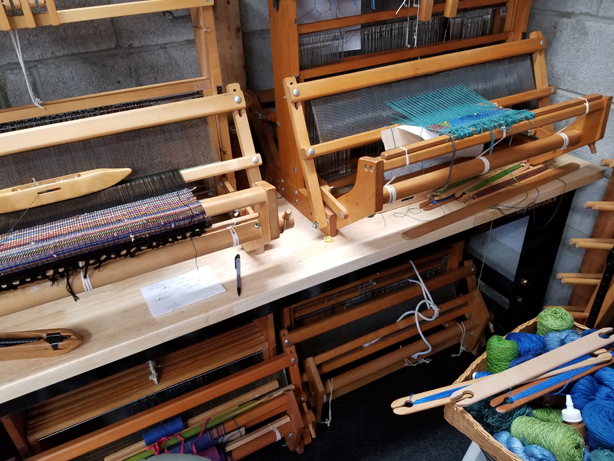 So I assured the one remaining loom of mine that needs a little TLC, that I would be addressing that matter soon. I started to think about what other structure I could play with. The voices in the room shouted, "Rep!" Completely impractical on a table loom, Rep is a very dense warp face structure, but there is a big difference between impractical and impossible. And I want to try. I'm already pulling yarn, and getting an idea of where I want to go with this, and I promised that little loom in the corner named Kim (Star Trek Voyager) that I wouldn't abandon him. I'm on it…
Stay tuned…