I haven't forgotten you dear readers, life is full of whirling crazy days, I'm busy, sometimes too much, but I have no complaints. I'm never bored…
My last blog post, I talked about a draft I've been mulling over for quite awhile. It seems to be the draft du jour, and all of my friends with multi-shaft computer assisted looms are just knocking it out in record time.
One of them sent me a picture of her version, a few yards, accomplished easily and quickly on her 32 shaft loom. She wove hers with a black weft. It was really cool. I only have 8 shafts, and spent months figuring out how to accomplish it with so few, and I was really proud of myself for making it work. But I really liked her black weft.
So I went back to the drawing board, so to speak, or in this case my computer weaving software, and realized that this had real possibilities. So I wove a block repeat with a black 20/2 cotton weft. The tie down thread is a dark brown linen.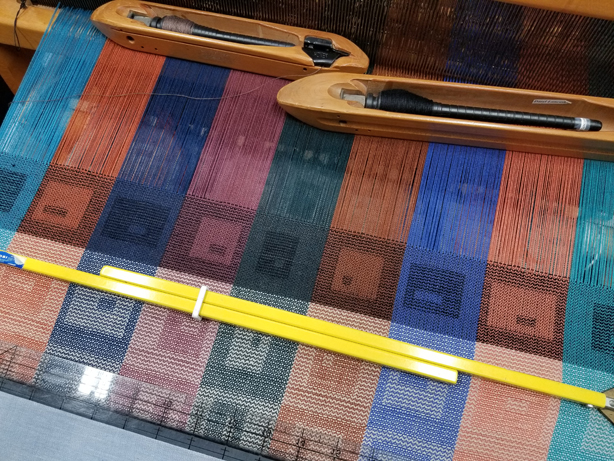 I loved it and wove another block.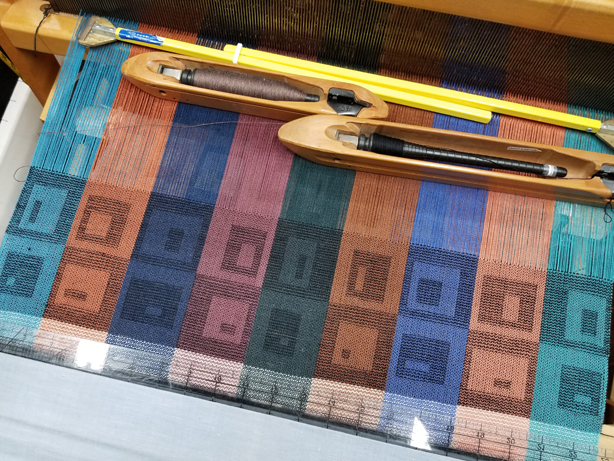 I called my daughter down to the studio and showed her how excited I was. She looked at it, now that there was a clear line between the black and white wefts, in relation to the breast beam and said, without missing a beat, "That's cool, but it isn't weaving square." I looked carefully at the two sides of the cloth in relationship to the breast beam, and sure enough, the cloth was off by nearly half an inch. I just sat there in stunned amazement while she moved over to the left of the loom and said, without missing a beat, "Well there's your problem, the ratchet on the cloth beam is on the opposite side of the brake, so when you tighten the warp, it throws the loom out of square. It is a torque physics thing mom…" She rolled her eyes and walked away.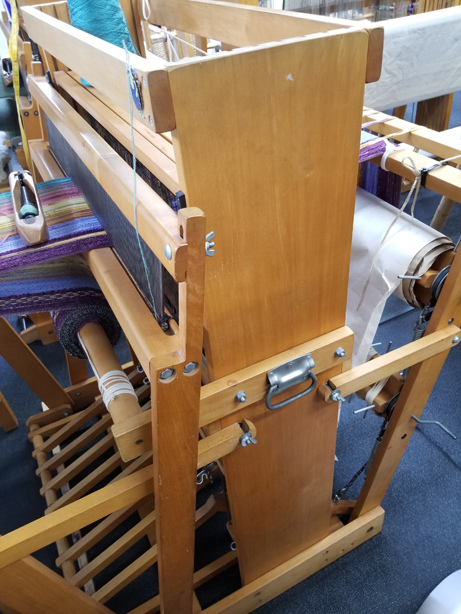 I've been weaving on this loom since the very early 80's. Mostly I make my colorful warp striped scarves, which are only 10″ wide, and the max width of this loom is 25″. I love this loom. How could I not have noticed that?
I turned around to the loom behind me, a recently acquired 32″ 4 shaft, also a Tools of the Trade, but one of the really early ones, because I've had problems with it weaving square since I bought the loom. Turns out, the ratchet and dog on the cloth beam are also on opposite sides of the brake.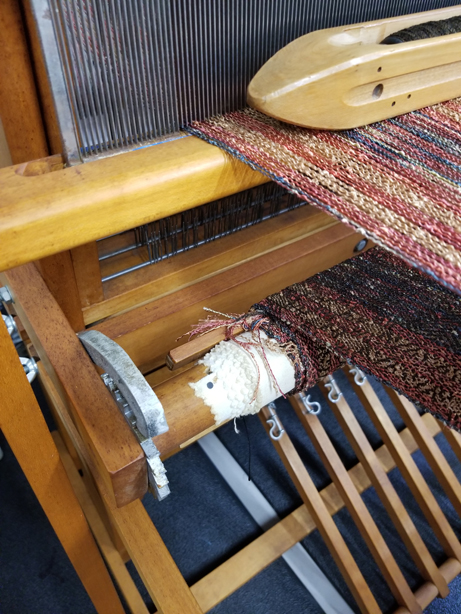 Now what…
This haunted me for days. I had a student coming for a five day weaving class, and I just couldn't get out of my head that my looms were drunk and though I had yards of warp on each one, I couldn't see weaving it knowing the loom was off and why.
I laid awake as any good weaver will do trying to figure out how to trouble shoot this seemingly impossible situation…
The only solution was to cut off what I'd woven, flip the entire cloth beam mechanism, including the side supports that held it, and put the ratchet and dog on the same side as the brake.
With a glass of wine, and a huge sigh, I removed the yard of cloth I had already woven on each of the two drunk looms. I got out tools, and started to work. It was challenging getting to all the internal screws holding the side supports with a still intact warp, tied off at the reed, but surgery was the only option here.
I slowly reassembled the parts on each one, and realized that the ratchet also had to flip, so the teeth would face in the correct direction, but the metal ratchet was counter sunk on the wrong side, so I will eventually have to investigate different screws since I can't really counter sink the metal from the opposite side and trust that the hole won't break away. Meanwhile, I just wanted to weave again.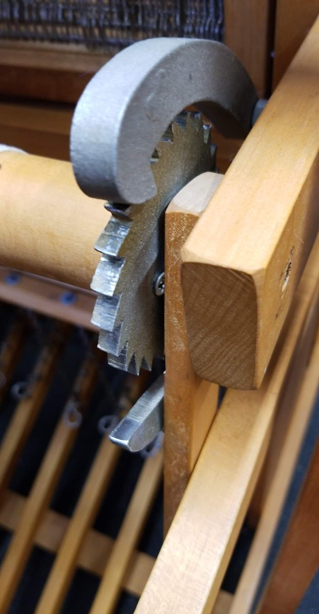 So both looms have "sobered up" and I'm happy to say that they are weaving square. Perfectly. I am pretty proud of myself.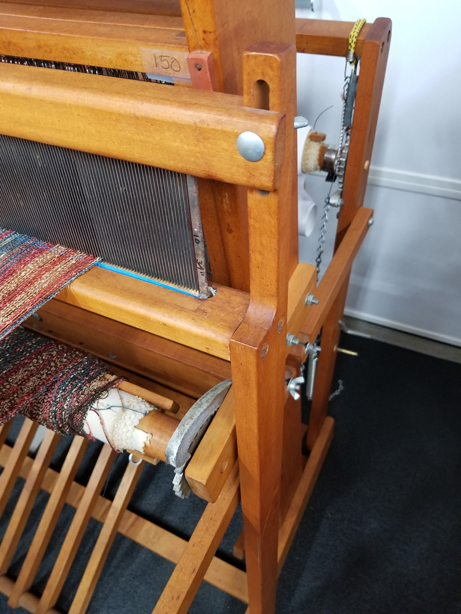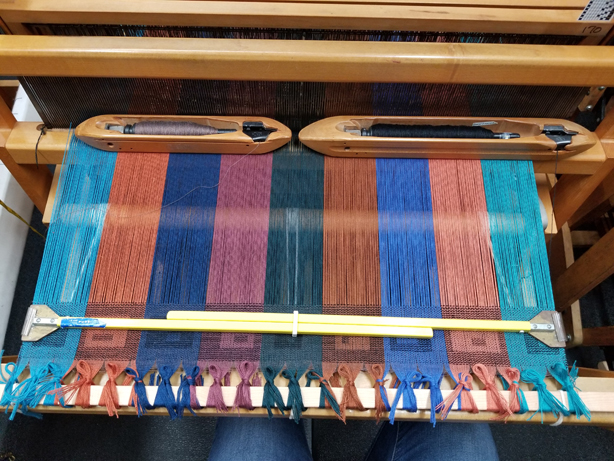 And I had also corrected, before I put the Harvest warp on, a split warp beam on the 32″ loom, that happened when my strong as an ox daughter was trying to tighten a rug on it. And this loom did not have a friction brake which drove me nuts.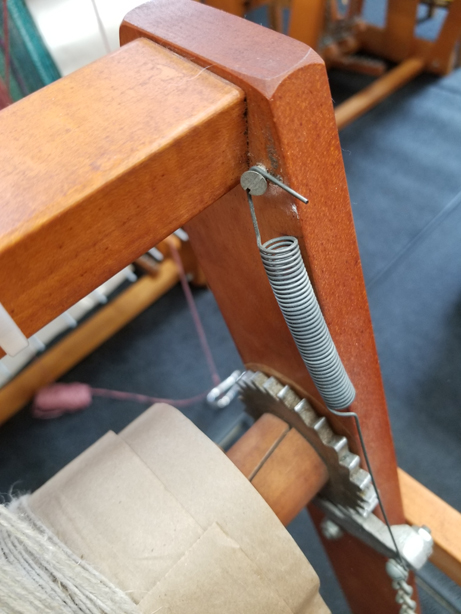 I pulled that beam, glued it and clamped it with a permanent pipe clamp, and taking a page out of the Macomber loom playlist, which has a mechanism with a cord and chain that creates a drag on the warp beam of a loom without a friction brake, I rigged up a couple of bungee cords which works perfectly!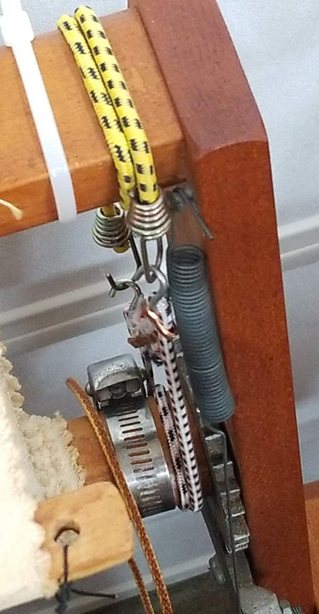 Meanwhile, my student came, and spent five days in my weaving studio designing and weaving off four yards of pretty complicated fabric, with combination structures and supplemental warps. She brought all of the yarn with her, and was able to use most of it.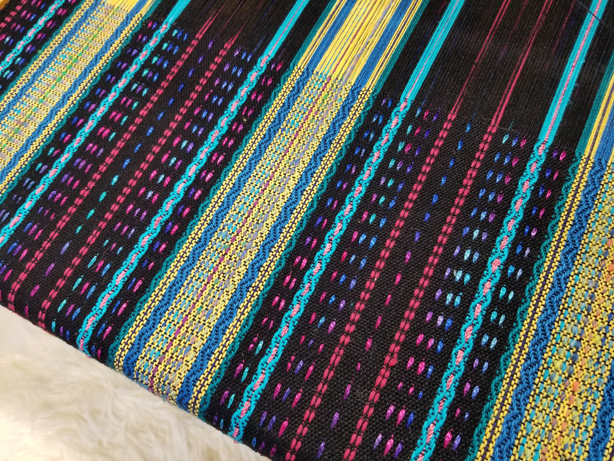 Because there was a lot of time just hanging while she sleyed, threaded and wove the four yards of fabric, I sat at neighboring looms and just wove, on the simple stuff so I could always be available for questions.
I cleared the Zanshi fabric, woven from tying all the thrum ends together of my leftover warps, which I did while watching endless Zoom presentations for the last couple years. There might be 6 yards. I haven't cut it off and washed it yet.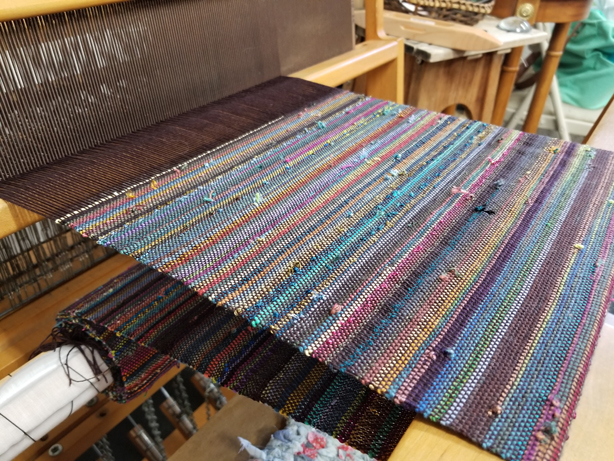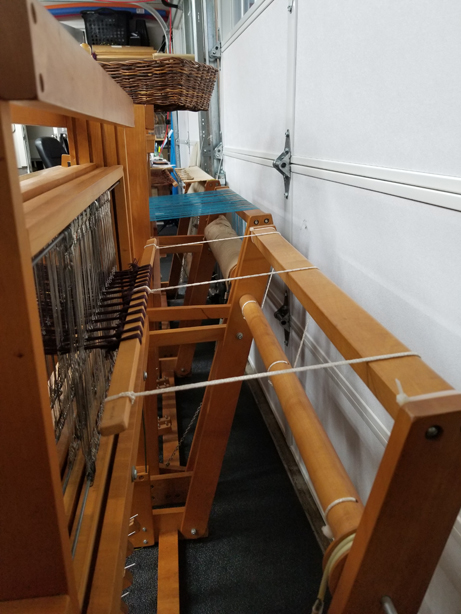 And I cleared the other loom that I had performed surgery on, just the morning before I picked her up at the airport. Another 6-7 yards probably.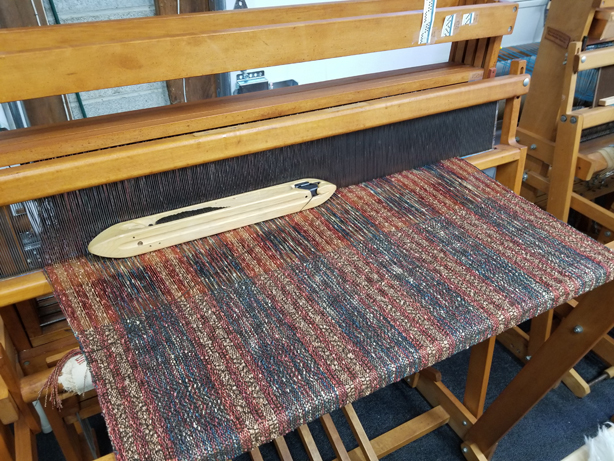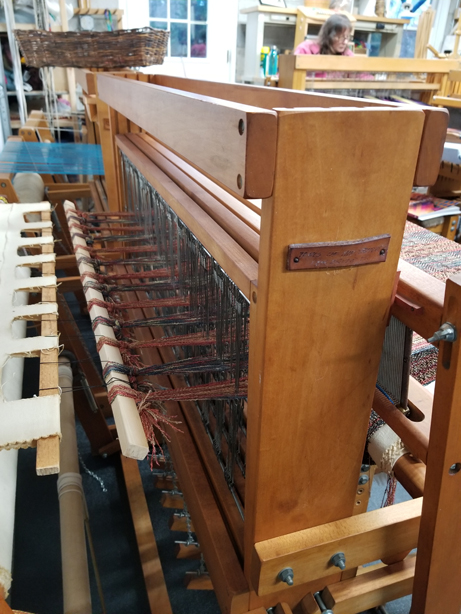 And I sat in the back corner of the studio, within earshot and wove a substantial amount of my doup leno structure on the table loom from hand dyed cashmere, while looking out the window at the beautiful lush November rain falling on the pond.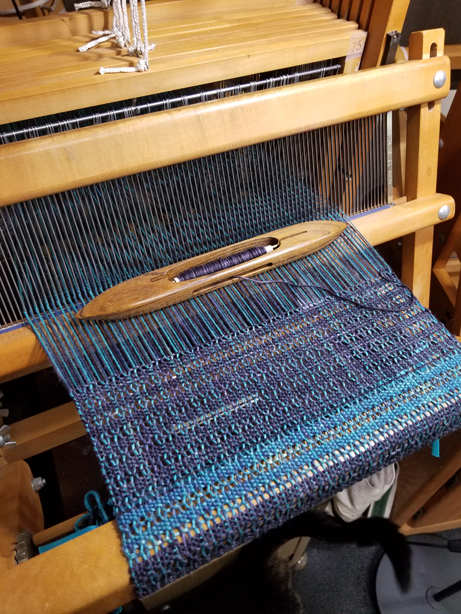 I was wishing I had more days where I could just sit in the studio and just weave. My days are full of stuff that doesn't allow me to be in the weaving studio. I'm always at my desk in the 2nd floor office, like I am now, or in the basement sewing studio, prepping for another YouTube video, The Weaver Sews. Things are coming along there, as I build a tunic from a beautiful hand dyed and hand woven wool.
And the Shakespeare Theatre of NJ is finally having an in person live performance at their theater, first since their production of A Christmas Carol December of 2019. I volunteer as a stitcher in the costume shop, which is just gloriously fun for me, and they called and asked if I'd come again. With a mask, and my sewing kit, I head there once a week. I hem pants and sleeves, move buttons and add snaps, just easy stuff that gives them an extra set of hands, and I love seeing the behind the scenes look at a very professional costume shop.
To all of you who celebrate some kind of seasonal gathering with family, like Thanksgiving for my American friends, stay safe and wear a mask. We aren't out of the woods yet. I've had my booster and my flu shot. I'm staying local and visiting my son, who will make his first Thanksgiving meal.
Stay tuned…