Today is a bittersweet day, my late husband would have turned 70. My daughter and I were talking about all of the things that have happened in this world since he died almost 5 years ago, and how much we would love just to sit with him one more time and hear his thoughts on the bigger picture. He was always good at that.
So we started the day with my late husband's most favorite thing, a NJ classic, Taylor Ham, egg and cheese on an Everything Bagel. The shop on Main Street makes the best. Actually I started the day with a 4 mile walk through town, to a ball field, around the track and back, but my daughter would never get up that early!
And spring arrived this weekend. Along with glorious sunshine and temps in the 60's. So to celebrate that, and my late husband's garden legacy that my daughter painstakingly rebuilt last fall, we went to the local garden center and bought cold weather crops, lettuces, salad mixes, kale and collards. They will get planted next weekend. And pansies. We planted pansies. They are the most colorful wonderful sign of hope, rebirth, spring. My late husband is smiling.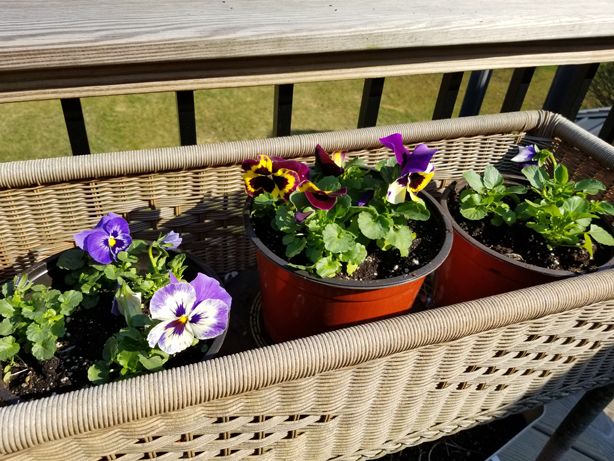 This past weekend was the Florida Tropical Weavers Conference, and I was a presenter, actually I was the first to present last Friday. I've done this conference before in person, and it is always a treat to head to Florida in March when NJ cold just won't seem to end. This year it was virtual, and though I know this is not a replacement for an in person conference, this team did an outstanding job of bringing the entire conference to the membership remotely. As a presenter, I got to tune in whenever I wanted, and they even had a fashion show slide presentation! I skipped the Saturday evening Pajama Party, there is such a thing as too much screen time. I loved the lectures, and was particularly inspired, which means I needed to finish off some things so I can get new stuff on the looms.
And so I did. First up was my taxes. This is probably the job I hate the most in my life. Yes, I turn everything over to an accountant, but with a business and payroll, there are just so many things to pull together and I'm terrible at using Quickbooks. Really. We are not friends. So I resort to doing things mostly by hand. My accountant promised after tax season last year to teach me some basics, but of course with Covid, that never happened. So taxes are now done and delivered to the accountant.
I finished a sweater I started a couple months ago. It still needs blocking, but I think I'm just going to put it on and let my body heat do the job, before it gets too warm to wear it. Pattern is C2Knits Jemma, and the yarn is Rowan Alpaca Colour in Topaz. I had help of course.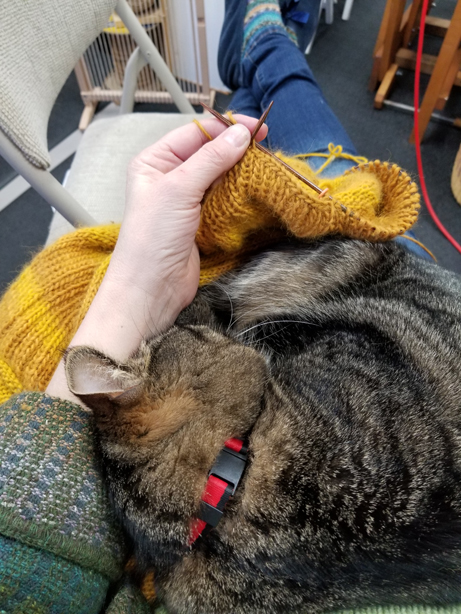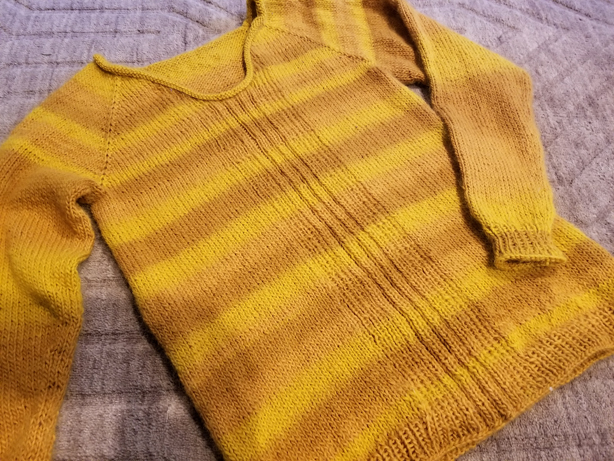 I finished weaving a run of six scarves, because one of my favorite arts venues, The Shakespeare Theatre of NJ, struggling to hold on valiantly through Covid, is having another online auction fundraiser. I wanted to donate one of my scarves and they were still on the loom. So I wove off the last one, washed and dried, tagged and delivered the scarf today. I'll let you know when the online auction starts which will be in a couple weeks, but if you just periodically go to the site, you'll see when the auction preview is up. Bid early and often! This one is called Autumn Harvest, which I know isn't really spring like, but I started it going into last Autumn. Weaving is a slow thing… (Actually, I think this is one of my all time favorite color combos I've ever done…) Mostly hand dyed yarns, rayon, cotton, Tencel, silk. 8 Shaft combination plain weave, twill, with supplemental ribbons. You can purchase and download the draft here…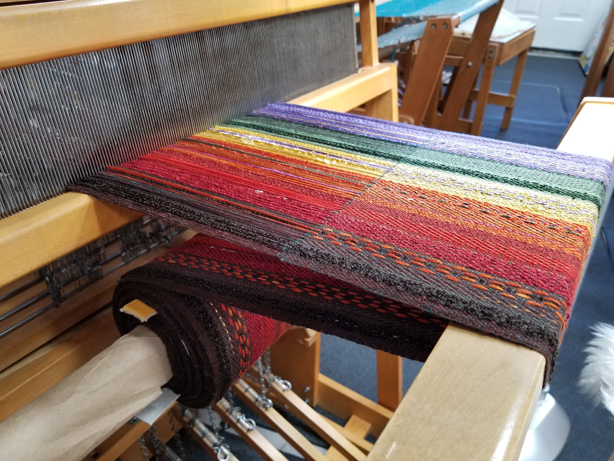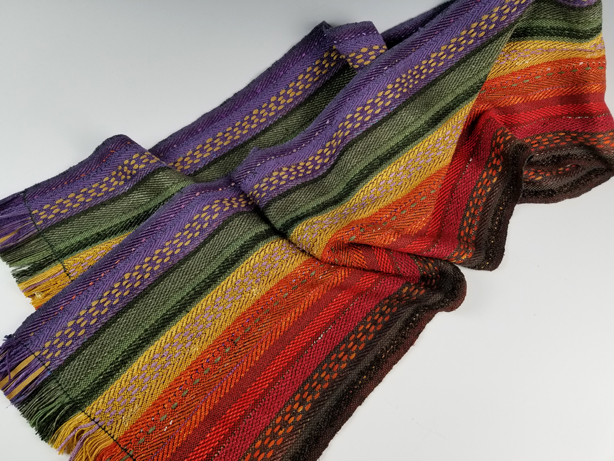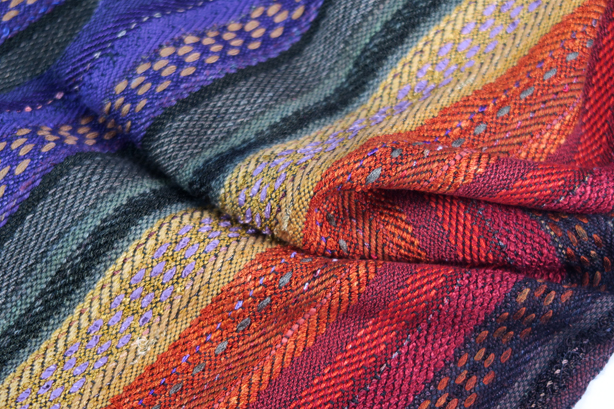 And my Harris Tweed Jacket… I've been working on this step by step in my YouTube video series The Weaver Sews. I sat outside today in the glorious sunshine and finished up sewing on the buttons and removing all the tailor's tacks. I adore this jacket. I can't wait to make this my new go to jacket to grab and go. The trim is caviar leather and the pattern is my 200 jacket with the welt pocket variation. And of course I had help with this as well…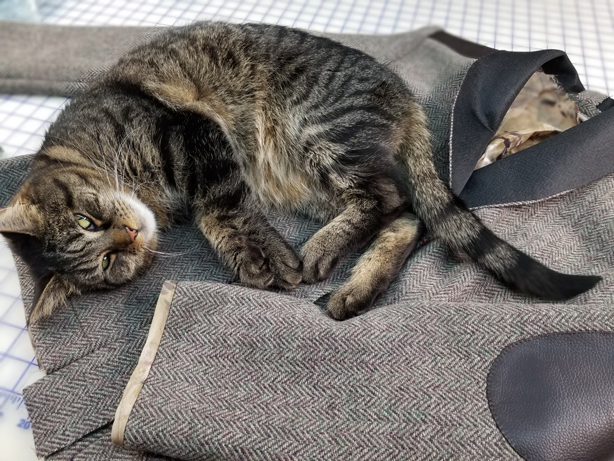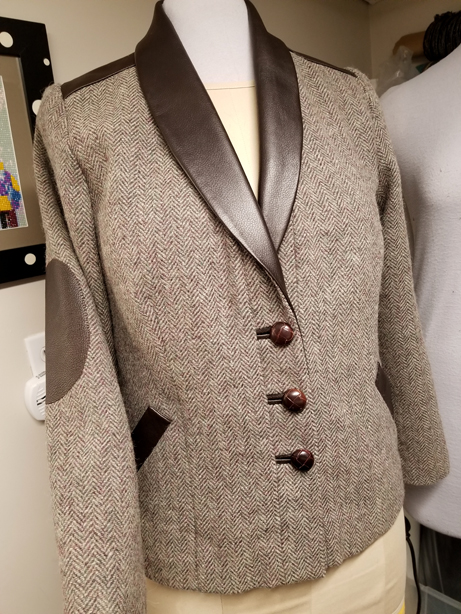 And so I started another sweater, this one from Harrisville Silk and Wool I bought when I was teaching up there a couple years ago, they had a mis-dye, and the skeins were pretty cheap, but I loved the color, I don't have anything like it in my wardrobe so this should be fun. The pattern is from Harrisville Designs, Mattock by Amy Herzog. I should have this done in time for fall.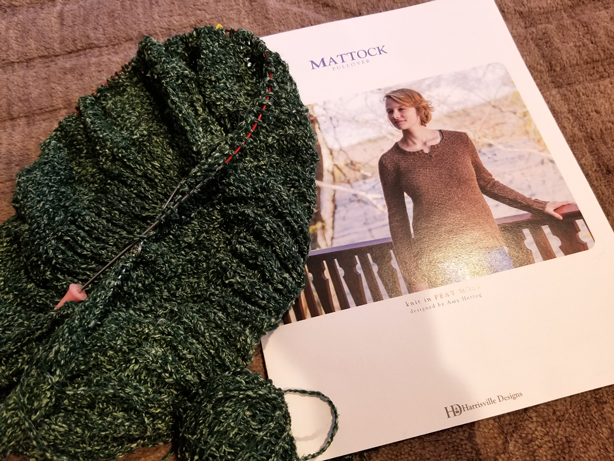 And in the paper the other day, I came across my horoscope, I'm always entertained by them, I don't really know why, but once in awhile, one makes me sit up and think.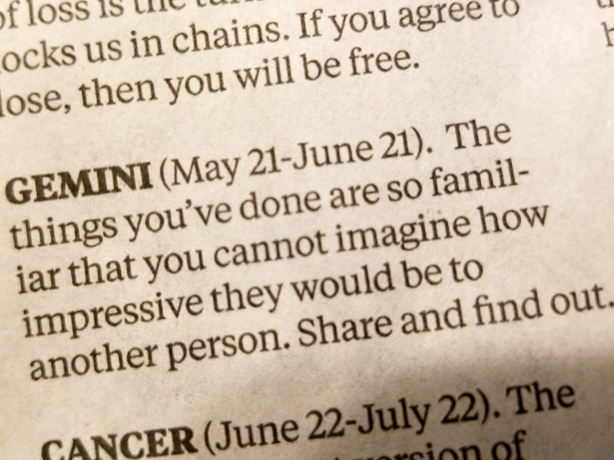 And yes, the things I do are familiar, and that is so very comforting. And I forget that others don't have the kind of experience I've been gifted over the years, and sharing is important. I've now turned down pretty much all of my future travel opportunities, and I sort of think of myself as retired, but yet I'm busier than I've ever been, but with stuff that makes me really happy, converting my vast knowledge base into a digital legacy, through the YouTube channel, and some of my writings and instructions. And the patterns. I get up every morning, take care of the animals and then walk. I just walk. I get to breathe, think, get inspired, and I'm not a completely crazy person trying to do it all. I actually have time to go to the garden center and by pansies and put them in a pot. Or three.
My daughter qualified for her first dose of the Covid vaccine. I'm still waiting for a call, but I'm hopeful that I'll have it soon. Meanwhile, I'm patient, I'm a weaver. We can be very patient. And I'm exploding with ideas of fabric I want to weave (my daughter and I are arguing over who gets to play with a stash of Harrisville yarns we have… ).
Stay tuned, enjoy the sun, it brings hope and flowers and birds and signs of spring.