A long time ago, seems like another lifetime, I gave up ten years of craft fairs and production work, because 1) I was so burned out I didn't want to weave anymore and 2) I was pregnant in my mid 30's with my first child. He turns 30 in February. It was a long time ago. Talk about an abrupt life style change… As much as I can't imagine my life without my children, especially since my husband is gone, those early years were tough. I had my daughter just about three years after my son. So most of my 30's was about raising kids and desperately trying to recreate myself creatively, incredibly challenging. For many years the looms stayed fallow. It was just too hard to set up a loom, be uninterrupted without paying someone to watch my kid/kids while puttered away designing and threading. And without the source of craft fair income, it was had to justify yarn purchases.
But I had scrap. Boy did I have scrap. Handwoven yardage that is. I was able to recreate myself and make use of lots of those scraps in the years my children were young because it is easier to be interrupted at the sewing machine than at the loom. I've talked about this before, because a few years ago I started looking at all that scrap in the attic and downsized a bit, especially the early fabrics by making one pound packages and selling them off. Those are all gone, but there is still a lot up there, and more recent work has netted me some pretty fantastic colorful scraps that I can do some pretty fantastic stuff with…
Sidebar…
I'm heading to Whidbey Island next Friday with a stop off in Bellingham, WA to give a lecture to the Whatcom Guild. They chose to have my lecture on what to do with Leftovers. I haven't given that one in a year or two, and it was really lovely to go through and pull all the ingredients for the lecture, because when I teach someplace where I have to fly, I have to ship a lot of stuff ahead. The "ingredients" or samples and examples for the Leftovers lecture won't fit in the suitcases I need for the five day garment construction retreat on Whidbey Island so they all have to be shipped head as well. And because this is the Pacific Northwest, and I live in the Northeast, I have to give lots of lead time for stuff to get there. Which means a lot of preplanning and prepping. So earlier this week, I focused on cutting and printing and binding and packing everything I need for both the retreat and the Leftovers lecture, which made me go through the content of the Leftovers lecture and remind me why this topic is so much fun. Everything has been shipped out and I have some time to kill…
The fun part for me is that I already have all the "ingredients" for a lifetime of playing with handwoven pieces that are really just trash. The garment they came from is finished and somewhere in my closet or sold. I only have one venue a year where I can sell things I make from scraps, and there isn't a whole lot of money to be made, once the guild takes its percentage, but still, my Jockey Hollow Weavers Guild show and sale in November is a pretty strong venue if I take the time to actually make stuff.
So I have a week or so before I fly out to Seattle, and the prep work for the workshop is done, and I pulled a large pile of miscellaneous stuff from my attic, and set out to see what I could come up with.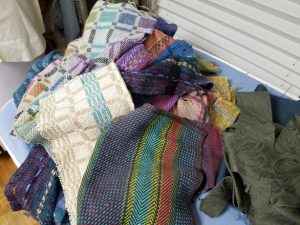 I'm seeing a lot of images of bags and items on social media that use my long ago developed technique for piecing. All you have to do is show a person or two the technique, in a class or lecture and social media spreads it like wild fire… I've already made two bags and sold them immediately at the guild sale last year, and this last one used the remaining bits. The technique uses a tricot backing, scraps are fused to the backing with cut edges butting together, and the joins are covered by bias tubes using a duct tie as a press bar. I've documented the process along with the rest of the technique suggestions in my "What to Do with Leftovers" monograph.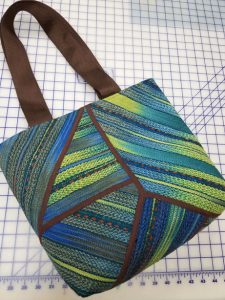 I also found a very large hunk of a woven piece I did years ago featured in a Handwoven Magazine article, using a Theo Moorman inlay technique with Pendleton Woolen Mill "worms" or blanket selvedges (I shipped home a couple of bales from the mill during a tour after the Pendleton Oregon ANWG conference back in 2005 I think). I wove them in using tie down threads on a wool background using up stuff on my shelves. This made for a great two sided fabric and it was a perfect candidate and just the right size to squeak out a vest from my collared vest pattern. No need for a yoke since the "worms" changed color midway up the scrap. Here is the link to the original coat, long ago sold to my favorite customer.
And I made another padded zipper pouch last night, with a leftover piece from last year's dishtowel run. The piece wasn't enough for a full dishtowel, and not really the right size for a napkin. I showed the first one I made a couple blog posts ago I think. There are a boat load of YouTube videos from quilters on making zippered pouches, though I'm having issues with my serger, this still came out quite lovely. (Note to self: figure out what's wrong with the serger, changing needles didn't help…)
And I got the idea of making greeting cards out of the smaller scraps, from some I got from a guild or conference tote or something. I ordered a bunch of Strathmore blanks with envelopes and cello sleeves and my daughter immediately stole all of them and made them into cards so she could sell them at the sale. Her scraps are infinitely more interesting than mine, but I'll have competition at the guild this year for greeting cards. Hoping people still send snail mail greetings…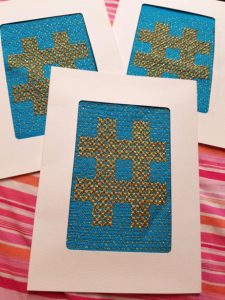 And of course there is nothing like a deadline.
Additional sidebar…
I am a huge fan of the Shakespeare Theatre of New Jersey, their productions are incredible, and I always try to attend their annual gala fundraisers whenever I'm actually in town. This October they are hosting another fund raiser, with requisite tricky tray, called "A Bard's Barbeque". I've donated my handwoven scarves to their tricky tray in the past, but the BBQ theme needed something different. I spoke with one of their development directors about donating a couple of handwoven dishtowels, you know, the Lady Macbeth "Out damned spot" kind of thing. They loved it but it means I have to clear the loom of the 14 dishtowels to get two for them before I leave for WA next Friday. No pressure.
I think I just finished number nine…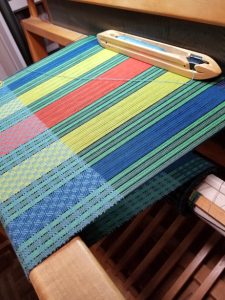 And while I had my morning tea, I leafed through the new Shuttle, Spindle and Dyepot that has been sitting on the table for a week now. It has the conference registration for next year's Convergence in Knoxville, TN, and I'm not on the roster by choice. I didn't apply to the conference because, well if you have been following my blog you know that I'm not interested in doing conferences anymore. That said, I was surprised as I leafed through the magazine, to find myself on page 25, or rather my coat, which I had forgotten had won the coveted HGA award back in 2018 and was featured in a spread in the magazine that featured all the HGA award winners from last year.
I read on, and was surprised again to see me, like a picture of me, on page 7 of the conference registration book, because I'm one of the invited fashion show artists. There are three of us invited, I was the juror for the fashion show in Reno in 2018, and now, I'll be sending five pieces of work, so my work will be there, just not me. Talk about a serious deadline…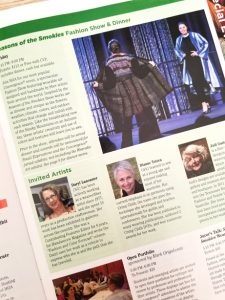 And then I really was surprised when I turned to page 44, almost at the end, and saw a lovely ad featuring my dress, it was an HGA ad for Professional Membership. I have this vague recollection of the editor asking permission to use my piece in something… The ad is beautiful. And of course I'm a professional member…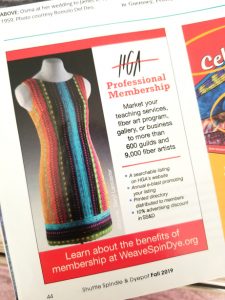 Nice to be featured prominently in a magazine without actually having to write anything!
Stay tuned…