Seems like a year ago, but it was only a week ago that I was settling back in from my trip to MA, to Snow Farm where I taught garment construction to the felters.  I mentioned in a previous blog I felt like the only instructor not from the US? Milliner Jean Hicks was from Seattle, and Lisa Klakulak was from Asheville, NC, and Gail Crosman Moore was from MA, but many of the instructors came from great distances to bring an aesthetic to the conference that was fresh and inspired.  I left the conference at the mid-point, because I had finished my class, and I really needed to be home.  I longed to stay and play, but knew that after 5 conferences in a row, I had kids to get back in school, and a house to sort out, and business to attend to, and I needed to get on the road.  As fate would have it, the conference followed me, so to speak.
Liz Clay, renowned felter from the UK, chair of the IFA (International Feltmakers Association) needed a place to stay near NYC for a couple of days, so she could easily access public transport for some appointments she had, before returning to England Wednesday night.  After much logistical preparation, it was decided that Gail would drive Liz to my house late Sunday night after the conference concluded, since Gail lives another hour south of me.  A couple hours after I returned from Millbrook Village (yesterday's post), I welcomed Liz to my home, where we had a cup of tea, and decided on a plan for the next three days.
I put Liz on a NJ Transit bus to NYC on Monday, where she poked around a number of shops in the garment district, some on my recommendation, like B&J fabrics, and NY Elegant, M&J trim, etc.  Others, like Paron Fabrics, Liz found from a recommendation from someone from the conference who sent a great link for a walking tour of the garment district. http://www.paulanadelstern.com/fabric/guides/index.php Paron apparently has an annex where you can get fabrics for half price.  And of course there is always a trip to Mood, of Project Runway fame.  Liz returned exhausted and loaded with bags of all kinds of silks to felt with.
On Tuesday, I decided to take advantage of Liz's knowledge and connections, and accompany her to NYC.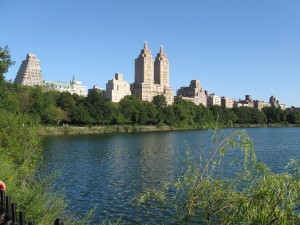 I knew the routes, and the transit system, and she had a lot of ground to cover, even though I've seen many of the things that were on her list.  We left NJ early, and headed uptown to the west side of Central Park, on a subway, getting off at the 86th street entrance to the park.  I have only crossed at 81st street, in the past, because my destination is usually the MET.  The Cooper Hewitt Museum of Design is further north on the east side of the park, closer to 90th street, so it made sense to cross there.  We started on the road, and Liz said, let's not walk on the road, lets go through the real park.  I had no park map, and fearful of getting lost in Central Park, I followed her.  She took a couple of instinctive turns and ended up on the pathway around the Jackie Onassis Reservoir, which was a spectacular body of water, full of joggers, walkers, baby carriages, and city life out for some R&R. We excited the park on the east side, right in front of the Cooper Hewitt.
We arrived at the Cooper Hewitt, way ahead of schedule, entering through the employee entrance,  we were to meet up with Susan Brown assistant curator of textiles for the Cooper Hewitt, who organized the Fashioning Felt exhibit, which I saw last spring.  Susan was gracious, and knowledgeable, and very excited about the show, the catalog, in its second printing should be available soon from Amazon.com.  If I understood correctly, the catalog was one of the best sellers of any show at the Cooper Hewitt. She was also in negotiations  to have the exhibit travel to the west coast, she wouldn't divulge the location!  Susan took time out of her day to give Liz and me a private tour of the exhibit, before it opened for the day.  It was great to view the exhibit again from the curator's perspective, and I saw things I completely missed the first time around.  Janice Arnold's yurt in the conservatory was of course, beautiful, but I got a better understanding of the installation complications with such a massive structure in a historical space.  As it turned out, Janice had just flown in on the Red-Eye from Seattle, to do something with a videographer, and we had tea with her as well.
Our next stop was a 10 block walk south to the MET.  The MET would take a month long vacation to see all of it, but there are a few grand spaces which are my favorites, where I take people who haven't seen the museum at all, and the lunch in the basement cafeteria is one of my favorite places to eat in NYC.  So we grabbed lunch, and I took her up to the rooftop, spectacular views of Central Park, where there was a wonderful installation by American artist Roxy Paine. We left the roof, and wandered down to the Arts of Africa, Oceania and the Americas.  This is one of my favorite departments, I love the primitive expressive quality of the work, and the simplicity of the forms.  I could spend hours in just this department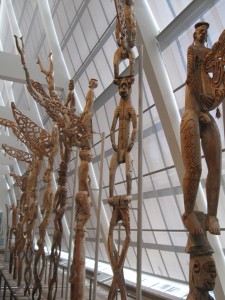 alone.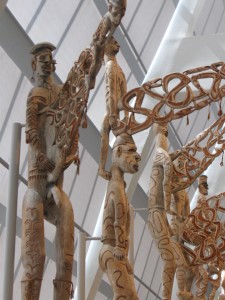 Much to my complete surprise, an entire wing had been added onto the exhibition in the past year or two, that I had completely missed.  We spent a lot of time there and I learned about The Asmat Bis Poles, "The most spectacular sculptures of the Asmat people of southwest New Guinea, the ancestor poles known as bis."  They were created as the vocal points of a memorial feast that honors individuals who have died recently and become ancestors.  Each figure on the poles represents and is named for a specific individual.  In the past, the poles also reminded  the living that the dead must be avenged.  In Asmat cosmology, death was always caused by an enemy, either directly in war or by malevolent magic.  Each death created an imbalance that had to be corrected through the death of an enemy.  So traditionally, a bis feast was held in conjunction with a headhunting raid.  Now a bis feast may be staged to alleviate a specific crisis or in connection with male initiation." (Text summarized)
That would explain the very well endowed male figures!
We were allowed to take non flash photos, so Liz and I ran around with our little cameras, grabbing shots at whatever interested us.  I was totally taken with all the masks, the imagery, expressions, primitive interpretations of the human form, and in many cases, colorful sculptures, and playful characters.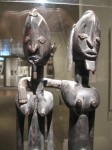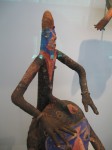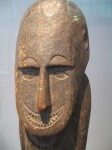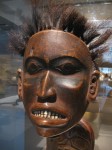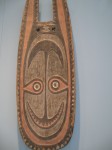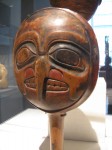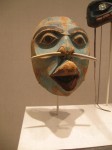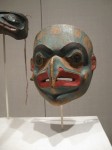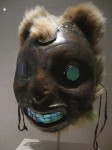 I especially loved the woolly bear mask at the end.  The addition of stones, fur, ivory like materials, all added to the characters and their expressions.  I could see many of these masks as greeting cards with wicked sayings on the inside!  I'd love to know what the artist was thinking when they carved these creatures.  Especially the first photo of the male and female.
Liz and I ran through the Temple of Dendur, and the new Greek and Roman sculpture gardens, and then we set out for the 20 block trek to Julie Artisans Gallery.  Julie Dale has had this wearable art gallery on Madison Avenue for as long as I can remember.  Liz had some work there, and had an appointment to show Julie some of her new felted brooches, and scarves.  As we arrived, the gallery got very busy, so we waited for awhile before Julie could see us, which gave me lots of time to really study the work, the techniques, and watch a wearable art gallery in action.  I was blown away by how effortlessly someone spent a  thousand dollars on a  garment.  It has been many years since I did the craft fair circuit, and I have no reference point for fine American craft, especially in the textile world.  And I was really thrilled to see a venue like Julie's survive in this very poor economic climate.  Julie selected a few of Liz's floral brooches to try for the fall.
Liz and I hopped on an M-4 bus, and headed down 5th avenue, all the way to Penn Station.  We had an appointment to meet a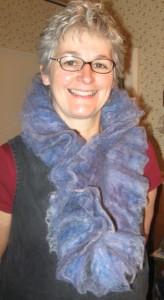 client of hers, or a potential client of hers, an absolutely charming woman, who, as she describes herself, works to feed her craft fair habit.  I instantly fell in love with her.  This woman had apparently traveled all the way to England to see a well known craft exhibition called "Origin" in London, the first two weekends in October, and had seen Liz's work there.  We met up at the museum of FIT, a short walk from Penn Station, on 27th and 7th Avenue, where Liz got to see the Isabel Toledo exhibit, and the Fashion and Politics Exhibit.  We were quite exhausted at this point, so we were no longer absorbing anything we saw, but it was good to wander through the exhibits again, and share them with someone from the UK.
Afterward, the three of us went around the corner to a quiet pub, and had a beer.  It felt so good to just sit down, and relax, and Liz showed her client the work she had brought to show Julie Dale.  I haven't done a craft fair since 1989, and it was fun to reminisce about the old days, the old shows like WBAI, and some of the key players in the textile arts.  And I was thrilled for Liz when her client purchased one of her ethereal felted scarves (pictured at the right, on Liz).  It was hard to see in a dark pub, but her client happily kept darting outside to see the colors in the sunlight.
Liz and I made the trek home, back to NJ,  just making the transit bus, and hitting virtually no traffic.  We were completely exhausted.  We raided the refrigerator for leftovers, had a feast, and fell happily in bed.
Tomorrow: felting with Liz!  (Can you see why I'm so exhausted?)