I don't realize how little time I take off from the studio.  Since my studio is part of my home, cooking dinner is sometimes the only thing that gets me out of the studio in the course of the entire day, morning until bedtime.  I love being in my studio, there is always something going on, something to challenge me, something to draw me back after dinner, but I fear sometimes that I lose my perspective and ability to get out and just have some fun.  So other than an intense, nose to the grindstone effort to get the pantaloons done for the Cinderella coachman costume for my son, I actually spent the weekend entertaining my mom and step-dad, watching Les Mis at my step-niece's HS in Mount Olive, (which was an unbelievable production for HS), church this morning, (making a couple of new friends), a party this afternoon, (where I spent some time getting re-aquainted with some old friends), a trip to the airport tonight to drop off my husband, (where my girlfriend tagged along and we went out for margaritas and nachos afterward), and now I've had my fill of socializing and I am grateful for some perspective!  Time to get back into the studio tomorrow!  I have a jacket to finish, a website to finish, and an article to write for SS&D.  And I have placemats to weave.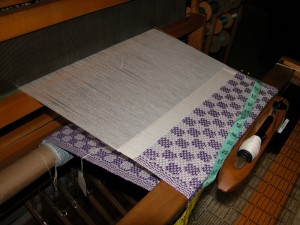 My daughter finished her second mat.  So now the race is on.  She has finished two of the eight needed for the guild placemat exchange, and I have only finished one.  But in all fairness, I got sidetracked by a pair of pantaloons…
Speaking of pantaloons, here they are, almost finished, held together with pins for the final fitting, and then I just had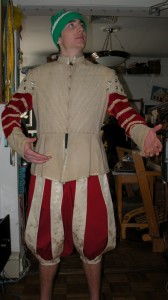 to sew everything together on the machine.  To refresh everyone's memory, my son is a theatre major at County College of Morris.  He plays the coachman and is in the ensemble for their spring production of Cinderella.  They gave him an old leiutenant's doublet from Van Horn and Sons Theatrical Costumes, the poor doublet was threadbare and tattered, and I did my best to repair, but he needed pantaloons to go with it.  To dull the brocade I used, I first boiled it in coffee and tea, which dirtied the fabric a bit, but not to the extent of the jacket.   I had a knit on the shelf that would work for the base color, so I backed it with an inserted weft interfacing and then started cutting.  I love how the pantaloons look, and on stage, sitting on a pumpkin, in black tights and black dance shoes, my son will look appropriate for a coachman that was once a rat.  The green ski hat is part of a 19 year old male college student costume so I imagine he will have to ditch that.
The weather today was spectacular.  The most gorgeous day so far this year.  It was sunny and 70 degrees, and everything is sprouting green, and the daffodils are just about to explode, the forsythia is bordering on full bloom, I love my yard this time of the year, in  spite of all the work I need to do.  It was a great day for an afternoon party which we were able to spend a good portion of outdoors.  Rain is predicted for the next couple of days, I'm hoping all this wet weather will help my little vegetable garden!  I love spring lettuces…