Today is Memorial Day here in the United States. It is a day to remember those who went to war and never made it home. It is a day of reflection of what might have been if young men (and women) had lived and started families and made a difference in this world. Those who went to war in my immediate family all came home. So this day isn't about them. My son, who is now a Staff Sergeant in the NJ National Guard, who has done two deployments, came home. It isn't about him. It is a reflective kind of day, and I've been doing a lot of reflection.
Next month, just a couple of weeks to be more specific, is the sixth anniversary of my husband's death. He died a slow agonizing death from esophageal cancer. There is a lot of time to reflect when you watch someone you've spent your entire adult life with, raised two children with, move on to another world beyond, without you. I've been thinking a lot about my late husband these last couple weeks when the news is just so horrific, so unbelievable, and so painful to watch.
When my husband was in his final months of decline, we went to a therapist, my idea, to help navigate this whole ordeal ahead of us. I was quite shocked to hear him say to the therapist, that he resented that I hid in my studio all day. I've been self-employed since 1978, and that means going to the studio all day, every day. I was still self-employed and had workshops to teach, samples to make, travel to prep for, but he never saw any of that, because he went out of the house every day to work, and came home for dinner. He had no idea what I did all day. In the later years of our marriage, he became a global analyst/consultant for a global telecommunications giant, and traveled the globe, spending months in foreign places. I had no idea what he did all day, and he had no idea what I did all day. We trusted each other to do our jobs. Nothing more.
Once he was forced to be home, because of his declining health, he got to see what I did all day, which was to him, hide in my studio. And I suppose looking back, there was a bit of truth to what he was thinking; my studio is the one place in this world where I have control over anything, not everything, but something. And in the darkest times in my life, going through breast cancer, watching my husband die, raising two children with struggles of their own, my studio was my friend, the one place where I could just be.
Now that I'm not traveling anymore, there are no deadlines, except ones that I put on myself, because I can, I don't need to "hide" in my studio and work 8-10 hours a day. I don't need to, I want to. The world is frightening, the complete failure of our elected officials to even dialogue about solutions to global issues is very very discouraging. The news is tragic, social media is a travesty. And that feeling of powerlessness, can be overwhelming. My studio once again, is my safe place, where I get to choose what path I take, figure out when there are problems, find solutions, and make stuff with my hands. And yes Kevin, you were right. I'm hiding. And I'm really happy here. Because out there it is hard to find light in such a dark place.
And so this Memorial Day weekend, I spent alone, in my studio, hemming towels and placemats, spending time in my garden, picking fresh greens to eat, and doing what I can in my small world, because that seems to be all I can do.
My last blog post I talked about the summer shirt I made from five huck lace dishtowels from a remote workshop I did through my guild, with Rosalie Nielson. There was still plenty of warp left on the loom, so I resleyed denser, to 20 epi instead of 18, switched to a darker weft for contrast, and proceeded to weave maybe a half dozen napkins. I really didn't have many handwoven napkins, I still reach for paper at each meal, and that is so silly. My using a cloth napkin instead of paper isn't going to affect global warming in the slightest bit, but it is one way I can feel like I'm contributing. Plus they are pretty…
I kept weaving… one napkin a day. I kept looking at the warp beam, seeing lots of paper on the floor, but no knots in sight. I kept weaving. Each new design block, I crawled under the loom, and retied the treadles. I got really quick at it.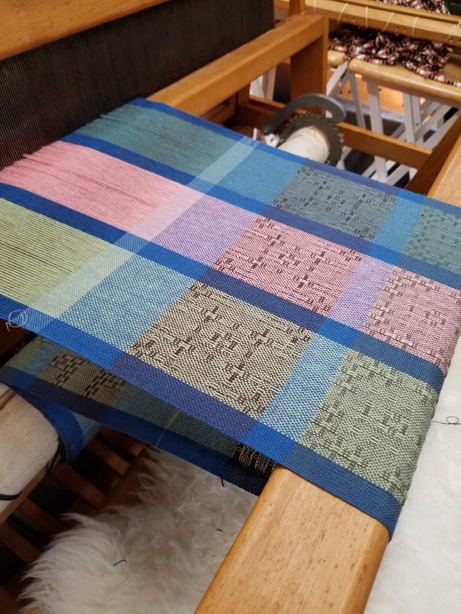 I finally saw the knots on Saturday. Spurred on, I wove two napkins. When I pulled the finished napkins off the loom, I was shocked that I had woven 12. All for me.
I had finished weaving the overshot placemats for a friend, earlier in the week, but since I hate naked looms, I left them on. I knew I had a lot of hemming ahead of me, so I decided to cut them off as well. I sat in my basement yesterday, even though it was a glorious day, and most people were out celebrating the holiday, I sat by the iron, cutting and folding hems in 12 huck lace napkins and 6 overshot placemats.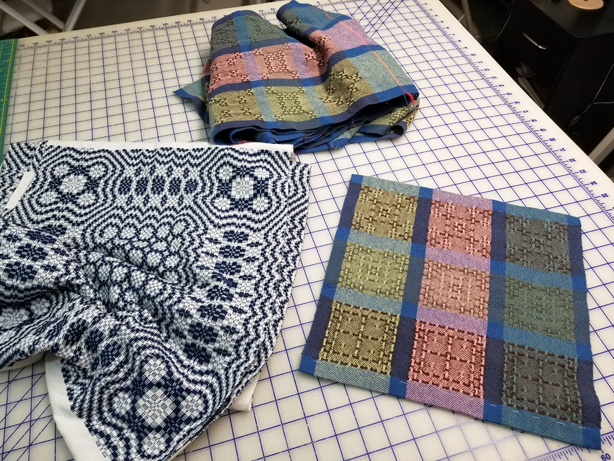 And while I was at it, I had this vague recollection of another overshot placemat, part of a set of 8, that was a result of a placemat exchange through my guild, many years ago (2009 to be exact). The 8th one came in a couple of years after the exchange and never got hemmed. Obviously I never used them. I'm not really sure why.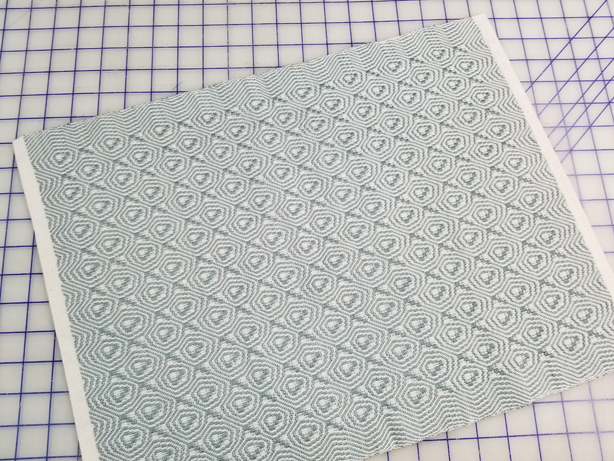 So as of this writing, the odd overshot placemat is hemmed, and 7 of the napkins have been hemmed. The rest are all basted and waiting for me to curl up again on the couch and continue.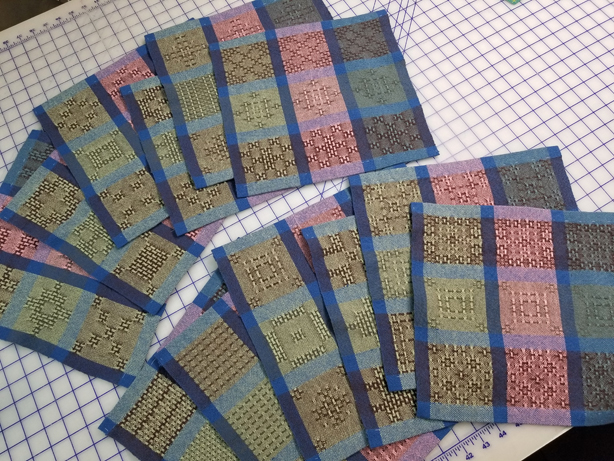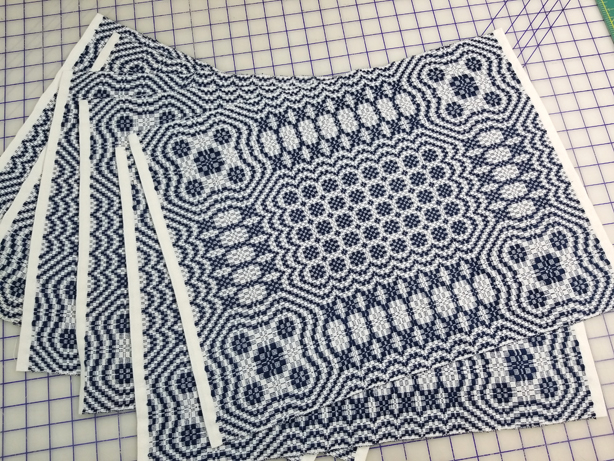 Meanwhile, in my quest to learn or relearn all the structures, to really focus on woven patterns and blocks that I could never really spend the time on in my active days of travel, I've set up two additional Structo looms, both 8 shaft, one with a Deflected Double Weave, the draft from Stubinetsky's Double with a Twist…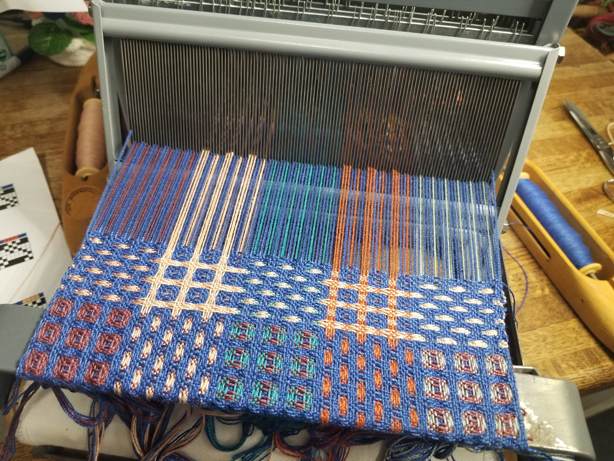 …and a Quigley pattern, from Tom Knisely's book on Table Linens. I've been in touch with the woman who designed that project, and she generously forwarded on the class notes so I can spend some time really exploring this very cool structure. I had done some Quigley when I was at Madelyn van der Hoogt's School of Weaving back in 2018. It was my favorite structure of all the ones I wove that week.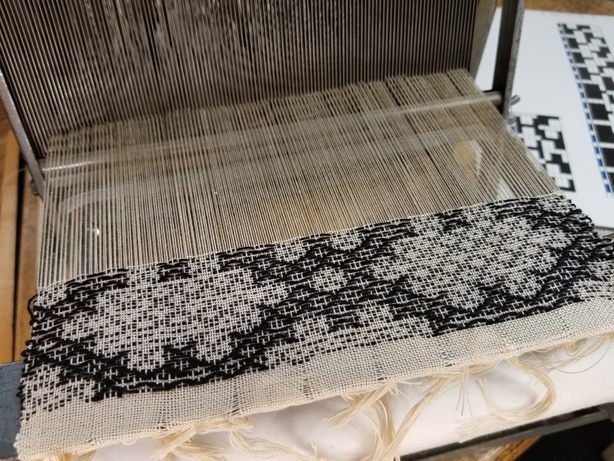 As I set up these little looms, and I have a lot of them, I keep thinking of more things I want to put on them. And I pulled the little 10″ Leclerc with the doubleweave sampler and started trying doubleweave pick-up. I'm using Jennifer Moore's design from her Doubleweave book I didn't thread my sampler the way she did, so there was heavy brain work to make the translation. But that helps me learn.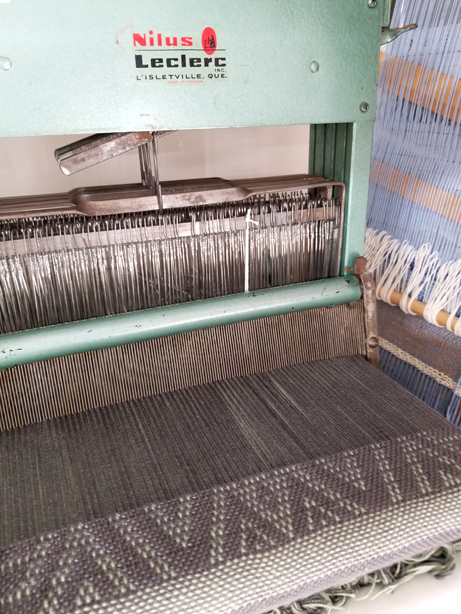 And so dear readers, I consider myself really really lucky. I have a place where I can find some bit of control, no matter what happens around me. I have friends, and people I love. As a matter of fact, last weekend was my birthday, and a long time friend invited me and two of our other mutual friends to her house, on a river, and we sat, four friends who have known each other for 30 years, raised our children together, and we ate, and drank, and put our feet in the cold rushing water of the river. I felt safe, and whole. I wish for all of you a safe place, where you have a bit of control over what happens in your life, a river to put your feet into with friends who love you and give you some clarity and perspective in this tough world.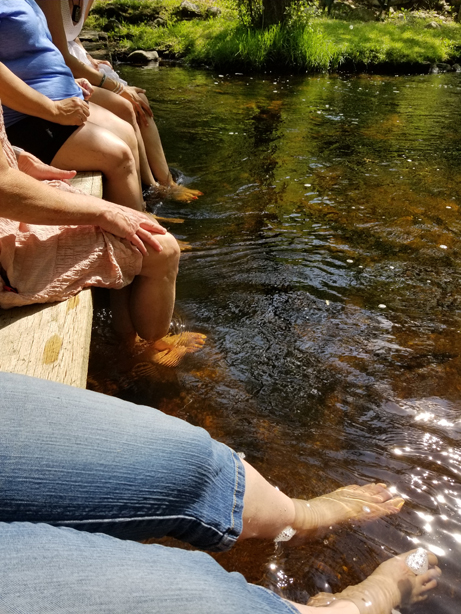 Stay tuned…