No, I didn't make a dress out of the drapes, but I did want another short sleeve summer top, the weather is getting warmer, and that in-between summer and sleeveless, and early spring with long sleeves…
Anyway, I took a fantastic guild workshop this past week, remotely, with Rosalie Neilson, creating blocks using Huck Lace. For the non-weavers, this is a weaving structure that produces lovely lacey designs, with warp or weft or a combination, floats. Though I've woven huck lace many times, I was more interested in her discussions of blocks and designing blocks.
So prior to the workshop, I set up the loom, not for the recommended 6 yards, I put on 12, because, why not? Because I could.
Once I got the concept of block design, using her extensive handouts with design pages, and overlays, based on her pricey but incredibly worth it book, An Exaltation of Blocks, which I own, and I figured out how to efficiently transfer those designs to my weaving software, I was like a woman obsessed.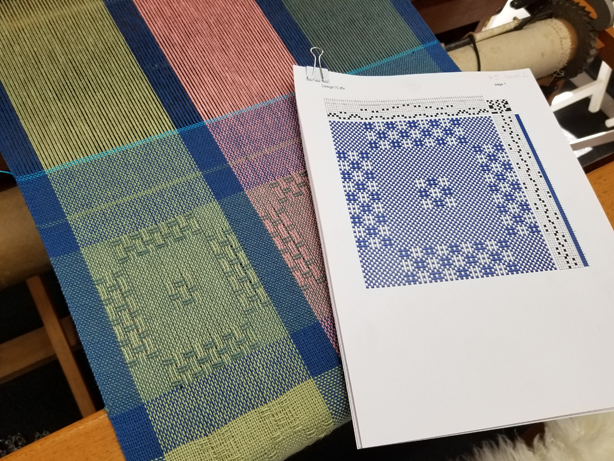 Within the week between sessions, I wove off five towels, each horizontal design across was different. Yes, I had to re-tie my treadles before each new design, and I was worried about my shoulder under the loom, but it worked out perfectly, and I got each re-tie down to about 6 minutes.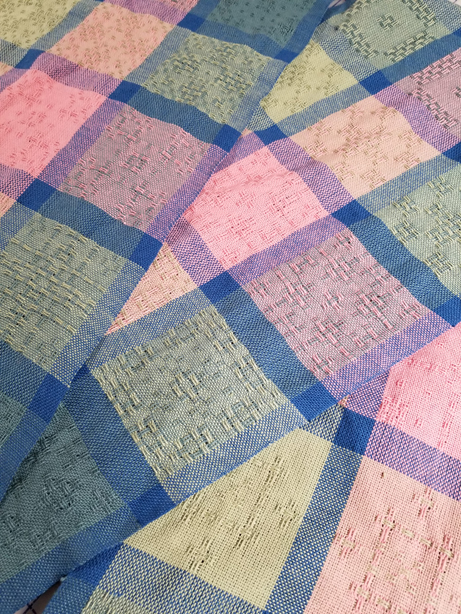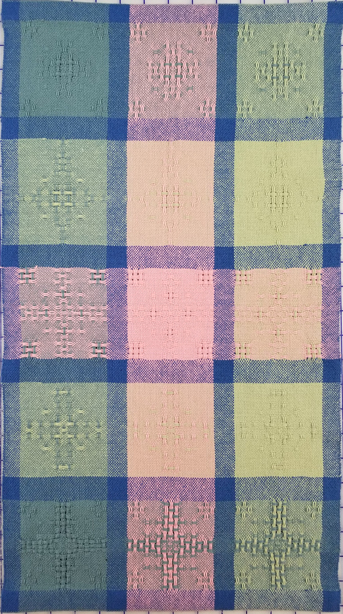 The towels were OK, not my favorite colors, and not my favorite proportion. I prefer bolder colors, but that's what was staring at me on the shelf, so I went with it. I prefer a towel in a 3:2 proportion, usually 30″ x 20″. These were 16″ wide by probably 30″. And I'm not a fan of 8/2 cotton sett at 18 epi. I know that's the going trend, Rosalie isn't the only instructor who encourages this sett. I'm a garment fabric weaver, I like my fabrics, and my towels to have meat to them. Personal taste. I'm allowed.
So I had these five towels, which represented a terrific exercise, and I kept thinking, boy, I really could use another summer top…
So Scarlett move over…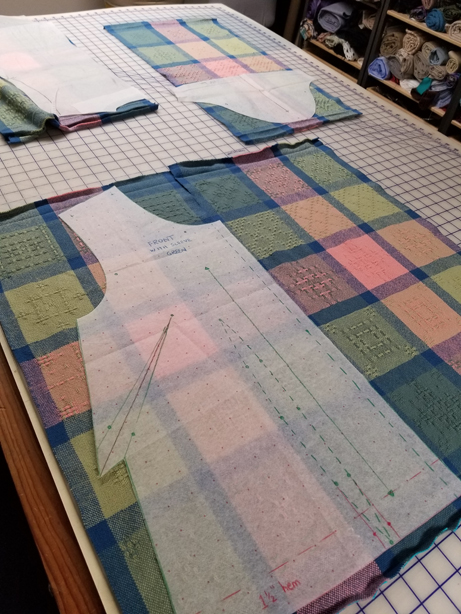 I used my 1000 swing dress pattern, cutting the center front and center back on the selvedges, and overlaid the sleeve of the 200 jacket pattern, and used the sleeve for that jacket, cut shorter, to create the top pattern. It has an invisible zipper down the back.
Because Huck Lace can be pretty fragile if you cut into it, I used 3/8″ (1cm) strips of cross wise cut Fusiknit and fused it on the perimeter wherever the cut edges were unstable, like on the sleeve cap.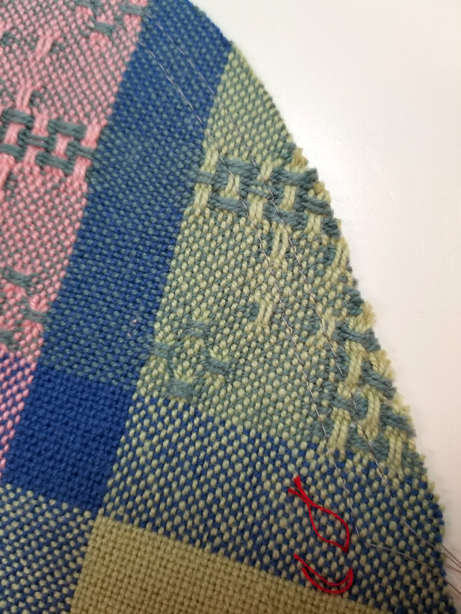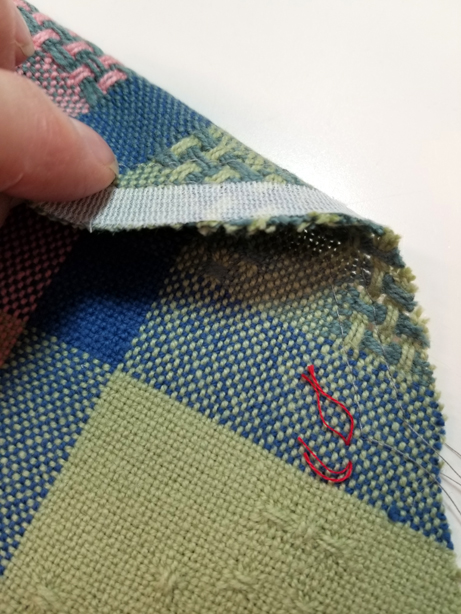 I basically sewed this top in one sitting. I was definitely a woman obsessed. The photo shows me modeling an almost finished top, just the handwork, and removing all the little red tailor's tacks. Getting the blocks to match was challenging, since Huck shrinks differently depending on the design.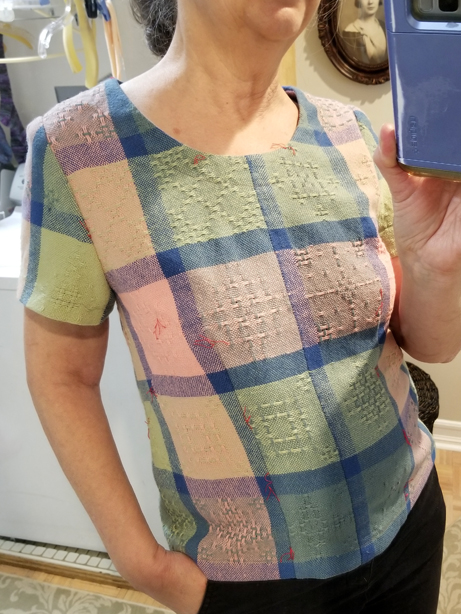 All the work is finished and it is hanging in my closet waiting for a place to wear it. I'm gathering with a couple friends on Sunday for my birthday. Sounds like a plan.
So back to Rosalie's book… I bought this book a couple years ago, and I will be honest, I had not opened it. I do that a lot. My one weakness is a desire to acquire all the knowledge, whether or not I ever actually read it, as long as it is here at my fingertips, I'm happy. I'm running out of room for books, and I am acutely aware that I really have no idea what's in my libraries, because I sent my daughter to an estate sale, lots of weaving and sewing books, and she kept sending me pictures of what was there, and I couldn't run up and down the three flights of stairs fast enough.
So after she brought home another 45 books, a couple ended up being duplicates, I decided on one of those massive undertakings, which is making me so happy. LibraryThing.com is a site which many of you are familiar with I'm sure; my daughter is guild librarian, and spent a good 6 months entering their entire library. So each morning I enter half a shelf of books. Some are easy and pop right up with an ISBN number, and others are self published and pretty obscure or very very old, and I have to hand enter that data. But the important thing here is I'm handling each book, and seeing what's in it. Wow, my head is spinning with all the knowledge at my fingertips, knowing I'll never read most of it, but still, it is a comfort to have it here. Art, fashion, fiber art, and art history books are in my office, weaving books in the weaving studio, and sewing books in the sewing studio. One day it will all be entered and I can sort by tags and authors and subjects. Let's see, what books do I have on huck lace…
I love these incredibly challenging long term organizational projects.
So with the leftover warp on the loom, remember I put on 12 yards, I resleyed the warp to 20epi, and I'm much happier, but I really won't know until I wash the cloth. I'm weaving myself a set of napkins, trying some of the 4 shaft textures she suggested, after I figured out how to weave them on 8 shafts. This is really fun. And I changed the weft colors to something more contrasting to show off the pattern.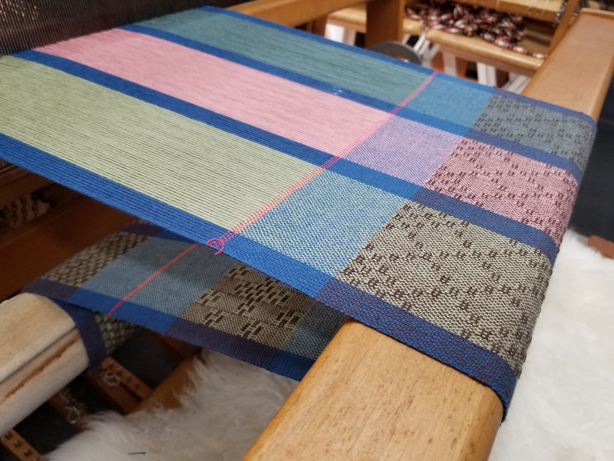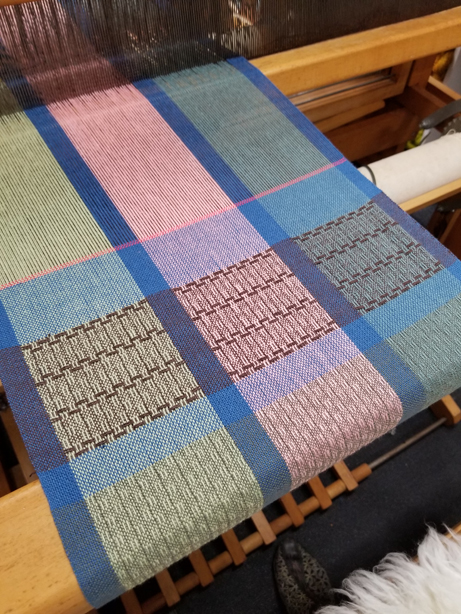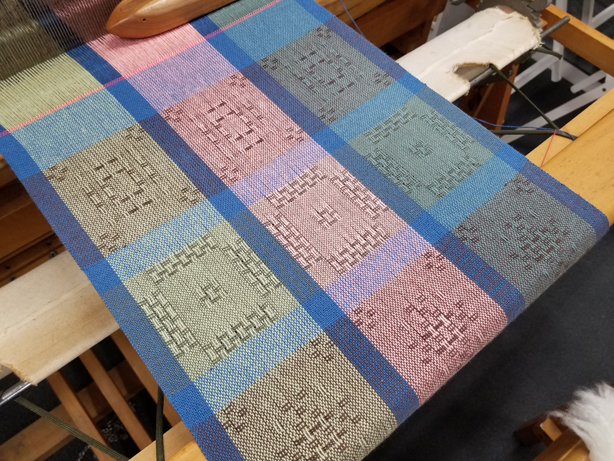 And I'm down to the last half placemat on my gift for my friend, a half dozen overshot mats to match a runner she purchased from our guild sale. Someone else wove the runner, but didn't want to weave six mats to go with it. The mats are 20/2 cotton ground, with a 10/2 pattern thread, and I thought they would take me forever. Minimal breakage, usually happens when I have to go back a few rows to fix an error. The 20/2 just gives out. I was worried I would run out of warp, but it looks like I'll make it!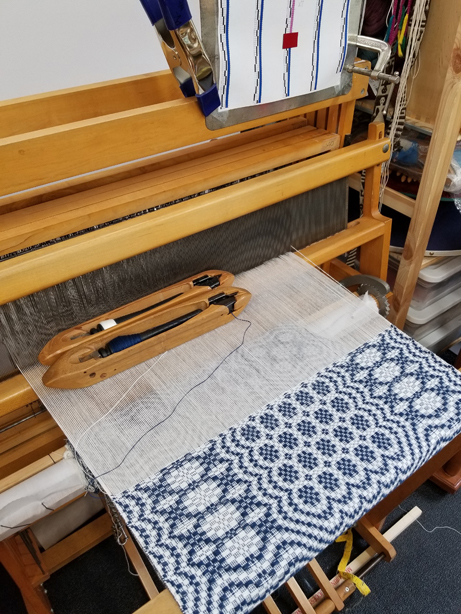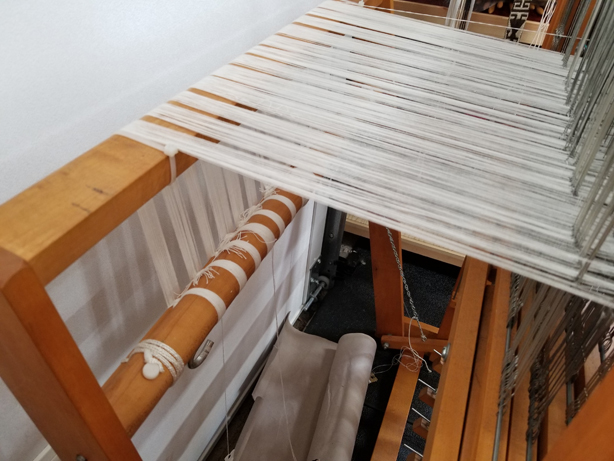 I have my little daily routine, the days are full, the gardens are lush, and I'm eating salad at each meal. Except we just had a rabbit get in and eat all the kholrabi and dill… 🙁
Stay tuned dear readers, lots more to come…