If you read my last two posts, you will know that this past couple of weeks have been just a little stressful. Life does have a way of resolving itself eventually, if there is anything I've learned, things have a way of sorting themselves out, and usually for the better…
The week before I left for Las Vegas read much like the old classic melodrama, Perils of Pauline, though oddly enough "Pauline has often been cited as a famous example of a damsel in distress, although some analyses hold that her character was more resourceful and less helpless than the classic damsel stereotype." (Wikipedia) Yeah, that was actually me… Just call me Pauline.
When last we left off, I had contractors everywhere, wilting bushes, computer woes, and other maladies that would make the sturdiest of us all quivering at the knees.
I woke up early Friday morning, ready to leave for the airport and really upset because my landscape contractor had moved about 50 bushes earlier in the week, and we had an unseasonable heat wave and three 90 degree plus days would surely kill off all my lovely plants. There was nothing I could do, I had to leave for Vegas, and there was no one to water, and the property too extensive to design a watering system at the last hour.
I did what any self respecting widow would do. I yelled at my late husband. I begged him to take care of the plants while I was gone, they were of course all his plants, and I was desperately trying to simplify his gardens so I could manage them alone, and if he wanted them all to live he needed to send rain. Which was not in the forecast. Imagine my surprise when I woke up Saturday morning in Vegas, and my painting contractor, who was building my new gazebo, told me he couldn't work on Saturday because it was raining. I nearly fell out of bed.
Meanwhile, the computer issues were not resolved, even though my lovely story of running a new cable on my late husband's urging was supposed to solve the problem, it did not. The internet issues were so bad by Thursday night I left in disgust on Friday ready to sell the house. Only kidding, but I've never been so frustrated, and unable to work. I'm still backed up probably 100 emails, I'm starting the slow slog to dig out from email hell.
The weekend workshop with the Southern Nevada Weavers and Spinners Guild was short and intense. This was actually a one day beginning and one day advanced inkle weaving class combined. Whenever I do this class, I warn students that because you had a one day class in how to weave on the inkle loom doesn't mean you are ready to tackle complex pick up, name drafts, and other hand manipulated structures. But they persisted…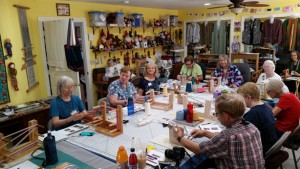 This was a wonderful group, mixed levels of experience, and yes, they persevered. The first day got everyone warped and learning to weave a competent band with clean selvedges, and experimenting with supplemental warp and weft and Baltic 2:1 pick up.
Day two was a lot tougher. We rewarped looms, and learned 1:1 name drafting, free form pick up, and about half the class attempted pair pebbles on the inkle loom. Crosseyed exhaustion played a large role here but I was impressed at how persistent this class was.
Though I was in Vegas, and the temps were over 90 degrees, I never left the lovely studio, which was in the house where I was staying. It was great to roll out of bed, eat and walk three feet to the studio. Sort of like my life at home.
Monday morning my hostess took me to the airport. It was my 62nd birthday. My flight wasn't until noon, and rain back home was predicted for the day, and as I suspected there were all kinds of weather delays for flights to Newark. I told myself that it didn't matter because my beautiful plants were getting watered, and that was more important than being home on time. Other than the three hour delay, the flight was uneventful and I made great progress on my sweater. Not a bad way to spend a birthday, in a Club lounge with free wine, knitting, quiet, and relaxed.
My daughter, bless her, came to the airport at 10:00 at night, so she would at least spend a bit of time with me on my birthday. She had presents waiting for me. We talked and had a lovely night. She had sorted my mail and two things jumped out besides the hilarious birthday cards from my sisters. First, my mammogram/sonogram all came back normal. This is always a stressor, when I have my yearly tests, and especially this year in spite of losing my husband, a couple of dear friends and my dog, all to cancer, it just makes me relive my own cancer experience until I get the all clear. Which I did, on my birthday.
The other piece of mail brought this…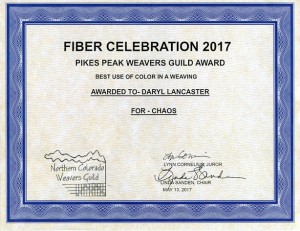 I had submitted three works for Fiber Celebration 2017 this year. Only one was accepted, and I will say that I was disappointed that the tartan coat that won first place at the Blue Ridge Show last fall, did not get in. I'm use to stuff like this, but it still amazes me how mercurial the selection process can be, and I say this having judged most of the major shows. I was though, completely surprised when my daughter called to tell me that all three of her submissions were accepted. She is on a roll!
Last week, before I left, a large packet came from the Northern Colorado Guild addressed to my daughter, and I knew as soon as I saw it that she had won something. She had received first place in yardage (beating out my entry) and the juror's choice award. Yes, mom was very proud. I wish I had a photo of her piece, woven with video tape, titled "Night Viewing", it was pretty amazing especially for a 24 year old. I wish I could take credit, but Brianna has a vision I never had at that age, even though I have a degree in Fine Arts.
That said, I assumed my yardage did not win anything, and that was OK. When I got home Monday, I was thrilled to learn I had received the award for Best Use of Color, and yeah, I'd agree with that…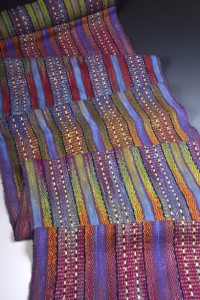 This is my yardage Chaos, which was created at the height of my husbands illness and subsequent death and I blogged about it last year. I desperately needed some color in my life and this helped a lot.
Yesterday morning, I went out on my deck and saw this.
My new hard top gazebo. It fit like it was designed for the space. I paid heavily to have my painter assemble it, there were something like a thousand pieces, he finished up Sunday night, and I sat and cried. It is so beautiful, and so perfect, and exactly what I had hoped it would turn out to be. Happy Birthday to me.
So that left the unresolved computer issues. Sigh…
My tech guy came later yesterday morning. We kind of looked at each other, rolled up our sleeves and were determined to find out the problem. We were persistent. I probably didn't mention that last week in desperation I called the cable company, they sent a guy who replaced the modem, because, why not, but he did a head scratch when I told him the issues I was having. He didn't think it was a cable internet thing.
So tech guy spent a couple hours going over everything with a fine tooth comb so to speak. There were actually a couple of seemingly unrelated things happening simultaneously and don't you know, they were actually related. He discovered a setting, that has not been an issue since my husband built my computer a number of years ago, something about a dynamic IP, that would randomly chose an IP from a huge list, because at the time, there were four of us living in the house, each with our own computer systems, he had three or four himself, with numerous peripherals, and apparently it made sense at the time. For some odd reason, since my IP was always changing, I was suddenly booted off the internet randomly, could no longer access my own domain shop and blog and website admin. He created a static IP address and I have been up and running ever since. To say I'm overjoyed and totally in awe of my tech guy would be an understatement. Geeks are the absolute best, and I'm sure my husband is happy tech guy was able to find the problem. I'm sure my husband had a hand in it. I don't really understand what actually happened, and I don't need to, because I have people for that, but I woke up this morning, surrounded by my doggies, another rainy morning, and lots of catching up to do because now I have stable internet access. I worked hard all morning on the computer, catching up on orders, printing, shipping and doing the banking from the weekend.
I spent the afternoon cleaning out the vegetable garden. It stopped raining and I bought beautiful red geraniums to fill the deck pots, and lots of vegetable plants. I have about half of them planted. It is supposed to rain again tomorrow. I'm smiling…
Stay tuned…