2.0
I moved to my lovely home with my husband in 1982. It is the only home we have ever owned. We redid this 100 year old home with inexperience, dogged determination, and a lot of sweat and blood. We built it into something that would serve our needs forever. We gave birth and raised two kids here, built two large additions, renovated the basement for a playroom, and tore down all those old plaster walls and replaced and upgraded wiring, plumbing, insulation, heating, and slowly transformed the half acre of nothing into a lovely pond and perennial filled oasis in suburban North Jersey. But life changes. And now that my kids are raised, and my husband is gone, I'm left with something that is way beyond my capabilities to maintain. Lets say that I could maintain it by myself, should I care too, but I have a job, and I like my job, and I can't do both.
So over the last few months, I've entertained any number of contractors, for the inside and outside, simplifying and updating and reworking things that haven't been dealt with since we first did everything over in the 1980's. I've had a painter working room by room, freshening everything, redecorating with paint, and making my life more manageable.
This morning the landscape designer came in with a crew to empty the ponds, rebuild them, new filters/pumps, and give them an overhaul. They had become overgrown and inefficient and needed extreme upgrading.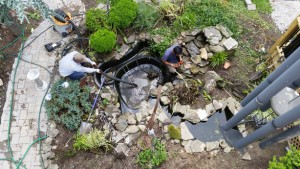 Upgrading. If I had to use one word to describe my last six months, that would be it. I've spent the last six months, upgrading my surroundings, my life, my work, and trying to move on. There is something freeing about that process. I blogged a couple of posts ago, about climbing into a 110 degree attic and running a new ethernet cable with my tech guy, the old co-axial cable was inefficient and worn and not doing the job.
From wardrobe to hairstyle, paint colors to furniture, to technology, we all need a refreshing upgrade now and then.
Prior to my husband's illness and subsequent death last year, I had embarked on a project to completely revamp my silhouettes, samples and handouts for my garment construction classes. First came the pattern redrafts, and sizing upgrades. I redid all 27 jacket samples in bedsheets. Lighter traveling, more accurate fit. I designed a tunic silhouette, and that proves to be a popular alternative for those who have already made a jacket in one of my classes. I added a shawl collar option to the jacket, a swing coat option, a very fitted option, and a princess seam option. Each new option requires a handout, or a rewrite, and those proved to be a little more challenging.
First, let me take a side step here. My son is in the military, National Guard. He has been in service for something like 8 years. A number of years ago, he would go for additional artillery training, and come back frustrated because they were being trained on new digital weapons systems that were notorious for having technical difficulties. He would declare, "Mom, do you know how frustrating it is in the middle of a battle, to ask the enemy to hold on while you reboot?" And then he said the most amazing thing, "Give me a compass and a map any day and I can do my job." This from a 20 something tech savvy kid.
I have thought about that comment a lot over the last couple of years. Because we have the technology doesn't mean we can do it better. There is something to be said for an old fashioned pencil and paper. My original handouts for my jacket class dated back in the days of Microsoft Draw. Yeah, that was once a thing. Over the years, I've purchased Adobe Illustrator, learned to use it, sort of, took a couple classes in it, and muddled through. My illustrations improved a bit, but truth be told, if I don't use something like Illustrator on a regular basis, it is a learning curve, at least for me, every time I sit down.
So when it came time to illustrate my new tunic directions, I looked at all the manuals on my shelf for Illustrator, looked at the giant learning curve ahead of me, and threw up my hands and pulled out a micron pen, some colored pencils and blank white paper.
Can I say that I had a ball drawing exactly what I needed for each illustration? There is something intimate and so very simple about just drawing what you want. And apparently I have the skill. I've certainly looked at enough instruction sheets for garment construction over my 50 years of sewing. I can clean up an illustration in Photoshop like nobody's business, I can use Photoshop blind folded, because I use it every day, but these little color drawings show exactly what I need without the interruption of technology.
That prompted a rework of my jacket directions, and the addition of how to do all the options, including bound buttonholes on the shawl collar variation.
Which prompted this week, a complete rework of the vest directions.
Next up, when I get back from the Midwest Weavers Conference, I'll sit down and start to write and illustrate the walking vest option. How about a walking vest with a shawl collar? I can do that, at least on paper.
And yesterday, I did the ultimate rework.
Back story is in 2014, I found in the back of my closet a six gored full length handwoven skirt, circa early 1990's. I blogged about it here, and here.
I adored what I made from it, after cutting it all apart, and loved when I could wear it at an event where a handwoven dress was appropriate. I traveled with it as part of my teaching samples. Unfortunately, I noticed that the black linen I had paired with the handwoven dress fabric was starting to disintegrate.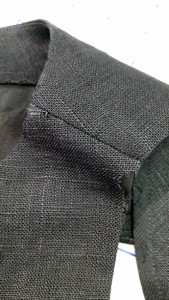 I had a bad batch of black linen. I had discovered while trying to stretch a canvas with it that it was either dry rotted, or possibly the black dye weakened the fabric. It disintegrated in my hand while I was stretching a canvas, and what I hadn't realized at the time, was that I had used it in this dress.
I spent one afternoon last month ripping out. I'm a wicked fast ripper outer. So I carefully removed every bit of the problematic black linen.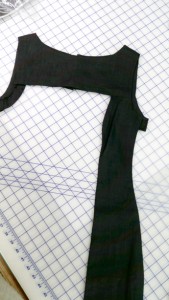 Yesterday, I cut new yokes and panel from a different black linen, underlined it for more body, with a Veriform Sew in Interfacing, since it was a thinner linen that the original. And by the end of the day, all I have left is the handwork, and I can start traveling with this dress again, and not have to worry that it will disintegrate even more.
So this past six months has been a 2.0, or in some cases 3.0 upgrades of just about every area of my life. I am enjoying the fresh light each upgrade brings, I'm proud of the upgrades, and I look forward to continuing to upgrade, and simplify my life. My handouts are far from simple at this point, but maybe that will be a future upgrade. What's important is that I don't ever remain stagnant.
So I've shipped off five boxes ahead for the conference in Indianapolis, I have pretty full classes at Midwest. I'm looking forward to hanging with my teacher friends, and seeing past students again. I'm judging the fashion show, and that is always entertaining and informative. When I come back, I am hoping that most of the major landscape rework and the ponds will all be finished. The last day of the conference happens to be the one year anniversary of my husband's death and I can't think of a better place to spend it.
Stay tuned…