Well it seems like it anyway.  The headlines of the newspapers talk about how much rain we have had for how many days straight.  It starts out promising in the morning, but by mid afternoon, thunderstorms, dreary rain, what else can one do but stay inside and play?  🙂
This was a great day for just laying low, and doing a mindless but necessary project.  My goal now is the conference next week, I leave for the New England Weavers Seminar in Massachusetts on Wednesday.  And I'm teaching an unusually large number of very different seminars, all needing specific prep.  There is the Inkle Weaving class, and though I will have students rent looms from WEBS , they may not have enough, and I need fifteen anyway for the following weekend when I teach a class down at the Jersey Shore for the Shore Guild.  So my daughter helped me out with that one.  She is quite the assembler…  Now they are all lined up across two of my looms, like little soldiers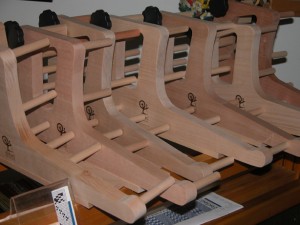 waiting for active duty.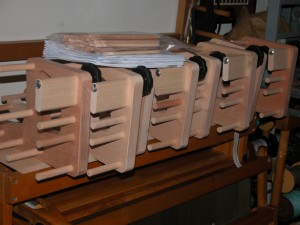 Meanwhile, the crock pot is still going.  I gave up drying anything outside, and found two lovely pans that would keep my floor neat and avoid using all my bath towels.  So I've got a lovely green cooking in the pot, and the blue and a pinky taupe color are drying on the floor.  The burgundy from Monday is finally dry and in a bag.  I tried carding a little bit of the burgundy color and it is a really nice fleece.  I think it is a Corriedale cross.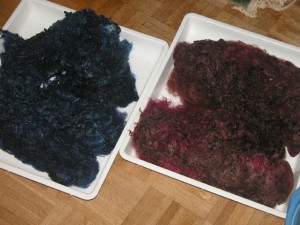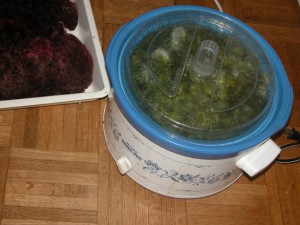 While all that was happening, I worked on the Photographing your Work Seminar, and in this particular version, workshop participants are sending images of their work ahead so I can load them into PowerPoint and then critique the images after the main presentation.  I have a great group of images to work with, but they all had to be sized and popped into the PowerPoint slides.  So that's finished.
I'm also giving another Color and Inspiration Seminar, like I did in Iowa last Saturday.  All those little quills of yarn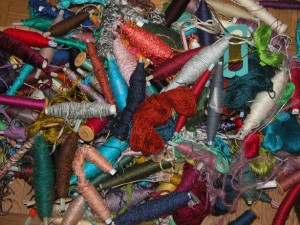 I dumped on the table for the students to play with, are in a horrid jumble and really needed to be rewound onto the quills and refilled.  Students added to the pile, and those little reelings needed to be put onto quills as well.  I use to just carry a suitcase full of little balls of yarn, but those got just as unruly and it was a huge waste of space in my precious luggage allowance, so I got the idea a couple of years ago to wind off yarn onto bobbins.  There are too many to waste my plastic shuttle bobbins, though a fair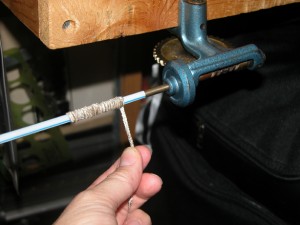 amount of my plastic bobbins were in the bags.  I really needed to empty them.  I started by making paper quills from business card stock, but it was my daughter who came up with the idea of drinking straws.  They slipped perfectly on my small shank Swedish Bobbin Winder, and weigh almost nothing.  I'm all for weighing almost nothing…
So I sat today, for a number of hours, untangling, rewinding,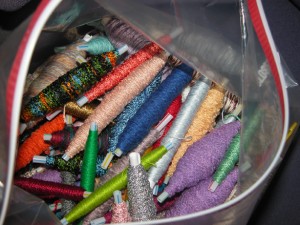 refilling, and organizing a massive mess of yarn, carefully onto skinny plastic drinking straws, and turned the above disaster into this lovely organized bag of color.  I still have another bag to go, but tasks like this are what make my mind still and my creativity soar.  It's like refolding fabrics neatly on a shelf, organizing fat quarters by color, or sorting buttons.  This is meditation for fiber enthusiasts.
In addition, I finally got to vacuum my poor house.  I seriously thought about bringing in the heavy artillary, a rake, but my old vacuum did the job, and I filled a vacuum bag with all the debris, tracked in crud from all the drenched blossoms and tree detritus, tracked yarns and threads from my studio, and general dust.  I'm a bit grateful we no longer have a dog, that would have really added to the mix.  Then I would have definitely voted for the rake…