I had a free morning, my next class wasn't until after lunch, so I took advantage of a rare opportunity to actually sit in on a class, and I am embarrassed to say, I chose this class because I liked the title and there were no materials we had to bring (which is really important when you are already at max limit with checked bags).  I actually didn't know what the class was about.  Sherry Konya, a delightful teacher, who I hadn't crossed paths with before, taught a morning seminar called Bodacious Boas.  For a nominal materials fee, Sherry handed us everything we needed to make a needle felted boa, from dyed locks of wool. We got the wool, the needles, and the foam base.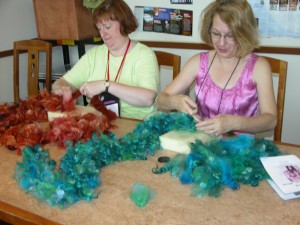 I sat next to my buddy Amy Norris from St. Louis, I met her when I taught there last year, and we instantly hit it off, we chattered for three hours while we stabbed a foam block, making a Bodacious Boa from dyed wool.  It was sooooo much fun.  And Amy passed along tips for dyeing in a crock pot, which I am "dying" to try, especially now that I have acquired about 30 pounds of new fleece.  I have a feeling my crock pot from the kitchen will now move and live in my studio…
During lunch, I skipped over to the vendor hall, to see if I had won any of the door prizes.  Sure enough, I won a small baggie of Camel Hair, suitable for spinning, which was very exciting, but it ended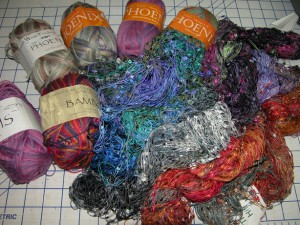 up being a costly door prize in that I accidentally passed by a booth with a bin of 50% off all South West Trading Company Yarns…  Well what was I to do?  I bought one of everything in the bin…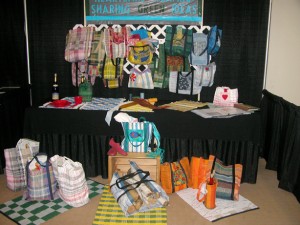 While I was in the vendor hall, I took advantage of the reduced crowds and got a look at the guild exhibits.  They were all wonderful, but there was one guild, the Sand County Shuttle Guild, from Central Wisconsin, whose display was amazing.  Everything in the booth was woven from recycled plastic bags.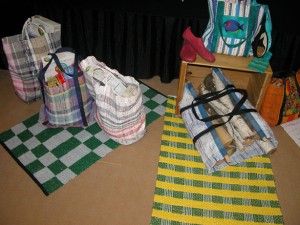 And everything was really well done.  I was totally impressed.
My final class (that I taught) was a terrific one for conferences, and great for the end of the day.  Everyone is really tired at this point, and on total overload, and I had 24 very eager but exhausted women, all gathered around the table and I dumped little quills of yarn all over the table.  We just had a blast, I gave them little challenges, and they wound warps based on my parameters.  We got to play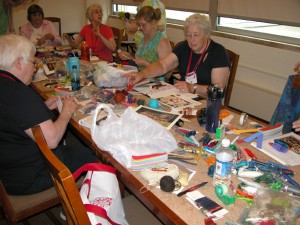 with Color-aid papers, and magazine photos, and they all came up with palettes based on those photos, and then tried to interpret them with yarn and a warp.  And of course I gave my presentation on Color and Inspiration, which is available in a color monograph.  The images in this presentation are based on all the color forecasts I wrote for Handwoven Magazine.  We made such a mess, there was yarn everywhere, but there were lots of smiles, and more than one person at the end told me that I had freed her to run amok!  Well done…
My wonderful class assistant had me packed up in no time, and I headed out to dinner, one last chat with my buddies Robyn Spady and Ruby Leslie and then off to set up for the teacher sales event.  I had my monographs available, and I was really happy with the enthusiastic sales, I sold out of the one on Fitting, and was able to bring home some additional income.
Late Saturday night I caught a ride to an airport hotel in Des Moines, since I had a very early flight to Houston this morning.  As I was boarding the plane on the Houston/Newark leg, the gate agent handed me a new boarding pass, yippee, first class.  So I sat in a lounge chair, drinking a margarita, all the way to Newark.  Life just doesn't get any better than this…