So I finally got to teach today in my miracle classroom.  The class was wonderful, enthusiastic, and a joy to work with.  I had sixteen women of all body types make a jacket pattern from my basic jacket design, that would fit them.  It was a long day, but they were all great sports, and I can't wait to see the jackets they make from them.  There was a small glitch when I couldn't figure out how to get the projector to work, odd since it worked the day before, and reluctantly I called for tech support, and while I was waiting for them to arrive, I figured out I was pushing the wrong button to power it up.  Duh…
A hurried late afternoon, I had to pack up, get over across campus to eat a quick dinner, race over to the Theatre for the fashion show rehearsal, and then the actual fashion show.  I love fashion shows at conferences.  And I love it when the weavers/makers wear their own work.  So here are a few highlights while we were all milling around the dance studio waiting for line-up.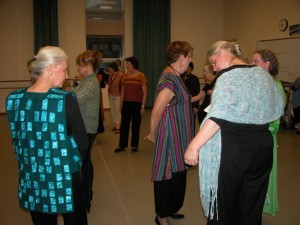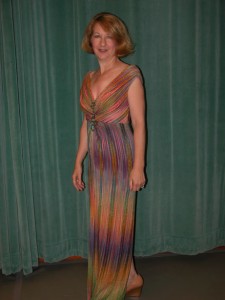 Here I am once again, modeling my Frosted Florals dress, which made it back from Kansas City and the Surface Design Fashion Show on time to bring it to Iowa.  This dress has seen a lot of mileage so far.  Literally.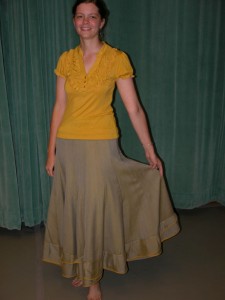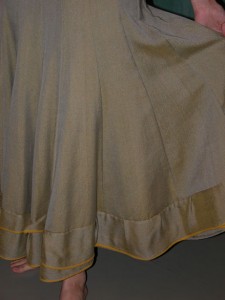 I just loved this Victorian Walking Skirt by Christy Berry from Kansas City, MO.  It has a gray warp and yellow weft, from 20/2 perle cotton, plain weave.  The design is original.
This is an Anita Luvera Mayer of Anacortes, WA, garment titled "Woman Warrior".  It is a vest of Melton cloth with rows of beaded and hand sewn mosaic pieces.  It was inspired by a bone warrior vest from Sumatra.  Anita was one of the instructors here at the conference.
Speaking of warriors, this piece was amazingly original,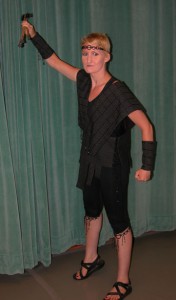 from Melinda Raber McCain, of Indianapolis, IN.  The piece is titled Warrior Princess, it is handwoven armor, in a Shadow Weave, 5/2 cotton, black and gray.  It is an original design.  And it was modeled by one of the Grinnell College tech support students.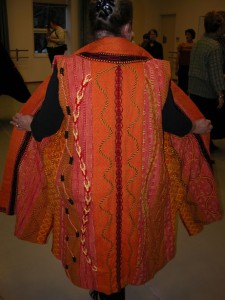 And I loved the colors and textures in this vest by instructor Collyer Ekholm, from Swisher, IA.  This is called  Shaman's Vest, and is woven from cotton and silk, in a variety of weave structures for the panels.  Japanese braids done on the Marudai, Takadai, and Ayatakedai are all couched onto the fabric.  Collyer teaches kumihimo on the Marudai and Takadai.
After the fashion show there was a lovely reception in the rotunda outside of the Faulconer gallery.  I had four garments in the fashion show, and my finale piece was one called Aurora Borealis, which I made draping a couple yards of an old plain weave fabric I had floating around, on my dressform, making heavy use of the bias, and holding it all together with one seam.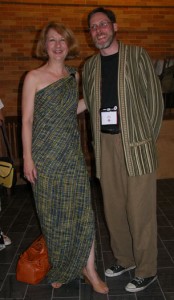 We were asked to mill around the reception in the garment we wore for the fashion show, so I wore Aurora Borealis, and was thrilled to grab a shot with John Mullarky.  John was also an instructor here, he is a fabulous tablet weaver, and author of a terrific book of tablet woven patterns, known for his amazing braids, and I just had to get a shot of him in his jacket, which he made in a workshop with me, using the same pattern I fit on sixteen women today.  I love the versatility of this jacket! And he trimmed the whole thing with his own tablet woven braids.  The jacket is really beautiful.
This next shot needs some explaining.  Wednesday night when I gave my gallery talk at the Small Expressions Exhibit, I was actually standing in an adjacent gallery when I gave my talk, where they had an exhibit of images of butterflies and other natural wonders.  I happened to be standing to the right of the screen and was unaware of what was on the wall behind me.  Later, one of the audience members came up and told me that I had wings behind me the whole time I talked.  She pointed to the large butterfly print behind me on the wall, and was able to grab a photo of me in front of the butterfly print after the reception tonight.  I thought it was pretty funny.  Course I wasn't wearing this dress, but never-the-less, the wings added to the whole aura of the evening.
Stay tuned…