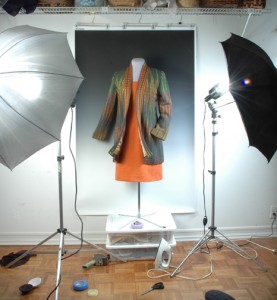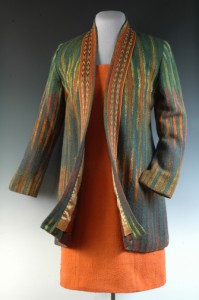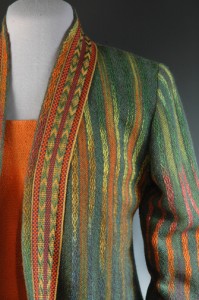 This coat/dress ensemble was made in 2007, and exhibited in the Tampa Convergence Fashion Show.   It is a colorful piece, and I especially love the Inkle Band I made, which wasn't made to actually go with the coat, but happened to go with it, and made a lovely trim.  The dress is a raw silk that was sitting in my stash, courtesy of a student who passed on some leftover fabric.  The original photos had my daughter modeling the piece, but I wanted the photos I am submitting to the SDA Fashion Show to be consistent, so I took the opportunity to reshoot the piece.
I actually don't like the way the piece fits me.  I made it using one of my jacket patterns, but did nothing to alter the pattern for my specific body.  I do that occasionally, just make the piece, I don't care who it fits.  But now I'm sort of caring, because I really like the coat and dress, and as I was putting it on my dressform, I'm thinking that I might add to my list of projects a remake of the shoulder/armhole/sleeve area to actually work on my body.  What's one more project in the pile?!?
But I've finished the photoshoot, and I'm going off to lunch with some girlfriends, this week we hit the sushi bar.  I'll enter the show when I get back, and then start working on all the bills and paperwork due at the end of the month after I put my studio back together.