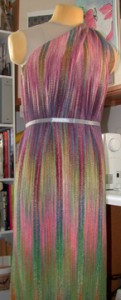 Here are the images of the second style of dress I am contemplating for the Frosted Florals Rayon fabric.   Again, I made up the dress in a fabric on my shelf to see if I liked it on me.  This one is a soft gather over one shoulder, with pleating at the waist, which is beautiful with the stripes in the woven fabric.  This garment fits better on the fabric, and I like that the division line is closer to the waist instead of up under the bust, which means I'll have an easier time matching the horizontal color bands at the side seams.  My only hesitation with this style, is when the bodice is gathered into the one shouldered look, it throws the vertical lines of the stripe visually off balanced, and I'm not sure I will like that.  I have to play with it more…  This style will use up more of the fabric, and that is a good thing.
Feel free to comment if you have an opinion one way or another on the choice of styles.  To comment, click on the title of this post, and a comments dialogue box will open up for viewing.  You do not have to be registered to leave a comment. (Which is one of the reasons I switched to WordPress for my blogging page.)
FYI, the fabric on the dress form is actually draped and pinned to simulate the look of the finished pattern.  I do this a lot.  There is nothing cut from the yardage, and nothing sewn or refined.  It helps to get a general idea of where color areas might be placed.  I threw a piece of hem tape around the middle to give an idea of the waist placement.