I have posted a notice of the upcoming Association of Southern California Handweavers Conference, under 'Upcoming Events', over in the side menus.  I am teaching a jacket workshop, from your handwoven fabric, though it isn't necessary to have handwoven fabric to take the workshop.  I've had students raid the linen closet and bring in an old blanket at the last minute.  So if you are in the Southern California area, or are planning to be in March, check out the conference and my workshop, if you want to sew, especially handwoven fabrics, this is a terrific beginner class to get you on your way.  I've updated the look of the pattern a bit, and included a closure by interrupting the piping to make button loops!
Thanks for all the comments I've received so far.  Some of you have been too timid to actually post one for all to read, but I appreciate the private comments as well, and yes, I agree with all of you that the two choices I've posted so far, for the Frosted Florals fabric, are not quite there.  They don't play off the wonderful drape or celebrate the gorgeous colorways and striping of the handwoven fabric.  So, thrilled to have such great critical feedback, I spent the morning, redraping the fabric, playing around with other options, and feeling like I have Tim Gunn standing over me saying, "Make it work!", I am jumping in with both feet into my own design.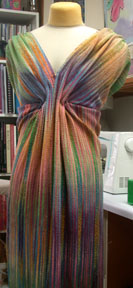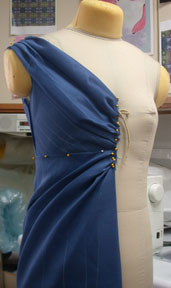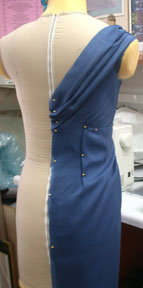 When I turned the handwoven fabric upside down to drape the left half of the garment, (without cutting into the fabric) I couldn't believe how well the colors blended across the two halves.  I think this can work, even though the two halves aren't mirror images of themselves.  The bodice needs to be bias, in order to drape, but the lower skirt would be cut in one piece from the center back around to the center front, with darts and tucks to maintain grainlines and shaping.
Now to draft a pattern, test it out in two halves, and see if it fits on the fabric I have.   Stay tuned…