I laid out this project back in December, you can reread the project in the archives.  The deadline for submission for the fashion show at the Surface Design Association's Conference, Off the Grid in Kansas City, MO May28-May31, 2009 is coming up fast.  I believe it is Feb 1, 2009.  http://www.surfacedesign.org Looking back over the projects I've outlined so far, I want to work on the ones that most fit the fashion show theme for a surface design conference, rather than a handweaver's conference.  Project one, the frosted florals fabric involves hand dyed warps and some textural weaving in the structure choice, and I think would be dynamic on the runway and in photographs.  So for now I'll concentrate on that one.  I do my best work, or rather my most productive output under deadlines…
I have two possibilities for this project.  The December 2008 Burda had some gorgeous dresses involving draping and pleating, two would be effective with this slinky rayon fabric, and the unbroken length of the dyed fabric down the front would be stunning.  So I've done a sketch, and made the pattern up into an actual dress to really see which I like on my body, and then I've done a preliminary layout for each of the two designs I'm contemplating.  The styling may be wonderful, but if the patterns don't fit on the narrow fabric, no sense pursuing it.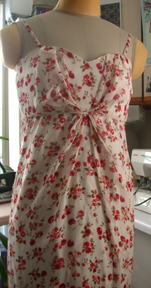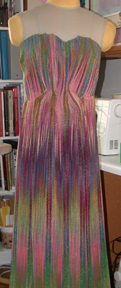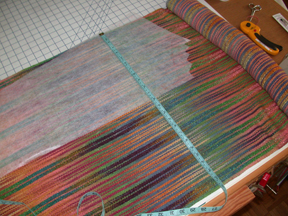 This is the first choice, and I love the soft pleating and drape which really shows off the fabric striping.  The pattern is a bit wider than the fabric, but not by much, and I can always do my famous cheat, where I find a narrow piece of the fabric on the selvedge, that continues the coloration of the area where the fabric is missing, and butt the two selvedges together, making just that area wide enough for the pattern piece.  I do it all the time, and it is really invisible, I will hand stitch, or machine stitch with a very very narrow zig zag, catching the two selvedges.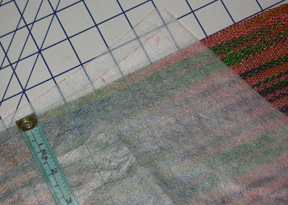 I'll follow up with the second choice tomorrow.  Stay tuned…