So another two days spent with my butt stuck in the chair, my hand paralyzed in the shape of a mouse, and more of the letters worn off my poor wireless keyboard.  But, I did get two important pages done in the new site.  The 1-1 1/2 hour lectures page, and the 2 – 2 1/2 hour lectures page are entered.  What a job.  The worst part was finding the original images I used for the prospectuses, there are just so many times you can save .jpg's, and they lose a considerable amount of information.  So I always like to start with the original file.  But where among the thousands of images I have stored in about 5 different back up locations, could each of the images be hiding?
It's like that in my studio, "I know it's here somewhere…" "I remembered seeing it in 1994″… "Whatever happened to that…"  Then of course I become a woman possessed.  I won't rest until I find the yarn, fabric, tool, image, whatever is lurking just out of site…
Besides spending the day searching through my vast archives for original files of some of my images, I also hunted around the studio for my supply of upholstery braiding.  I know it's here somewhere.  I have to do an emergency costume for my son who plays the coachman in a performance of Cinderella.  Yes, the same son with the car in the previous blog.  I have to make a pair of pants to match a very old Lieutenant's Doublet from Van Horn and Sons Theatrical Costumers.  The jacket is in tatters, I'll do my best to repair, but they need me to construct a pair of pants that will look like they go with it.  So far, I haven't found the braid.  Next check is the attic, and oh boy, there are amazing things stored up there…
Speaking of my son, he announced yesterday that he is planning to join the National Guard.  Well, I've been a bundle of mixed feelings all day, part of me knows that this would really be great for him, and part of me is scared to death.  So, I'll just focus on the costume for today.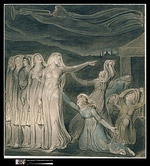 I am planning an excursion into NYC over my daughter's spring break, there are a couple of fiber shows I want to catch, one at the Cooper Hewitt called Fashioning Felt, and the other, called Seduction at the Museum at FIT.  While checking out times and which days they are closed, I checked the MET to see if there was anything new of interest, and I found that they have an artwork of the day, which can be posted to your Google reader, or whatever you use for keeping track of such things.  So, today's image came up
The Parable of the Wise and Foolish Virgins, ca. 1799-1800
William Blake (British, London 1757 – 1827 London)
British
Watercolor, pen and black ink over graphite; 14-1/8 x 13-1/16 in. (36 x 33.2 cm)
Rogers Fund, 1914 (14.81.2)
Somehow in all my years of Catholic School, and my years teaching Sunday School in the Reformed Church in town, I never came across this parable.  What's with the 10 virgins?  So I did a quick search on Wikipedia, and got the scoop, it is a really odd analogy for being prepared for the second coming, but I loved the watercolor. And the whole idea of 5 wise and 5 foolish virgins waiting for a bridegroom who is having on-time issues, has got the creative juices really churning.  So now I have something else to look forward to, a new work of art every day, just go to the website for the Metropolitan Museum of Art, and subscribe to the artwork of the day feed.  This was number 3,000 something, out of 130,000 plus artworks.  I should live so long…
I went to the Jockey Hollow Weavers Guild meeting tonight, and the speaker was Barbara Elkins, the woman who started WEBS.  If you are a handweaver reading this blog, you know about WEBS, "America's Yarn Store", a 30,000 sq. ft. facility in Northhampton, MA.  When I do buy yarn, I probably buy from them, and it was really great to listen to Barbara talk about how she and a fellow weaver started by renting out looms in order to get more money to buy yarn.  That was 35 years ago, and in their garage.  It was a great story, and I love the store, I've been there, Pioneer Weavers meets in the store, and I taught a jacket class for them a couple of years ago.  Barbara was wearing the jacket she made in the class, tonight at the meeting. They are having their 35th anniversary sale, the email just came in my box.  Beware, their sales can be quite toxic to credit cards!  Seriously, they have a great website for ordering and terrific customer support, and I usually get whatever I order within two days. (That would be east coast).
So as I'm driving home from the meeting, in the cold dreary steady rain, visibility zero, I suddenly had a panic attack.  The placemat exchange is due at the June meeting, this was the April meeting.  That means my daughter and I have exactly 8 weeks to weave 14 more placemats.  You do the math…  So, out with the whip, and lets get cracking…