Back in the day, it was discovered quite by accident that I could actually write. A Catholic Elementary School graduate, I could diagram a sentence with the best of them. But writing assignments in school were tedious and not something I jumped into with relish. When Madelyn van der Hoogt, then editor of Handwoven Magazine, heard the things I said at my now infamous technical critique of the fashion show at Cincinnati Convergence in 2000, she contacted me about writing for Handwoven Magazine. Writing articles is very different than 7th grade term papers. But actually, not really… There is research, and hopefully you get to write about something that interests you. But the spelling, grammar, checking your work thing, that was drilled into me by a bunch of Italian speaking nuns. Go figure…
Madelyn called after my first submission, thrilled with the way I apparently wrote, and kept me on, for 35 issues straight. I only left that job as features editor when the magazine was sold and cost cutting procedures cut me right out of the mast head. But over the years, I've been asked to occasionally contribute to various magazines, Shuttle Spindle and Dyepot, Heddlecraft, Threads Magazine, Sew News, and one in Canada after a keynote I gave at a conference there. I genuinely enjoy writing, I like some of the research I have to do, and writing what you know is much easier than some obscure writing assignment in middle school.
I spent a good portion of last year researching, weaving samples, and writing Heddlecraft Magazine issue #38 on Combining Warp Structures. It was the second time I wrote an issue of Heddlecraft. That issue came out last fall, and it is something I'm really proud of.
Writing assignments have been quiet the last few months, which is just fine. I liked the break after an intense year. Oddly enough, at the end of February, I started to get inquiries, "Do you think you could write a short article on…", or "I have this idea, do you think you could…" or, "Would you be able to do this by next week…" So suddenly, I went from a quiet winter, to six articles or written content I should say, all due within three weeks.
A friend said to me, when I outwardly groaned to her in a phone call, "Why don't you say no?" That's not really how it works. I wanted to do all the assignments. They were all interesting and for the most part, things I knew about. Could I write about my experiences using Mohair, could I write about my experiences volunteering for the Shakespeare Theatre, could I write the exhibition brochure for an upcoming exhibition, and could I be the guest host for Textiles and Tea, since the regular host would be away? Well dang… Six in all. I won't give specifics until things are actually published. But I just spent the last three weeks at my computer searching for images from the 80's, interviewing an artist as he installed his exhibition (opening this Sunday), and research and rehearsals for my stint as Host on Textiles and Tea, this Tuesday, March 21st. It was a year ago that I was interviewed for this weekly chat sponsored by the Handweavers Guild of America. I thought it would be a lot of fun to sit on the other side of the desk so to speak, as the interviewer.
In the meantime, I have become obsessed with warping all the looms. And I think, if you count the Gilmore Wave, which is a two shaft for warp face band weaves, there are 50 shaft looms in the studio. All but the Gilmore have Star Trek names, or names related to where or who they came from, or something on that nature. I'll have to get out the labeler… I refurbished another Tools of the Trade table loom I've been sitting on (named Torres); this one too was a heddle disaster. I'm always shocked at how the heddles in a used loom are every which way, making it really inefficient to thread. There were a few hundred, and they all had to come off and be carefully reoriented. But I wanted a 4-shaft table loom that could take a long warp, where I could use my Zanshi balls I make tying together all the thrums or leftovers from my looms. Zanshi is the Japanese art of wasting nothing. I wove fabric like this already, I wrote about it here (scroll all the way down). But I ran out of warp, and the basket of thrums is overflowing. A friend mentioned she had woven Zanshi in a rib weave, with a dense fine warp. I got a couple cones of Black UKI 20/2 cotton from a friend who was downsizing, doubled them, and put on a nice tidy warp.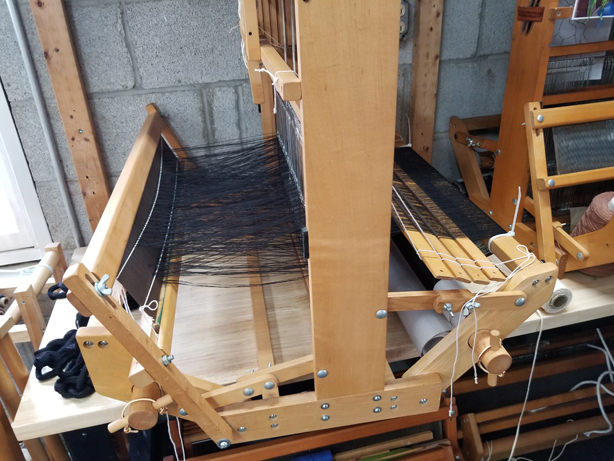 I experimented a bit with structure, starting with plain weave, then twill, and finally the rib weave. Which I love. So I'll keep weaving the rib, and keep tying those thrums together.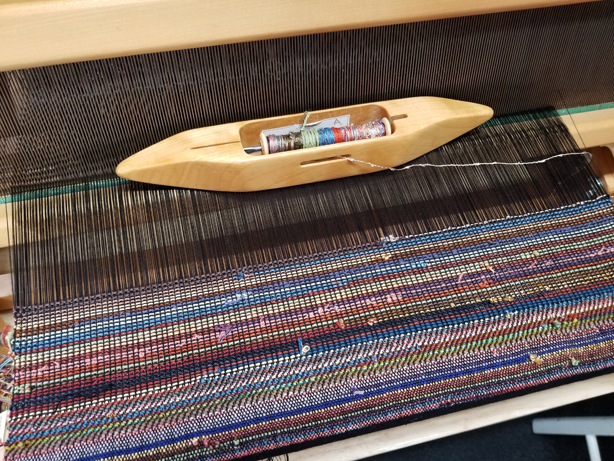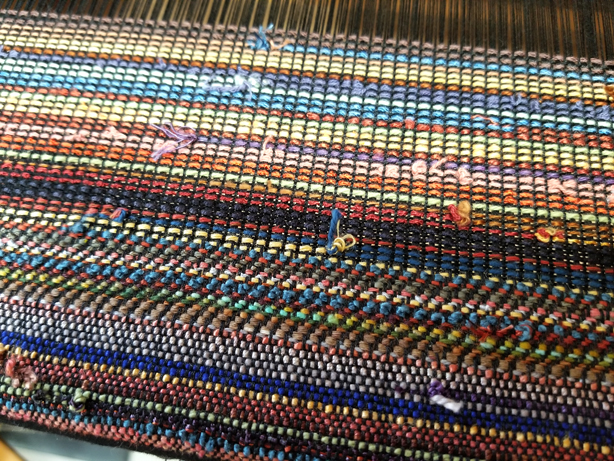 I have a 12-shaft Voyager from Leclerc (called Janeway) I bought a few years ago, from one of my weaving guild buddies. It is 16″ wide. It had a white warp on it when I got it, and I did a quick yarn test for Silk City Fibers for a yarn they were considering by tying into that warp, but I've never actually warped it from scratch. Mostly because I haven't been able to find a 12 shaft draft or structure that interested me enough.
A friend told me about Denise Kovnat's blog, she is a fantastic weaver, and offers all kinds of classes and drafts for sale on her website. I bought a group of Echo drafts, which included some for 12 shafts, because that was one structure I didn't have on my looms in the studio. I've woven it, but until now, it wasn't hugely appealing enough to tie up one of my other looms. I worked on one of the 12-shaft drafts from Denise's collection for a couple of weeks, until I came up with what I thought would be fun to weave.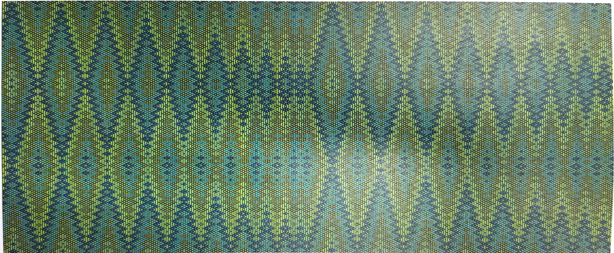 I wound four yards of alternating lime green and teal 8/2 Tencel, at 36epi, which at 16″ wide, is 574 ends. Which is a lot. In a small space. I'm threading it now, and actually loving this little loom. The back beam unscrews easily, and the warp beam pops off by unscrewing the crank, just like on my Structos and I have a lovely clear shot of the twelve shafts, and the reed where the ends are sleyed in order. Threading an echo parallel threading is challenging, and not for the faint of heart. And truth be told, weaving 4 yards of Echo weave in Tencel on a 12 shaft table loom will take a very long time. I half expect, with all the other looms, that I won't live long enough to actually finish it. But I no longer care about finishing stuff anymore. It is about the process; it has always been about the process for me. Curiosity and learning something new are my driving force now in my life. As long as my eyes hold out; I was just told by the eye doctor today that I'll probably need cataract surgery 12-18 months from now. Sigh…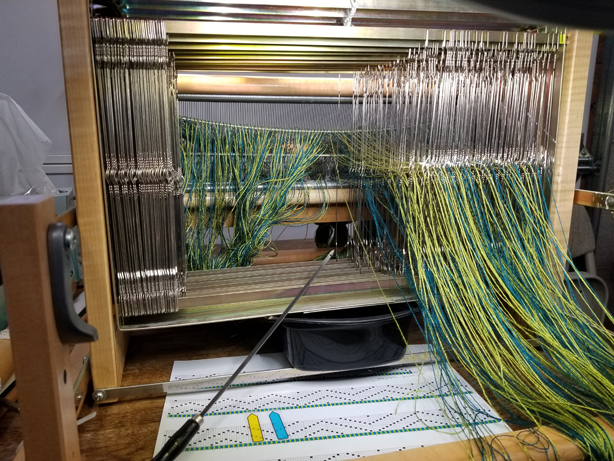 And my yarn stash grows. I've gotten a bit addicted to getting the newsletter from Peter Patchis each month, with the latest yarn specials. I usually order one of everything, because I have no idea what I'm doing to do with any of it. This was the latest haul that came in last week.
On Saturday, in spite of some nasty weather, I headed out to Sussex County to a Lace Day, sponsored by the Lost Art Lacers, lacemaking group. I used to belong to them, many lifetimes ago, when I actively made bobbin lace. I still have many of my pillows, but there are only so many hours in a day, and filling looms has become my latest passion. But, in my years of teaching warp face weaving on an inkle loom, I always talked about how appropriate needlework yarns, which are put up in small quantities, are for working on an inkle loom. I was curious to see what was out there. And I especially wanted to see my old friend Holly van Sciver, who is a fantastic lacemaker and teacher, and sells just about every type of thread for lacemaking and needlework in general, and has every book ever written on lacemaking. I wasn't disappointed…
My small haul was pretty costly, compared to what I had just gotten from Peter Patchis, but I'm looking to set up a couple of inkle looms as well, especially the Gilmore Wave which I bought many years ago, and my daughter immediately stole. It is sitting idle now and calling to me from under the counter.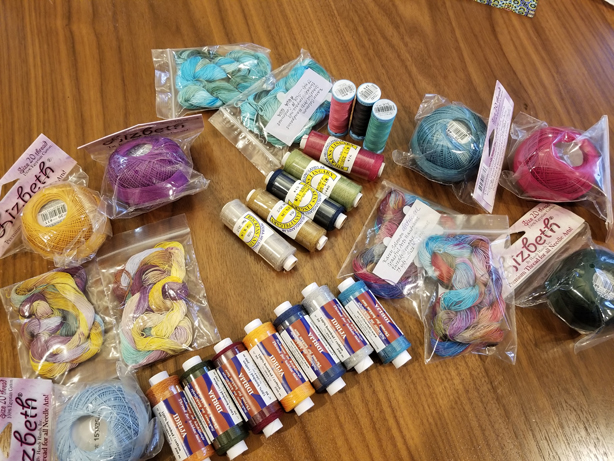 I was especially impressed with the handpainted cotton skeins from Karey Solomon of Graceful Arts Handpaint. I got a few skeins of 20/2 hand painted cordonnet with some Lizbeth size 20 Egyptian cotton to coordinate. I picked up some Bokens linen, Gutermann Silk, and Idrija cotton in 30 weight from Holly van Sciver.
Dearest readers, as spring is just around the corner, I hope as the small bulbs poke their heads out of the ground that life is awakening and there are gardens to plant, looms to dress, garments to sew, textile techniques to explore, and there are ideas all crashing around in your head. I can never be bored.
Stay tuned…