I love Tuesday's.  Especially after a week away.  Monday is always so chaotic, but Tuesday feels like the beginnings of a familiar routine.  I tidied my house, dusted the downstairs, had my tea and toast (with Nutella, OK, I'm an addict…), checked my emails, read my favorite blogs, and then got everything together to finish up my next article for SS&D.  I am writing a series of three articles for Shuttle Spindle and Dyepot, about the three design teams who created ensembles for the Convergence 2008 Tampa Bay last year.  If you are new to the blog, I was part of one of the teams, we were given yarn dyed for the conference in Floridian shades, and we had a year to create an ensemble.  I spent the beginning of this year, recounting my yearlong experience, partnered with Loretta Dian Phipps, a surface designer and felter from Texas, whom I didn't know, and I published that experience in a CD, PowerPoint or PDF presentation suitable for a guild program (without having to fly me there) which is available on my website.
Anyway, I am also writing a condensed version for Shuttle Spindle and Dyepot, and the first installment, is going to print as I write, due out soon for the Summer 2009 issue.  I just finished up the second installment, on handweaver Nancy Peck and pattern designer Diane Ericson.    The third installment is due in mid-September, which will feature handweaver Irene Munroe and pattern designer Louise Cutting.  It was really great fun for me to explore one of the other teams, and how they approached the collaborative process.
Of course, sitting at my computer all day, I can get into so much trouble.  I am slowly working my way through all the non essential emails cluttering up my box from my week away, and I got another one of those wicked emails that I have to sit on my hands not to click on.  I lost…  This one is from Interweave Press, publishers of Handwoven and a gazillion other magazines and publications, and they were having a "Hurt" book sale.  I am assuming these books have been damaged in some way, but a book is a book.  And a sale is a sale.  Curiousity got to me and $53. later, I have about 8 books coming to me I didn't have on my shelf.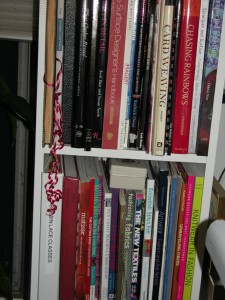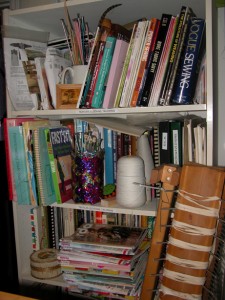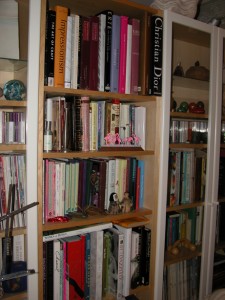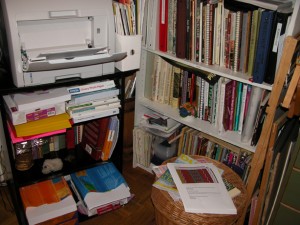 This prompted me to start looking at my book shelves, which span a couple of rooms, I have a serious addiction to books, since some of the titles on sale seemed familiar enough I was sure I already had them, but realized that my shelves were in such a disarray, I couldn't find anything.  I fear I've ordered duplicate books.  I've done that before.  All this means is I have to start reorganizing my shelves, and finding ways to make more space…  I need all the weaving books in one place, the art books in another, the fashion, spinning, knitting, surface design, lacemaking, and sewing books, all in their own sections.  We are talking major out of control here…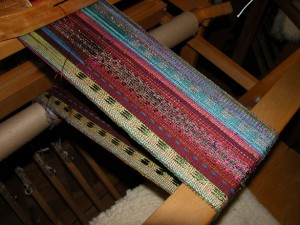 I did manage to finish one of the four scarves on my 8 shaft 25″ loom.  I had showed the warp layout in the Color Class I gave in Iowa and in Massachusetts.  It felt good to just sit at the loom.  Once my article was put to bed, I packed it up to send out in the morning, and I went in to my husband and I said, "I'm done in the studio.  Lets go out!"  He works down the hall, and blissfully he was at a stopping point as well, and with no kids for the evening, we headed out, caught a movie, dinner, and just enjoyed each other's company.  A rare treat.  So I went out on a date, with my husband, and for a brief couple of hours, felt like I came out of my rabbit hole and saw a bit of life.  We went to see Hangover, which was hilarious, and poignant.
My friend just bought a Netbook, and I went to visit her last night and play with her new toy.  Wow.  I couldn't get over the size.  I took my presentations down, and ran through them, they read with no problem, and the keyboard was comfortable, actually it was bettered suited to my hand size.  The Netbook weighs nothing, and we will be ordering one this week, as my regular travel laptop is having issues with the Power Button.  Meaning it won't turn on.  After struggling with it over the weekend, and getting it to finally power up, I haven't turned off the computer since, for fear it won't work for the workshop I'm giving this weekend at the shore.  So, I expect within the next couple of days, I'll have a new toy, and some more books to play with…