What a bizarre day, I never left my desk, stuff just kept coming in faster than I could take care of it.  I had high hopes of working on more of the hot mats/mug mats, but alas, the universe, or the full moon, or whatever forces were causing a cosmic redirect, I was stuck in front of a glowing screen all day.  Now I'm not saying this wasn't a positive thing.  I got the best news today.  If you followed my blog back in the end of September, I worked hard for a couple of weeks, reworking all of my lectures/workshops to make them more appropriate for the sewing community instead of the handweaving community.  I had been asked to submit proposals for the American Sewing Guild Conference in Atlanta next August.  It is a market I'd dearly love to be more connected with, after all, I am a sewer (sorry, I'll never get use to the new PC word 'sewist') and I weave to have something to sew.
Anyway, I spend lots of time writing proposals, entering exhibitions, and doing the waiting game once I package everything together and send it off.  Sometimes I even forget I entered or submitted, which is probably not a bad way to handle the stress of waiting.  Today in my inbox, I got a "Congratulations, you've been accepted to teach…" letter from the American Sewing Guild, and they want me to teach 4 classes at their 2010 conference in Atlanta.  Can I tell you how excited I am?
On top of that, I just finished most of the final details for the April 2011 Ontario Canada provincial conference.  I will be teaching there, and giving one of the keynote addresses.  That's been in the works since last summer.  I spent a good deal of time today, coincidentally, on the phone with a woman from Ontario, who found me searching the internet, and wanted to know more about my monographs on sewing, I had trouble realizing that she just found me on the internet, completely independently from the Ontario conference and Convergence in Albuquerque, where I'm also teaching next July, the booklet just became available for that.  Anyway, the woman was lovely to chat with, and towards the end of the conversation, she had me convinced that I need to look down the road a bit to one of my next goals, and bring it up further on the to do list.  That would be turning my monographs into DVD's.  I bought the camera equipment last year, to be able to film the Step by Step process.  I've been looking at some of the sewing videos out there, and haven't seen anything I really thought would work for how I would want my DVD's to read.  The woman from Ontario encouraged me to pick up David Coffin's DVD on shirtmaking.  She raved about it, and so of course, I immediately clicked on my trusty Amazon.com account and stuck it in my shopping cart, along with his book/DVD on making pants.  I'll let you know what I think.  Always love an excuse to buy books on Amazon.
Speaking of books, my neighbor/friend is a media center specialist for a neighboring High School, and her school's book club was sponsoring a fund raising event at a local Barnes and Noble.  Again, not to pass up a chance to just hang around in a book store all evening, I managed to dump a couple of hundred dollars, mostly on books for my daughter, she is seriously into Manga, but I did pick up a couple of movies I've had on my Amazon wish list for awhile.  I love the movie genre that takes a close look at a creative genius, uncovers their pain, their obsessions, their muses, and their passions.  I got a copy of Pollock with Ed Harris, and Goya's Ghosts with Natalie Portman.  I also picked up Frida, with Salma Hayek.  I'll let you know what I think of them once I've viewed them.
I cruised through the bargain book section of Barnes and Noble, and found a couple of little treasures, Maureen Dowd's Are Men Necessary?  First, I love Maureen Dowd, she is a Pulitzer Prize winning columnist for the New York Times.  And secondly, how could you go wrong with the title? The book is a snarky look at feminism and the collision of the sexes.  The reviews are all over the place, so for $5.98 for the hard cover, I'm game.  I'll let you know.
I also picked up Julia Cameron's memoir, Floor Sample.  It had a dress form on the front cover. Julia Cameron wrote the well respected creativity book called "The Artist's Way", which has been on my shelf forever.  Again, the reviews are all over the place, but I thought it was worth picking up for $5.98 for the hardcover.
I mentioned that the latest issue of Shuttle Spindle and Dyepot came in yesterday, finally, I was probably the last to get my copy.  In it is the brochure for the HGA's conference in Albuquerque next July, called Convergence.  Since I am teaching, I get to participate in early registration, but I couldn't really do that until my magazine came in.  And come in it did!  All four copies.  I am all over the place in this magazine.  Which is why I got four copies!  I have a book review starting on page 9, a photograph of my piece The Spouse, on page 20, from the Small Expressions exhibit, and my article starting on page 31, the second installment of a three part series on the Designer's Challenge from the Tampa Bay Convergence in 2008.  I ripped the Albuquerque conference brochure out of the middle of the magazine, and started to look through all the offerings.  It isn't hard for me to fill out the registration, since I am teaching in every time slot, I don't get to pick anything, but the tours before the conference look wonderful.  So wonderful that I booked two tickets for the Georgia O'Keefe Ghost Ranch tour and I'm dragging along my husband.
So, the bottom line here, is my next summer is pretty set, I'll be on the road more than I'll be home.  With two 5 day classes in August, at Sievers and at Harrisville in NH, along with the ASG conference in Atlanta and Convergence, and a 4 day class in fiber basics called Fiber Boot Camp at the Newark Museum in NJ, it doesn't look like it will be much of a summer!  I've also got to write up proposals for two conferences for the summer of 2011.  Can you see my eyes rolling around in my head?  It is hard to follow the "One Day at a Time" way of thinking, when you are writing proposals for 2011, and 2009 isn't even finished.  Oh the life of an artist…
All of the scheduled events I've mentioned above can be found with contact information on my website.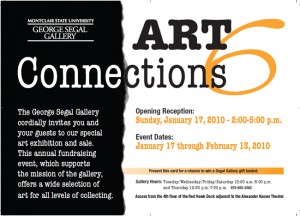 Oh, and I almost forgot, the invitations for Art Connections 6 at the George Segal Gallery at Montclair State University are out, I will have two pieces in the show.  The opening reception is January 17, 2010 from 2-5 pm if you are in the north Jersey area.  The show runs from January 17 – February 13, 2010
Stay tuned…