I came in my studio one day last week, and my assistant Cynthia was listening to a John Denver song, clearly coming out of my Echo Dot. I asked what station she was playing and she said she had created a John Denver station on my Pandora. We listened and laughed and sang along at the top of our lungs… Of course, Leaving on a Jet Plane came up in the rotation. I remembered many of the harmonies. What fun.
Meanwhile, I'm actually leaving on a jet plane, Saturday morning, Brianna, weaver Sally Orgren from my guild, and me, we are all heading to Seattle, and then to Whidbey Island to take a weeklong advanced weaving class with Madelyn van der Hoogt. I booked this at the end of last summer, actually right after MidWest conference, because, life is short, and none of us knows what tomorrow will bring, but I wanted my daughter to have a chance to study with Madelyn and well, I wanted to too. Though I'm not that interested in complex structures, you sure couldn't tell from what came out of my studio this week…
I'm on a roll. As fast as I make something, I'm thinking about the next thing. And oddly enough, there seems to be time to do it. Life is beginning to run like a well oiled machine, thanks to so many people who are working behind the scenes, like Cynthia, and my handyman Rick, and the pond guys, and the plumber guys, who have done wonders cleaning up my exterior and trying to salvage the ponds and the exterior plumbing from the winter from hell. All the pumps, outdoor lines and filters had to be replaced. We discovered that a patch in the pond, I didn't know it was there to begin with, failed and one of the ponds was leaking, the one where the fish survived, so they were transferred to the second pond, and everything is up and running but the pond level is very low until they can patch, but the weather has to be above 70 degrees. Hahahahahahahah!
The website, web shop, blog, hosting company, all seems to be running well and efficiently, and super fast. With no effort from me except a lot of money. Isn't that always the case…
So I get to go to the studio and make stuff. I am so happy. Really, this is what the goal was and now I'm there. I start traveling heavy duty in another month, but for now, I have two back to back workshops that I'm actually taking, the other with my guild with Heather Winslow, warps are on the loom and I'm ready for that, which happens three days after I return from Whidbey Island.
So back in June 2010, my guild did an exchange, called Potpourri, where everyone the previous fall put yarns in a brown bag and sealed it. Brown bags were exchanged and the idea was you had to weave something with the yarns in the bag for the person whose yarns they were. You can read the blog post about the exchange here.
Back in April of 2010, I actually began to figure out what to do with this… These were the yarns Sherrie had put in her bag and I had to weave something out of it. That's a very large cone of fine pink kid mohair. The other two cones are unmercerized cotton. ?!?!?!?!?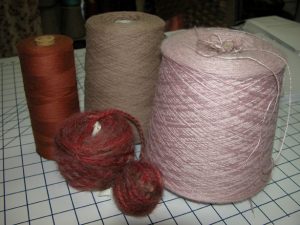 Here is the post where I figured it all out, after counting out the 100 yards of the pretty knitting yarn and knowing I wanted to highlight it. This is the actual draft I made up.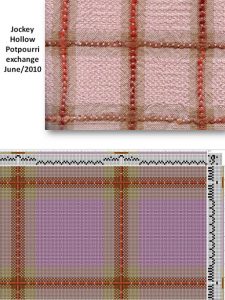 I have to say that I was pretty freaking proud of this, it was really out of my wheelhouse and I'm not a complex kind of person, but I figured out how to do what I did with what I had to work with and well, I patted myself on the back. When I presented Sherrie with the yardage at the meeting in June, she didn't seem really enthusiastic, I reread my blog post and I think her words were something like, "How Couture."
Many years later she came to a meeting with the bolt of fabric and said, she was cleaning things out, came across the yardage and really didn't know what to do with it and did I want it back! Well heck yes! I felt bad that she really didn't respond to it, maybe the color, size of the motifs, whatever, she is rather petite, but I stuck it on my shelf and it sat for another couple of years…
Until last week. Bottom line is I looked at the patterns I developed for classes, played around to see what fit on the yardage, and to my complete surprise and delight, the front couple yards and back couple yards matched exactly and I was able to do this.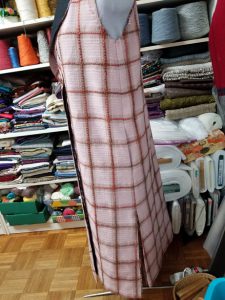 Getting weft patterning to line up is really really hard, and I can't believe how effortlessly it matched. I was not able to match the shoulders, so I added linen epaulets. The shawl collar/band would not match up, so I got the idea to cut it on the bias. The linen/rayon I had on my shelf warmed up the pink and created a nice detail and gave me the extra fabric I'd need to make this work. It is my walking vest pattern, with the armhole from my Daryl Jacket C pattern, with side seam pockets and a shawl collar.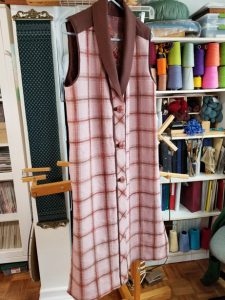 I could not find any buttons that would work, so when all else fails, cover your own.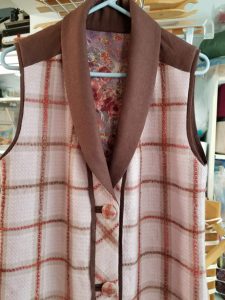 I finished it up last night and pulled another piece of handwoven cloth off the shelf, this one from a Diane Totten workshop on Crimp cloth. I have a plan, and can't wait to dive into this.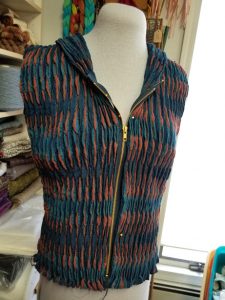 Meanwhile, I want to give my assistant something to do while I'm gone, so I went back into the archives to the binder that has all the yarn wrapped cards from the years I wrote the color forecast column for Handwoven Magazine. They should publish the whole series in an ebook, because there are some great resources and inspiration in there. But I have the actual wrapped cards that they used for photography. This one was called Down on the Farm, from the Spring/Summer 2006 forecast, published in the Sept/Oct 2005 issue of Handwoven Magazine.
Together we pulled all the yarns from my shelves that remotely went with the palette, and then from there I finalized my selections and she is busily, as I write, winding all the dyed skeins into pull balls so I can wind a warp when I get back from Seattle. I can't wait…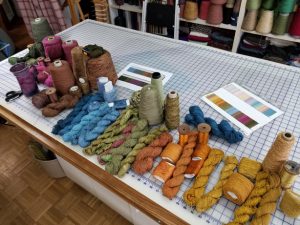 This will be a run of handwoven scarves, and my stash of scarves is empty, the last one sent as a gift to my daughter's pediatrician, now adult doctor, who every time Brianna goes to see him asks when he is going to get a handwoven scarf from me. He has been asking for 25 years. It was time… And now I have to weave some more.
I spent the weekend up at Peters Valley school of craft, where Brianna and a team of volunteers from my local weaving guild, refurbished all the looms, I replaced 12 Macomber loom aprons, with Brianna right behind me removing and replacing as I sewed them up. Everything looks fabulous, and Saturday night, we all went down to the store/gallery on campus for the opening of the show, Act 2: Art as a Career Sequel . Since Art is my career, I didn't qualify for the show, but Brianna, my lovely talented daughter who works for a vet hospital during the day, got a piece accepted, only 50 pieces were selected out of more than 600. I adore the piece, it is from her Gender series, called The Gender Game. The figures are woven in a summer/winter pattern with porn video tape. It is a pretty powerful piece.
And so, life marches on, there are some great things happening in my own little corner of the world, and I try to stay informed as is realistic, but not get too caught up in the rest of the world politics. Election time will be soon enough. Otherwise I'd be paralyzed from the helplessness of it all. Spring is slowly coming, I finally have daffodils peaking out of their little heads, and I have fish swimming happily in the cleaned up ponds. There is a pile at the curb of junk from the yard, for bulk pick up on Monday, thanks to my handyman Rick, and I'll be flying off to Seattle to study with Madelyn soon.
Stay tuned…