Looking ahead!
I'm not sure whether there has been some cosmic shift or it is all just the coming of spring (however delayed it is in NJ), but the last week has been one of more ups than downs, and I feel like I'm finally coming out of winter and looking towards the future.
First, there is the annual attempt at clearing the looms. This off -season for me had me doing everything else but that. Though I did get a major warp on my big loom, I have lots of smaller ones languishing with dusty forgotten warps that usually don't get woven off until I need the loom. With all the other stuff going on in my life, large articles for Threads, the upcoming jurying for the Reno Fashion show, a brief vacation to Cuba, creating a new silhouette with ten samples and 19 pages of illustrated directions, not to mention the effort my assistant and I have put into creating digital content up in my online shop, yeah, weaving off old warps wasn't at the top of the priority list.
So I stupidly signed up for the swatch exchange for my guild, we have a year to weave samples based on a five card design challenge draw. I got black, metallic, checks, and rep, and a card that made no sense, but referred back to black. So by the June meeting, I need a loom cleared, new fabric designed, and samples woven and mounted for the guild challenge participants. What was I thinking…
Meanwhile, the beginning of May, my guild is hosting Heather Winslow for a workshop on Millennial Fibers. I volunteered the additional loom, besides the one I'm bringing, because Heather likes an extra loom in a round robin. Which is an outstanding idea I might add. If I taught weaving in a round robin (you weave samples on all of the different looms people bring)I'd make them provide an extra.
So I have an additional two looms to make ready for those warps, which I got in the mail this week, the warps, not the looms. 🙂
We are on target…
Problem for me, is my upcoming schedule, which is pretty tense and dense. This all has to be done now, not two months from now, because well, life always gets in the way.
Last week we had a two foot snow storm which basically shut down every calendar event on my packed calendar and gave me the longest snow day I've ever had next to the 10 days without power during Hurricane Sandy.
The first loom I needed to tackle was the small floor loom. I probably mentioned it in my last blog. This loom had a workshop warp on it, left from last October from a Kathrin Weber Workshop, the handpainted warps are all hers, there were four different warps involved including the black one. First we sampled plain weave, twills, rep and then turned Taquete (summer winter). I took advantage of the lengthy snow week, and steadily wove off the fabric, in the turned taquete structure, with a tencel weft, and got an amazing fabric.
I washed it, laid it out across my cutting table, extended as far as I could with stuff propped under it to give me more surface area and laid out the cloth, and the pattern pieces, cutting doubles of each section. I cut the yokes crosswise.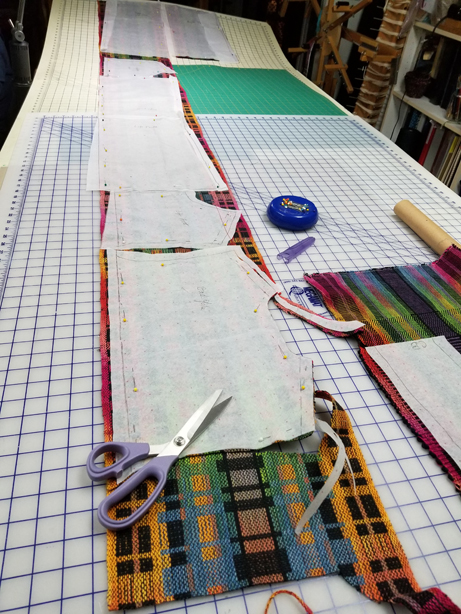 And though I didn't have enough for the collar, I split the collar in two, and used the rep sample area, with a seam up the back, and made a coordinating collar.
The vest is from my newest pattern, and this view on the pattern has the lining (black linen here) as the seam finish, meaning the vest fabric doesn't have to have any seam allowances. The directions can be downloaded here for free if you want to see how it is done. I also wrote about it in an issue of Threads Magazine last fall.
Anyway, this was just the most fun thing I could make during this long snowy wintry week.
I planned the warp for the swatch exchange, designed, yarn pulled, and now I'll have to wind that and get it on the loom.
The next loom I needed to clear had a warp that I swear was like that "song that never ends…" I took the class in fall of 2015, right after my husband was diagnosed with cancer, so I don't have a lot of recollection of the next bunch of months, but the loom seemed to go with me whenever I had to demo, whenever I had a few minutes to kill (hahahahaha) but I never felt like the end was in sight. I was determined that by the time the week was out, I'd have this bloody thing off. It was a four yard warp to start, in a round robin class, and for some reason, mostly involving time, almost no one in the class wove a sample on it, leaving most of the warp intact still on the loom.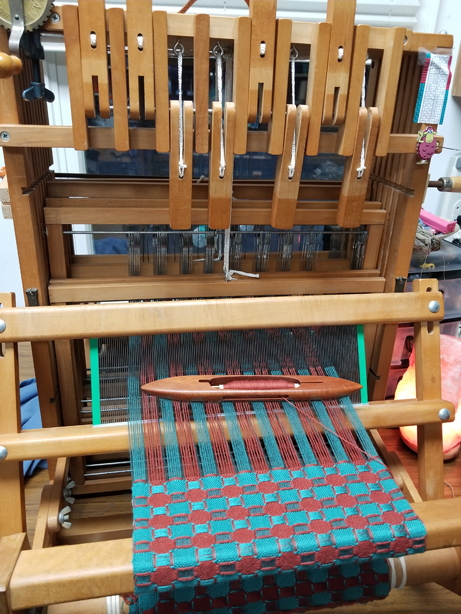 I found a gorgeous khaki colored wool on my shelf and my plan was to make one of my other vests, the one with the armhole and neck bands, and use the fabric from this loom, assuming there was enough, to make the bands and really show off this fabric. The fabric was from a workshop called bubble cloth with Karen Donde, and it involved units of teal tencel and rust colored merino, which when vigorously washed would give different shrinkage to the units. The sample from the class was actually really lovely, but I had no idea how much fabric was left on the loom and how much it would actually shrink down.
Meanwhile I tossed the wool for the body into a bucket, like I always do, in hot water to pre-shrink. And I found a really pretty subtle hand painted yard of silk charmeuse in the right shades, and tossed that in the bucket as well, I figured they were both in the same value range, it wouldn't be a problem. I right away saw some bleeding happening from the dye in the handpainted silk, (I didn't paint it, it was a remnant, I'm not sure where I bought it), and I should have pulled it from the water and gotten another bucket. But I was, I admit, lazy and thought, it won't be a problem.
It was a problem.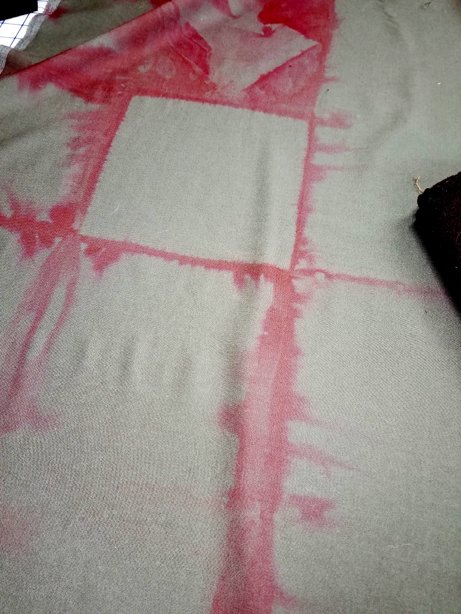 Alas, I can't use the wool. I thought about trying to use the transferred dye which absolutely would not come out no matter what I tried) in some sort of design on the back of the vest, but after looking at other options in my stash, I decided to use this gorgeous brown melton, a gift from a student, probably a better choice anyway, and I can still use the lining, though 15 washings later there is still a touch of red still coming out, and of course the lovely fulled finished length of fabric, which I screamed for joy when I saw the knots come up over the back beam. I have enough length to get the front bands, and two slightly narrower armhole bands. I can't wait to sew this one.
And as a huge nod to the future, I had a fantastic experience this morning. I, sitting in bare feet at my desk in NJ, gave a lecture to Weaving Indiana, right from the comfort of my own home. Yep, it was terrific. Just like I was there, at least it seemed to me. I heard the tail end of their business meeting, and then I was on! I could see their group and they could see me, and I gave a slide presentation, projected on their end on the wall screen, and they got to ask questions, and it was a fantastic two hours. Here are a couple of screen shots, they could see me in the upper corner and I could see them.
I was hoping this would work well, you don't need much to do this. The most important thing is internet access, I'm using WEBEX conferencing software, which I will invest in if there is interest in doing this again for a guild. There is nothing but an app to load on the guild end, I pay for the use of the software. All you need besides internet access, is a computer, with external speakers and a projector, the camera in your laptop is enough for me to see your guild, and I have a camera on my end. This guild had a really fancy tech set up, with a camera mounted up on the screen and a speaker system, which is why it took a bit to get it all synced, but tech guy Josh was there on their end, and I had my office assistant here on my end, and it worked. It really worked. I can give a lecture to any guild across the country as long as they have internet access and a laptop, projector and external speakers. Email me if you might be interested and we can talk more details. I'll eventually put up a section on my workshop listings of what lectures would be suitable for this format. Basically anything, because I use so much PowerPoint. Imagine the future where I lecture to Indiana in the morning, from NJ, get to eat lunch in my own kitchen, put up a blog post, and go and walk my dog. That future is today.
I'm heading out to walk the dog.
Stay tuned…