Snow days 2.0
I'm going to be perfectly honest here. This has been the best couple of weeks. And I learned something really important. The last three weeks have been dotted by four nor'easters as we affectionately call a weather system on the east coast, one that comes up from the south, bends around and hits us from the North East causing tidal flooding and all kinds of nastiness. One of the storms produced two feet of snow, and another produced almost a foot. I did a lot of shoveling. I was lucky I never lost power, many of my friends in the area were without power almost as long as we were during hurricane Sandy. I never lost cable or internet, or Verizon, I just sat in my lovely snug house and studio, and took advantage of all the snow days that happened when everything on my calendar was cancelled. Everything. I actually got stuff done. I went to my studio and I made stuff. And when the last storm hit, I made even more stuff.
This is a pretty big deal for me. It has been a long time since I was able to do what I do best. For many reasons, mostly not things I had control over, but in reality, this series of storms showed me I had a lot more control than I thought. I belong to a lot of groups. I have a couple music groups with occasional performances, a local art critique group, a sewing guild, a knitters group, a lace makers group, a couple of weaving guilds, I go to a yoga class, and get asked to volunteer for various things all the time. Mostly I'm out every night. It has become apparent that although I love the camaraderie and opportunity to learn and interact with my peers, and stretch my skills and be a better person, I'm failing to acknowledge what I love to do most, and that is make stuff. I've been so focused on getting the business end of my classes under control, getting content up on my eStore, getting class patterns and handouts updated, and all the paperwork that comes with running a house, and a business, and fielding contractors and tech support, taxes and technology, I've failed in the most basic way to honor that which got me where I am. And it took a bunch of nor'easters to point that out.
My calendar runneth over and not in a good way. I've already started to back away from commitments I just blindly attended because I felt like I should. And it isn't because I didn't enjoy it. I can't do everything. Really. I mean really really.
When we last left off, I had finally after two and a half years, finished off the Bubble cloth from the Karen Donde workshop. After ruining the fabric I was preshrinking for the body of the garment, a rare event for me, I selected something different and spent one of the snow evenings cutting out. Once everything was cut out, it was just a matter of figuring out how I wanted to put it together. It needed a closure and I grabbed the new Lucet I got from Weavers Guild of Greater Cincinnati a couple weeks ago, (because my daughter stole my beautiful wood one) and whipped out a cord for a closure. This is a great vest pattern for using just a scarf for a pretty border. It is one I use in my classes.
Exactly a year ago, I was felting the undercollar for a Threads Magazine article. I had the cutting table cleared off, and covered with plastic, and I had the olive oil soap and hot water and when I finished felting the undercollar, I tossed a large chiffon silk scarf I found in my mother in law's closet after she died, and put a bunch of wool fleece on top, in careful layers, trying to match up the floral design of the scarf. I felted that baby, and then looked at the finished piece and tossed it on my shelf until I could figure out what to do with it.
So the other day, during the latest storm, I pulled it off the shelf, lined up the yokes of my new collared vest I talked about in the last post, and outlined the neck and armhole areas with basting threads. I sliced down between the armholes, left the sides intact, no side seams, and then peeled away the silk chiffon from the wool, as best I could, it was pretty felted, cut away the felt, and then created this wrapped edge bundling the silk. I used an alpaca tencel mill end from WEBS to do the wrapping.
I added a zipper because I love simple warm vests that zip up the front. This little vest, fits like a glove, is super warm, and other than two small cuts down the armholes, I did not waste a single thread of the silk scarf.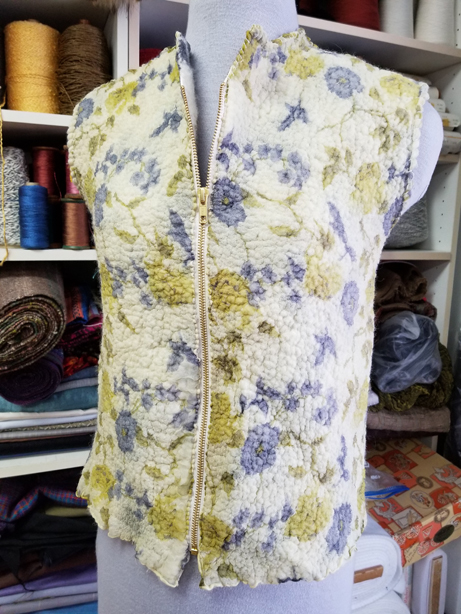 I'm sort of embarrassed about yesterday. While the rest of the world was out marching for their lives and the importance of keeping the dialogue going about sensible gun control, including many of my close friends and my sister and her family who were in DC with 800,000 other people, I was viewing art with alumni from Montclair State University at the Barnes Foundation in Philadelphia. It was an absolutely awesome day. The Barnes has been on my bucket list for a long time. Stupid I know, I live less than two hours away. If you don't know what the Barnes Foundation is, look it up. They have the largest collection of impressionist art in the world, 181 works by Renoir alone. We had a private tour, and a beautiful luncheon. A lovely lecture by the administration at the University, keeping us up to date on what's happening at the University and of course a plea for more money, but the Barnes collection just blew me away. Room after room of African antiquities, PA Dutch works, 14th century paintings and illuminations next to impressionist works and modern paintings, up to the 1950's, all on the same wall. Paintings and object d'art, were stacked to the ceiling. The name of the painter was almost invisible, a tiny little plaque at the bottom of the gilt frame of the painting, because Barnes believed that the painter, the title, the year it was painted were all irrelevant. It was only about line, color, shape and relationships between artworks. There was a symmetry to how everything was displayed, and I discovered painters I'd never heard of, seen works I've never seen before, not even in books. The Barnes collection never travels. I was safe in my world of art, while a battle raged on in the outside world, and I spent the day in an art museum, and loved every minute of it. I will say that I'm a voter, and I pay attention, and there are many ways to make a difference in the world. Knowledge is a wonderful thing. Don't let anyone tell you otherwise. And please note… this is my blog, my post. Do not get into a political discussion on gun control, I have a delete key and am not afraid to use it. My blog is a safe space where all were welcomed and accepted and encouraged to be part of the fiber world and there are plenty of other venues for that.
And while I was mindlessly eating dinner tonight, my daughter began to leaf through the new Peters Valley brochure and when she came to the fiber section, she squealed and held up the lead page and there I was, with the cutest picture I've seen of me in a long time. I was weaving, and making stuff. It is what I do best. I hadn't seen this photo before. I almost spit my wine across the page. It made me really really smile. I'll be teaching two beginning weaving classes at Peters Valley this summer. And next week I'm heading out to assess the condition of the weaving studio there after a very long hard winter in northwestern NJ. April 14-15 is clean up day prepping for the season at the valley and my daughter and I will be there most of that weekend (except for a few hours Saturday afternoon when I have to attend the bridal shower for my dearest friend's daughter, there are some things that take precedence, family is one of them.) Come if you are in the area, all of the studios need cleaning up and prepping for the summer workshop season.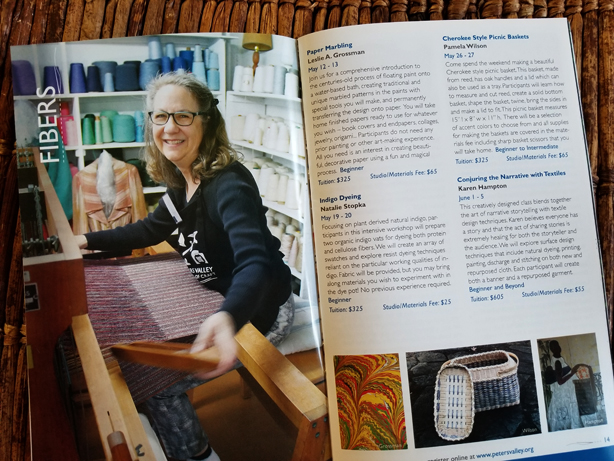 Stay tuned…