Or a snail's pace, whichever you prefer.
The odd thing about owning the amount of looms that I have, (seven Tools of the Trade looms in the Main Studio, too many to mention in storage in other areas of the house) is you get lazy.  There is no need to clear a loom when several more sit empty.  When I'm not traveling, I enjoy taking workshops through a couple of guilds I belong to, for the social end of it, because I probably know and am good friends with the instructor, and because yes, I can always learn something new.  It makes me a better teacher myself.
I have a couple of table looms I reserve for that purpose.  Sometimes the classes are round robins, which means that you are assigned a structure or threading and you warp the loom based on that draft.  Once at the class, participants rotate through all the available looms and make a small sample on each.  At the end, samples are cut off and exchanged and viola!  A wonderful notebook happens which is great for reference on a particular structure and a great reminder of a great time.
I'm embarrassed to say that I took a warp painting class with Sarah Saulson, my daughter as well, with the Frances Irwin Guild in June of 2012.  I can't believe I had to go back three years in my blog to find reference to it.  The original post is here.  We warped our looms, and then pulled the warp forward to dye with MX dyes, and let them dry overnight.  Then they had to be woven off.  The length of yardage put on the loom had to be done in two parts.  Part one was completed at the workshop.  That left another yard and a half to pull forward and dye and rebeam and weave.  Well we know how that went…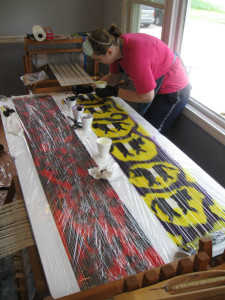 My other guild, Jockey Hollow Weavers, is having another workshop this fall, with an old weaving friend Karen Donde.  I'm thrilled that not only am I hosting her, but I'll spend some time with her in class, get to participate in another round robin, and because my daughter is home from school now, she can request off from work and take it as well.  We have our drafts and our engines are running.
Except both 8 shaft looms needed for the task are busy…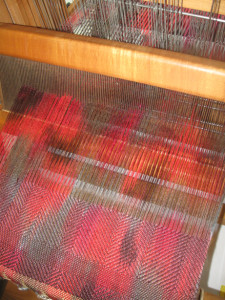 So in light of my past week of woe, I decided that weaving off a warp was good therapy and I knocked out the rest of the warp which had actually been dyed a year and a half ago when I had an apprentice and needed to teach her different aspects of what I do.  It was just weaving off a yard and a half.  Nine inches wide.  You'd think…
So the fabric is now finished and washed.  The two lengths don't really match, but they coordinate.  I didn't have the same dyes, and probably we used thickener during class so the imagery was more precise on the original one on the left.
I like them both and thought they might both make great tote bags.  Like the ones I made for the guild sale last year.  I probably won't sell them, I always need gifts for people who go out of their way in ordinary times, they may come in handy down the road…  Considering…
And now my loom is clear and I can wind another warp and dress the loom and see how long it takes to clear this warp!  The class is on differential shrinkage, and so the samples explore what happens when you mix yarns with different shrinkage potential when washed.  It was great to already have the yarns on the shelf.
Meanwhile…
I'm furiously working on samples of a new pattern I'm developing.  Mostly because I've been forced to come up with something beyond my Daryl Jacket that can be accomplished in a three day class.  Note, before anyone gets excited, this silhouette is more complex and much tougher to sew and would not be an option for anyone who has never taken a class with me.  I based it on the tunic I made last year, since tunics and overshirts are all the rage on the runway.  I reworked the sleeve and used my standard relaxed set in sleeve from the jacket pattern.  Right now I'm building the samples from old sheets to try on willing participants at my next group of classes.  The directions are written, I've only a couple more samples to make (3) before I'm ready to debut.  The goal here is to be able to allow students who have already made the jacket in another class, to still participate in a three day jacket class, giving them another option…
Off to doctors appointments with my husband…
Stay tuned…