When Astrig Tanguay Facebook messaged me last year about applying to Fiber College of Maine, I had no idea what this was, where this was, and what this was about.  The website looked like a lovely throwback to the 80's craft fair days, but full of classes, lots of color, and enthusiastic participants.  I applied to teach some basic classes and that was that.
Fast forward to this past weekend, I left Thursday morning just after dawn, popped in my Kindle and listened to Davina Porter reading the next installment of the Outlander series.  I swear I read this book before and remembered none of it. (I'm rereading book 3, Voyager).  The time flew, and after a couple of stops for gas, and a quick sandwich, I made it up to Maine from Northern Jersey in just about 8 hours.
The "College" takes place in Searsport, ME, coastal, cooler, in a secluded campground, with lots of beautiful gardens, goats, cabins, rec buildings, and a beach, though very rocky by Jersey shore standards.  I'm spoiled.  This is an annual event, full of food, vendors, classes, lectures, demonstrations, evening events, a dye tent, and a lot more stuff I was too busy to experience.
The flowers were gorgeous, and there was the funniest plant as we exited our studio the first day of class, which someone called Emerenth, but that didn't net me anything in a google search, though I did find similar photos for a species of the Amaranth plant.  I swear it was giving us the finger every time we walked by. 🙂
Friday I taught an all day class in color and inspiration.  This particular group did some amazingly beautiful yarn wraps, not all of them were weavers, but all of them use yarn except for the quilters of course.
Saturday I taught an all day class in shaft loom weaving for beginners.  I hauled 10 Structos up, and prewound their warps.  They sleyed, threaded, beamed and learned to read a draft all in one day.  They were exhausted but happy.  I work my students hard…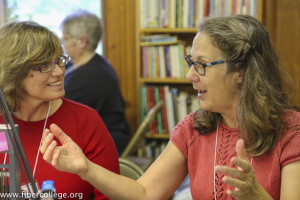 Saturday night we wandered down to the beach for a lovely and warm bonfire.  The local historical society provided chowder, biscuits and homemade pies.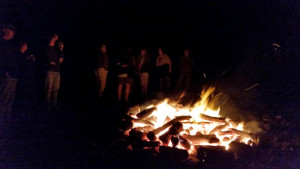 At night I was snug in my little travel trailer with my roommate, knitter extraordinaire Mary Germain, whom I knew from the teaching staff at Sievers.  She is an expert in Estonian and Latvian knitting, written a couple of monographs, and we sat together on the little couch, and chatted and knitted until late in the evenings.  The wine flowed…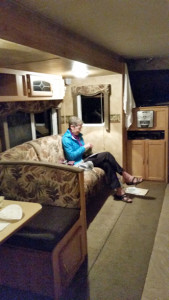 Sunday I taught an all day class in Inkle Loom Weaving, also beginner.  I swear I thought I took more photos, especially at the end when they were doing some beautiful pick up, but this is what made it home.
There was a vendor who sharpened scissors, and I happened to have a handful of some of my less than sharp Ghingers and Fiskars.  He did a great job and I was disappointed to learn he did not mail order.  Next year?
I really enjoyed myself here, there were some wonderful conversations, and some lovely gatherings of creative spirits.  I would come back, even though the drive is annoying. Davina Porter read to me all the way back home as well.
On to the next event, a five day class at Harrisville in NH.  I leave Sunday and continue listening to Davina another five hours.
Stay tuned…