One of the tough things about working alone as an artist is the lack of critical feedback on a regular basis.  That's one of the real advantages of an academic path in the arts, you are exposed to regular critiques, some encouraging, some discouraging, some helpful, some not, but learning to be open to possible new directions is part of that discussion.  It is also difficult as the one who mentors, critiques, and teaches, to find honest feedback of one's own work.
And so having said that dear readers, I am blessed with a group of followers that are talented and willing to comment in ways that have proved invaluable over the years I've been blogging, in fact, many times, work has been redirected because of something I've read in a comment.  Know I read every one, and appreciate the effort it took to write them.  It is a blogger's reward for the countless hours spent processing photos and sharing our creative lives.  Obviously since I accept no advertising, my blog is strictly a labor of love.  And a back handed way of advertising myself.  So comments are always really really appreciated.
Anyway, I've been mysteriously silent since my last post, a few of you have emailed me privately to ask, "How's it going"?  And I've told you.  It is grueling, intense, messy, and exhausting but I've come up with what I think is a meaningful compromise to my stash of leftovers, spanning thirty years, and now I'll share those decisions with all of you.  The overwhelming opinions were to just sell off the piles of scraps to quilters, dollmakers and whoever else might be interested.  Well duh…  Sometimes the obvious is just sitting there smacking you in the face and you completely overthink and miss all the signs…  So thank you dear readers for pointing out the obvious solution, even though I failed to see it.
I've spent the last half a dozen days, pulling boxes of scraps out of the attic, I've focused on only the non mohair scraps, those would be the rayon, cotton, and silk fabrics and carefully sorted, pressed (I've used four gallons of water in my steam iron), trimmed, and tossed the really small scraggly bits into a pile which was ceremoniously tossed into the garbage can at the curb Tuesday night.  It was a happy compromise.
The rest was sorted into piles of like fabrics, some of the scraps are small, 4 x 5″ and some are much larger, 36 x 12 or combinations thereof…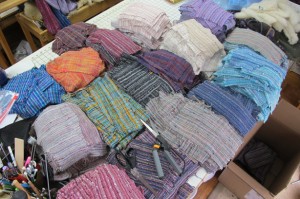 I pulled out the largest scraps to make items like tote bags, if the ones I've already made here sell at the guild sale.  The fabrics can always be cut smaller for scrap bags for next year.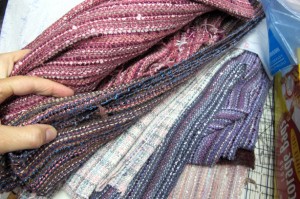 I pulled long skinny lengths to fringe on all four sides for random size scarves.  A small zig zag around the perimeter and a quarter inch of fringe works well.
I also found about 16 toiletry bags compliments of United Business First International, from my husband's many trips overseas.  They are really lovely little bags, with two interior zipper pouches, filled with essentials for an overnight flight, which I've removed and then I covered the sides with scraps of handwoven fabrics.  I actually adore these little bags and I may save one for me for my own sewing notions kit, since my beloved plastic pencil case that currently holds my notions for travel, just fell apart.
I've saved some of my favorites to make hot mats from a technique I describe in my What to do with Leftovers book, wrapping one inch strips of handwoven fabrics around a core and zig zagging into a coiled form.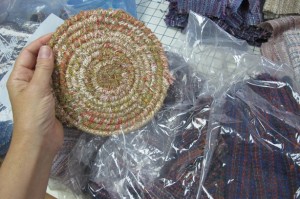 And I also found enough of this purple to cut another vest.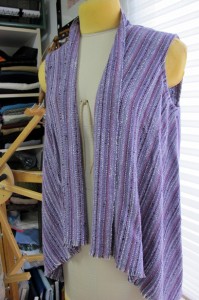 And now, my biggest dilemma is how to bag the scraps for sale.  I'm aiming for one pound bags, but trying to decide if an assortment is better than one type of fabric, and should I cut the larger scraps down to sizes that would fit in the bag and spread the wealth so to speak.  I'm open to suggestions.  My plan is to offer them at the guild sale and depending on how they sell, and what's left, then put them up on my website.  There are more scraps in the attic, though the assortment of colors is diminishing, and I haven't touched the mohairs yet, but I feel better at having made a dent, and having a plan, and making sure that the scraps I care about go to people who want to play with them.
And I'm mulling in my head the whole time, what to make with this handwoven fabric, from the yardage exhibit at Convergence Albuquerque…  There is a coat in there somewhere, just trying to decide what style I want before I start attacking this baby…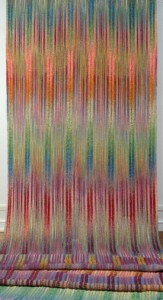 Imagine the scraps I'm going to get out of this length of yardage…
Stay tuned…