I'm heading to where it is warm tomorrow, Key West, Florida.  We are leaving the adult kids and the dog in charge, and using up some of those frequent traveler perks.  Just a short get-away, my husband and I are taking advantage of the fact that this year, we have rarely been home together at the same time, sort of a great way to have a marriage, but once in awhile, it is important to reconnect to keep that marriage alive.  🙂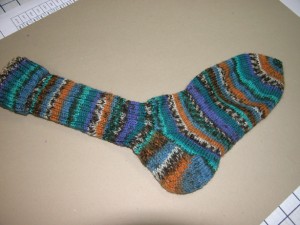 So of course, like any time I hit the road, there is all sorts of prep work to be done, leaving things in good order, making sure what needs to be done gets done, and scrambling to make sure everything functions smoothly in my absence.  I only begin to relax when I'm on the plane, and then there is nothing more that can be done and I've only to look forward and enjoy the ride.  To make sure I have plenty of knitting for the trip, I finished up the toe of the current sock du jour, so I could start its mate, and mindlessly knit the ribbing while sitting in the airport tomorrow.  This pair is Berroco Sox, fun to knit, since the yarn is variegated and self patterning.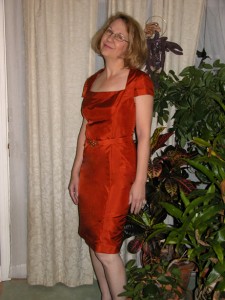 Remember that silk dress I started sewing way too many blog posts ago?  I've been slowly working through the handwork, and finally finished it up, making a little belt for it, finding the perfect buckle from my attic stash.  So now I get to pick what, from my vast stash of goodies I've acquired this year, I want to work on next.
I finished up some alterations that were on the pile, that would be alterations for a friend in town, sort of an exchange for services, which is always a great way to do business, he converted many of my VCR tapes of the kid's early years to CD/DVD's.  In exchange I hemmed a bag full of dress pants for him.  Worked for me!
Yesterday I spent the whole morning at one of my favorite places.  Silk City Fibers in Paterson NJ.  If you are a weaver, you have more than likely used their yarn at some point in your weaving tenure, if you are a weaver in NJ, you more than likely have been to their warehouse outlet.  The outlet is open to the public the second Saturday of the month, from what I remember, but I rarely take advantage of that.  I went there on a different mission.
It was hard coordinating back and forth between Silk City, who wholesales yarn to Cotton Clouds in Arizona, who retails the yarn, and who will be supplying the yarn for the project/possible kit I'm designing for my article for Handwoven (March/April 2011 issue?).  This is the article  due in a couple of weeks.  With my trip to Florida and Christmas (oh crap, that's right Christmas is this month), there wasn't the time to try to pull the yarns through the retailer and I took advantage of my long standing professional relationship with Silk City and near proximity (I live 20 minutes away) and just went over there to play.  I hit the yarn jackpot!  Mady and Alice are alway so accommodating and helpful and we were able to narrow down quickly which yarns were available and could be used for the project, and would be available in the future for designing a kit.  Sort of important part of the equation.  I LOVE what I came up with, and came home with a box full of the cones necessary to start on this adventure once I return from Florida.  I wish I could show you photos, but alas, you'll just have to wait and purchase  the magazine when it comes out. 😉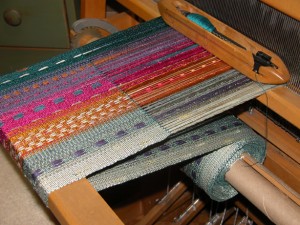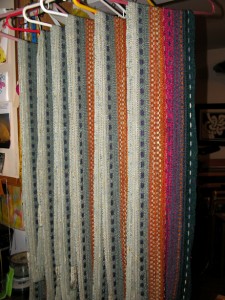 And in a strong final push, I wove off the last of the scarves on the latest run for the Santa Fe Gallery.  I LOVE this colorway, called Lush Vegetation.  I got the run off, into the washer, and hung to dry, and this morning I pressed and labeled and tagged the scarves, and one left from a previous run she sold out of, and packed them for shipping.
And now, I'm going to do something I NEVER do, after heading to the post office/bank/shipper, I'm going out for a manicure and pedicure.  After all, I expect I'll be wearing sandals this weekend, and I deserve it…