I'm like a kid in a candy shop.  I have some time now, to really dive into my studio, start accomplishing something, anything, and oddly, I'm struggling with where to turn first.  Since there are no immediately deadlines other than when I get a run of scarves finished I send them to the Santa Fe Gallery, and yes, I do have occasional local teaching venues like the Newark Museum class that runs Tuesday afternoons, but I have my days in the studio, and I just don't know what to pick up first.
So I decided to start a little of everything…
First off, for the sewers who follow this blog… the silk dress I blogged about in the last post.  I'm underlining it with another silk, the outer fabric is so lightweight.  In addition I'm applying a nylon tricot bias edge finish to all the seams to keep them from unraveling, the bias tricot has no weight, and I can use it to ease in a princess seam bustline.  But stretching the tricot as I apply it I gently ease up the bust curve.  In addition, I always sort of knew this instinctively but not really why – a recent Thread's article talked about minimizing puckering when sewing fine fabrics by using a straight stitch foot that was smooth on the bottom.  And having a straight stitch throat plate helps keep the fabric from being swallowed by the cavern from hell under the presser foot.
For the weavers out there, I'm really wanting to get some fabric on my big loom.  Everytime I walk into my studio I see a gorgeous colorful warp just lying in a heap draped over my big loom desperately calling me to warp it up.  So I sat down last night and came up with a repeat I thought would work well, using the warps I dyed last summer in a guild dye day.  I added a wheat color ground for one of the cotton lace warps, which was heavier than the other two, so I thought I'd try and do a modified supplemental with it, having it float over wefts, show it off a bit more.  The draft on the screen represents roughly one repeat, and so far, I managed to get one repeat on.  There are eleven of them.  And I found in my odd bits yarn bin, a skein of ribbon yarn that couldn't have matched the dyed warps any better if I had dyed it myself.  Trouble is I wanted that ikat/ombre look, not the variegated look, so I carefully measured each length on the warping board, lining up the color repeats in the length so it would smoothly move from one colorway to the next over the length of cloth.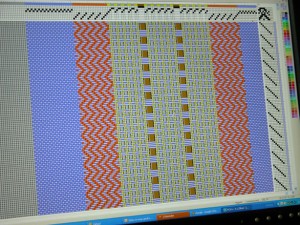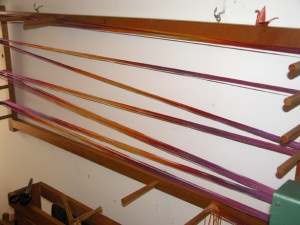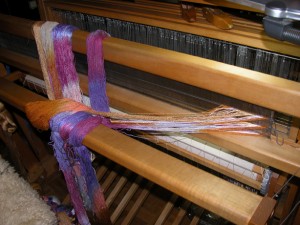 For the dyers out there…  OK, I'm a newbie dyer, sort of by the seat of my pants, and I've only dyed yarns using MX Fiber Reactive dyes and painted them on warps.  And the occasional skein.  That said, I'm undertaking this major job, killing 16 birds with one stone, if that is actually possible, and working through my cabinet of extensive jars of MX Dyes.  First off, I need small quantities of lots of different cellulose yarns, rayon, tencel, rayon novelties, etc. for the Santa Fe Gallery scarves.  Buying a pound or more of a yarn at $25. plus a pound, even with Webs discounts is unrealistic when I really only need 50 yards.  And there can be upwards of 4200 yards on that little one pound cone.  White yarn is cheap, and I have a lot of it.  I bought five pounds of tencel not too long ago, and it sits up there on the shelf waiting for some color.  Well color is my middle name.  I wrote the column on color for Handwoven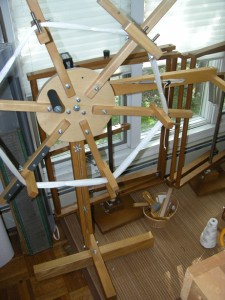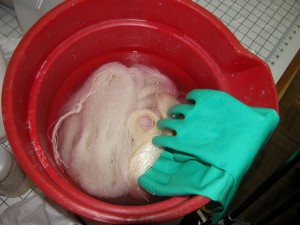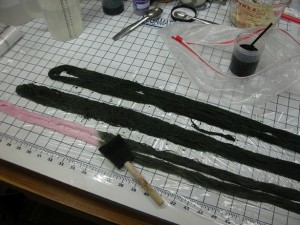 Magazine for many years.  I love color and will happily dive in putting together all kinds of combinations but the truth is, I don't have the range in my studio I need.  Hence the dye cabinet.  I mostly have the dyes, but I don't actually know what I have.  Yeah I can read the label, but that doesn't tell me actually what color Iceberg Green actually is.  Or Forget-Me-Not.  How about Old Rose?  My friend and guild mate Caroline has a wonderful ring of samples of all of her MX dyes for reference, and I covet one of those.  The only way to get one is to actually do the dyeing.
This is a hugely time consuming undertaking.  If I can knock off one color a day, that's still a huge amount of work, not so much the dyeing, but winding the skeins and preparing them for dyeing, mixing the dye, painting them, letting them cure in a warm place (for lack of a better idea I created a warm place with a heating pad) and rinsing them out, letting them dry and then balling them up, carefully labeling them with what color it is, what yarn and how much is on the little ball.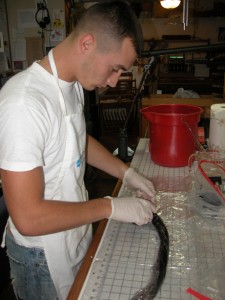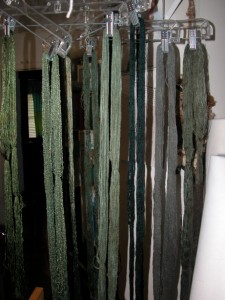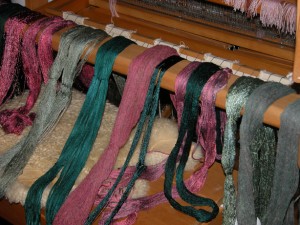 Enter the bottom feeders.  I've mentioned my son and his friends before, all military guys that live in my basement from time to time.  I love them all, and everyone should have bottom feeders running around their house to help with all those little tasks that need to be done, especially in the absence of my husband who is mostly in Saudi Arabia, though he came skidding in Saturday, with just enough time to close up the pool, replace a cracked porcelain bathroom sink, and repair the heating system since cold weather is upon us…  No pressure…  Anyway, I arm twisted one of my bottom feeders, who is out of work at the moment, to help wind skeins and paint away.  Funny, Cody asked me why we painted the skeins instead of throwing them in a pot of dye.  I wasn't really sure how to answer him, I've only ever warp painted, but truth is, the results we are getting are quite mixed.  I've never tried to warp paint with the same color.  It is coming out blotchy and inconsistent.  After three days of blotchiness, I actually went online to Pro-Chem's website and read the directions for immersion dyeing.  It requires a lot of salt.  An entire container of Morton salt for every pound of fabric.  At 67 cents a carton, this isn't such a hardship, but I had to actually go out to the grocery store.  Of course while I was there I stocked up on lots of other stuff, but I digress…
Anyway, the results today from our attempts at immersion dyeing were quite wonderful, we used Dusty Purple and got a gorgeous rich deep hue, the skeins are a bit tangled from all the stirring (I'm open to suggestions here…) but immersion dyeing is the way to go.  Course I can already see the comments from my readers, or the snickers, of course you all knew that, but I have to always find things out the hard way, or be told by a 21 year old out of work military guy in my basement that there had to be a better way…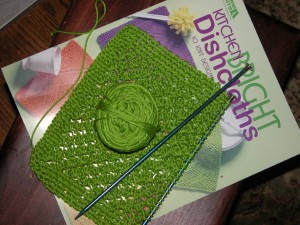 Speaking of heating systems, did I mention ours was down?  So the last couple of cool nights, I did what any self respecting fiber junkie would do, I curled up in my newly reupholstered rocker with the 8 yards of inkle woven trim and sat by the wood stove and knit a washcloth.  So for the knitters, I picked up this little leaflet on making dishcloths, when I was at Siever's in August. And I picked up some beautiful 'Classic' cotton from Tahki.  At the knitting group Thursday night, I know there were more than a few comments about why I'd knit dishcloths, actually, I love scrubbing dishes with handmade dishcloths (this from the weaver whose claim to fame is she has never wove a dishtowel, go figure), and I look at them as little studies in patterns.  This one is a trinity stitch, I did find one mistake in the mid section, but it is a dishcloth, and I'm now pretty confident in the stitch, so it has done it's job and no one will be the wiser, except my few hundred readers out there, oops…
So, I managed to jump into a lot of projects, and I'm running around like a chicken without a head.  But I'm happy to be in my studio, happy to be playing with color, happy to be getting a warp on the loom and a garment on the dress form.  My knitting needles are clicking away, and I'm settling into an easy frenetic pace, seeing where each project takes me and where I end up.
Stay tuned…