I woke up late this morning, I know I needed the sleep.  The house was quiet, my husband had already gone into the office,  my daughter was away at camp, and my 19 year old son, who lives in the basement, usually doesn't surface until noon.  So I did my usual routine,  there were a couple of book orders in my email,  I got those prepared to ship out.  I had volunteered to drive my neighbor's son to work, so I was able to ship the orders, and my article to SS&D, while I was out.
I blew through all the stuff on my to-do list for today, and then dove into my book shelves. 
I decided that I'd tackle one category of book every couple of days.  So today, I tackled the weaving books.  First I went to the shelves that were suppose to have weaving books on them, duh, and took off everything that wasn't a weaving book.  Then I searched the studio and my library shelves in the bedroom for everything that was a weaving book.  Wow.  Did I find stuff I didn't know I had! Even a booklet that had been missing for four years!  It was so cool to see everything in one place.  I've acquired so many books in the last few years, some from my late mother-in-law's stash, many from guild sales, and many from suggestions I just couldn't pass up on Amazon.  Not to mention I've been weaving since the 1970's!  So my copy of Davison is from 1971!
That left me with a pretty empty couple of shelves, and once I located all the weaving books, I carefully arranged all of them between two shelves.  I tried to organize them by subject, all the pattern books, the warping books, the general weaving books, the specific structure books, but just having them all in one location made a big difference.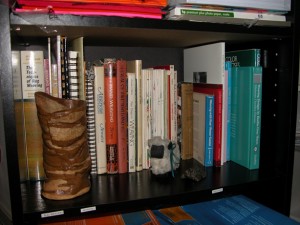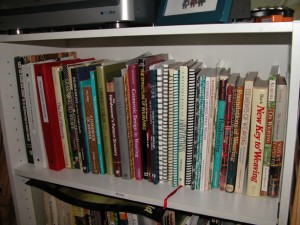 My neighbor/friend is a media specialist at an area high school and is a great resource for all things involving technology (software) I'm married to the best techie on the planet for hardware issues…
Anyway, she gave me a great resource, Library Thing, for cataloging your books online.  I just type in the ISBN number, or when all else fails the author, and so far, it has found all of the books I've entered, in a great usable format, and I'm hoping to catalog all the books I have into one place.  A huge portion of my books are out of print, so I am always surprised when they come up on a search.
My husband came home from the office late this afternoon, he usually works from home, but he had a meeting today, so in he went.  My husband started working for the telephone company, climbing poles, in 1969.  Through many company changes, and promotions, and the whole divestiture thing, he is still with the "phone company" but now he works for a communications consulting company that has global connections, and he is a software and systems analyst.  That's why he travels so much around the globe.  Anyway, next month, he celebrates 40 years in the 'telephone' industry.  Of course it is now the communications industry, but with his 40th anniversary, he gets to pick a special service award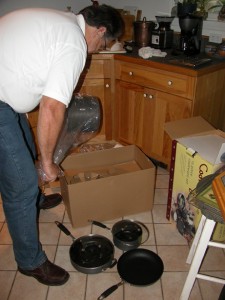 gift.  What fun!  He showed me the list of all the gifts he could choose from, a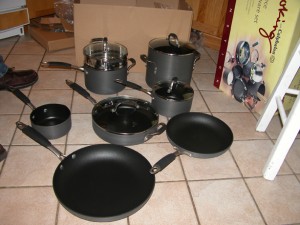 GPS, camping equipment, lots of jewelry, watches, luggage, clocks, golf clubs, more jewelry, and  cookware.  Guess what he chose!  He came home today, with a huge box, and brought me a new set of Calphalon cookware.  He chose that over a new set of golf clubs.  I adore my husband….
So I packed up my other pots, which were still in decent condition, they were only about 15 years old, and the first one of my children who has an apartment and needs cookware will get those, but new cookware prompted a cleaning out of the cookware cabinet!  🙂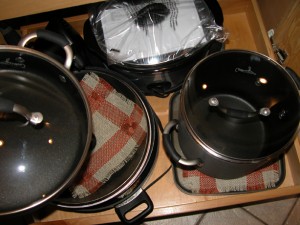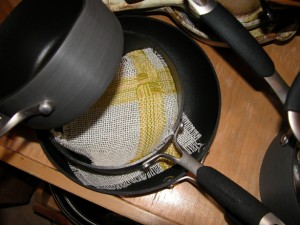 So I pulled everything out of the pull-out shelves I keep my cookware in, and reorganized them to hold all the new stuff.  Notice my new crock pot in there as well!  To protect the non stick finish on my old cookware, I used small linen napkins to separate the pots when I stack them.  I needed to wash them, but decided that my new cookware needed a more personal type of mat to separate them, so I ran up to my studio and dug through the archives.  I found a number of small "mug" mats I had handwoven in the early 1980's in linen, that I had for sale in my craft booth.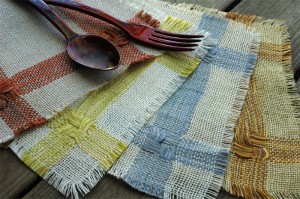 I had woven a series of table linens, runners and placemats, in four colorways, which at the time, matched the Pfaltzgraff dishes that were so popular.  I'm not sure why I made small mug mats from them, but I had a bunch in different bins in my studio and attic.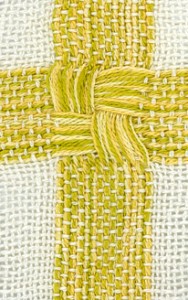 These were perfect for protecting the pots, I actually use stuff like this when I stack glass and ceramic bowls as well.
The structure was a simple 6 shaft weave, plain weave for the background, and two shafts for each of the two sections that weave over and under each other.  These thin little mats could really be made out of any fabric, they don't have to be handwoven, but they provide an important function in the kitchen, to separate anything that could get scratched.  And they look so nice.
Tonight I got a letter of acceptance for a Foto/Fiber show in San Antonio, Texas.  I had submitted three of my artworks, to an exhibit that showed fiber with an obvious use of photography.  One of the pieces, "Survivor 2" was accepted.  This is one of the series I did on Breast Cancer, a very celebratory piece, and I was thrilled to be accepted.  The show opens at Fiber Artspace, at the Blue Star Arts Complex, in San Antonio, TX on September 3, 2009.  The show only runs for a month, so if you live in that area and get to see the show, see if you can sneak a photo for me since I won't get to see the show myself.