Just a quick post before I get on a bus to circle Manhattan chaperoning a group of new High School Graduates,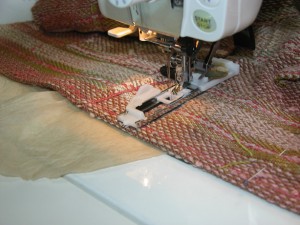 When last we left off, I still had to finish the buttonholes, I had done a test, but I still had to do the three on the jacket.  I slipped a piece of tissue paper under the fabric, the bouclé slub of the fabric kept getting hung up on the feed dogs.  The tissue paper allowed the fabric to slide easily over the feed dogs, and the buttonholes went in without a hitch.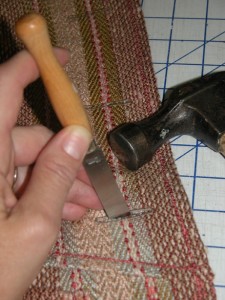 I used a buttonhole cutter which cuts the fabric between the stitching much more clean than scissors.  This would be a good time to check to see if the button fits the buttonhole, before I do all the hand work.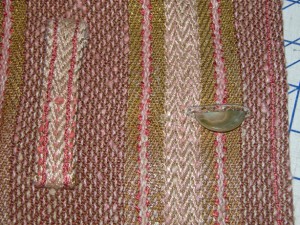 So now I finish all the handwork, and do a buttonhole stitch all around the cut edges of the buttonhole, using the yarn I wove with in the weft when I made the fabric.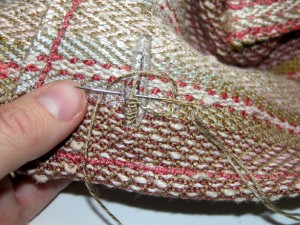 The stitch is tedious, but then again, that shouldn't bother me, for goodness sake, I hand wove the fabric that went into this jacket.  I found the process difficult though, I kept breaking tapestry needles, and the rayon yarn kept splitting.  And it is actually hot in my studio, so my hands were sweating.  I know, I have no business complaining about the heat, the sun finally came out for good today, it shown bright, which will make the cruise lovely this evening, and it got up to 80 degrees.  We still haven't put on the air conditioning yet for the season, there hasn't been any need.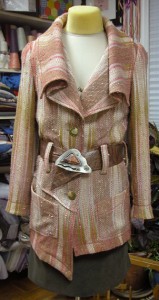 I also did a hem on an commercial skirt I had, that was pretty dated, I chopped off 13 inches, and did a preliminary shot with the skirt.  I'll do a final shoot on Sunday I hope!
I'm happy with the jacket overall.  There are a few things with the fit I would tweak if I had it to do over, and the fabric acts like linen, one false move and it wrinkles all over the place, I wanted that kind of casual look, and I got it.
It has been a productive few months, I'll really feel it when I see all the new work photographed.
Meanwhile, I have a bunch of 18 year olds to chaperone,  stay tuned…