I'm a bit bleary eyed, but no worse for the wear, and what an amazing cruise. I chaperoned a mid-night  cruise around Manhattan for the graduating students from our High School.  Fortunately the boat had two levels, the upper level was the dance floor, and the VERY LOUD MUSIC, and I could hide on the lower level.  I cruised around the perimeter deck most of the night, checking for smoking violations, of which there were many, and I was told by so many kids, in no uncertain terms, "My mom lets me smoke, I've been smoking since I was 13, and I'm over 18 and an adult and a High School Graduate, what's the problem?"  Oy………      I hated being the cigarette patrol, and some of the kids downright refused to toss the butt, I kept thinking back when I was 18, first of all, there was no such thing after graduation as a cruise around Manhattan, I had to wait until I turned 50 to do that, but more importantly it would never have occurred to me to question or refuse an adult's request, even if I didn't agree.
Well this is a lot of years later, and my own kid smokes, so I can't pass judgment here,  I did my best, tried to keep a sense of humor, and tried to keep my hands to myself, and curb my huge desire to smack them all upside the head, I've buried too many great friends who died before they reached 50, some 40, from smoking related illnesses.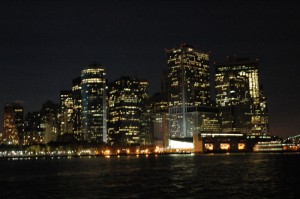 The cigarette patrol around the deck was at least gorgeous.  Truely, there is nothing like the NYC skyline, viewed from the water, late at night.  The Hudson River and East River were deserted, a real sign of the times.  And though I still get a sinking gut feeling everytime I look at the lower Manhattan skyline without it's beautiful tall towers, I still think, this is the most beautiful thing I've ever seen.  And the weather couldn't have been anymore spectacular.  For one brief day, the sun shone, and the stars came out.  It is of course raining this morning.  How original…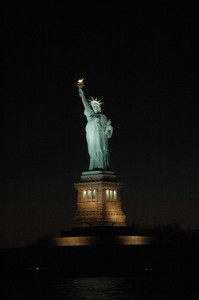 At the end of a cruise,  boats typically float by the statue of Liberty.  For those who have never done this, if you do nothing else in Manhattan, should you be
visiting, take an evening cruise around the tip, make sure they get up close to the Statue of Liberty, late at night, it will take your breath away.  The restoration is amazing, and what a gift it is to the United States, and all it symbolizes.
Off to another graduation party in the rain…