Well, I'm getting caught up on house work, and paperwork, and I'm actually making substantial progress on the Website Success seminar.  It is coming together easier than I imagined.  So most of my days are sitting in front of the computer, surfing the web for sites I like, plugging in data, using things like Webopedia as my technology dictionary.  I'm learning so much,  that's never a bad thing.
BUT…
This seminar is costing me a little fortune…
So, picture this….  I'm sitting at the computer for 8 hours straight.  An email comes in, I hop over and answer it.  Especially when I get one granting me permission to use their website home page in my presentation.  And then I get a WEBS alert…
For those of you who don't know WEBS, it is this wonder of a yarn store, near Amherst, MA, that carries tons of knitting yarns, and more importantly TONS of weaving yarns.  They give nice volume discounts, and I buy a lot of stuff from them.  Hence the "alerts".  This is a lot like an Amazon.com alert.  "Since you bought this particular book, you might want to know about…"  OK, I'm a sucker for books.  And about 30% of the time, I just have to have the book they are steering me into…
WEBS is just as bad.  The WEBS alert comes into my inbox, appearing on the lower right corner of my screen, no matter what program I'm in, and I'm really torn…  Do I open it knowing full well I'm probably going to have to get out my credit card?  Or do I just hit delete…..
OK, so I glanced at the subject line, BAD MISTAKE…  It said, "…great cone sale".  That's all I had to see, and I clicked on it.  So, $125. later, I am back to my website seminar…   It was really the rayon bouclé that did me in.  $15. for a two pound cone.  It is normally $16.95 a pound.  What else could I do?  And there was that cotton flake, in surprise colors (I love a surprise), you don't get to pick, but it was $5. for a 2 pound cone…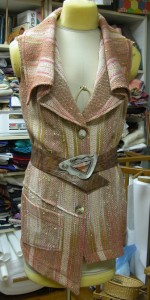 So I'll get a nice surprise package in a few days…
Meanwhile, I get about an hour in the evenings to sew, which is a nice treat at the end of a long day of staring at a computer screen.  The Sandstone Layers jacket is moving along, it is hard to see much of a change from the last post I did of this jacket, but all the couching (with a rayon bouclé yarn) is finished around the collar, the fronts, and the hem.  And I have one pocket attached.  I'm really liking how this is coming out, at first I thought it was really busy and detailed,  but that's actually appealing to me in a military sort of way, the belt is very cool, but I'll know better when the big belt loops are on.  There is a two piece sleeve as well.  Lots of details left, the second pocket, handworked buttonholes, lots of big belt loops, and of course the sleeves.
Stay tuned…