I will admit, I am exhausted. It is hard to believe, this time last night I was somewhere over Kansas…
I promised you photos of my studio, after my bout of jealousy with Joy's studio floorspace.  There really isn't any in mine.  But it is what I have to work with, and it serves me well, and it stores a lot, and if I keep it picked up, I can actually function in it.  And I've often said, though this is really just a justification for my 350 square ft oversized bedroom, "It isn't the quality or quantity of space, it is what you make in it that counts".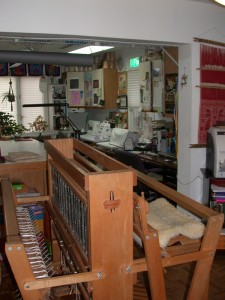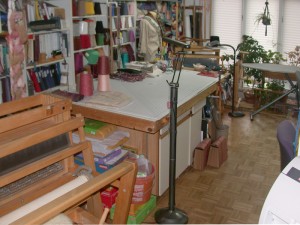 My studio is actually an old 10 x 10 bedroom where we knocked the outside wall out and extended over the downstairs den.  There are beautiful floor to ceiling windows at the far end, but I keep the shades drawn for fear of fading of all my yarns and textiles.  The loom in the foreground is my big 8 shaft 45″ Tools of the Trade Loom.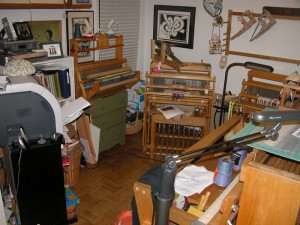 I have a great cutting table, that my husband built for me, and there are old kitchen cabinets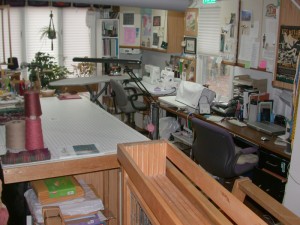 above the sewing machines and the computer desk.  I do have a lot of storage for such a little room.  The hardest part is keeping the cutting table cleared.  🙂
You'll notice I have stuff stuck all over the face of the cabinet doors.  I put up cards, notations, quotes, sketches, things that inspire me, small cartoons, and photos of classes or people I love.  It is a happy wall to look up at as I work.  Robyn had the same sort of thing in the form of a bulletin board next to her desk, and on it was a great quote, one I have to add to my own wall…
Powerful Woman's Motto:
Live your life in such a way that when your feet hit the floor in the morning, Satan shudders and says,… "Uh, Oh, she's awake!"
Well, damn, I like that.  It left me with a big smile, and isn't that what inspirational things are suppose to do?
After getting to bed last night after 1pm EST, I woke up at 7am, to throw on some grunge clothes and pack up the car, and drive an hour west, almost to the New Jersey border.  My guild, Frances Irwin Handweavers, was having it's end of the year one day workshop, free to members, and I was thrilled I made it back in time to finally get to take one of Kerr Grabowski's seminars.  First, I've known Kerr for 20 years, I met her when she first came to Peters Valley as their fiber resident.  She is amazingly talented, creative, and a wonderful teacher, and she lives in the Surface Design World.  It is odd that I've never been able to take a workshop with her, as a matter of fact, back in 2001, we both taught together at Montclair State University in their fiber department when the department found themselves without instructors for a couple of semesters.  I handled the structural fiber classes and she taught  surface design.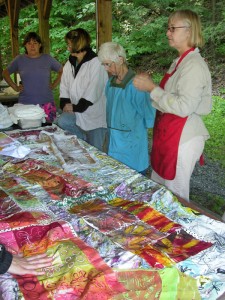 So it was with great anticipation and excitement that I finally got to spend the day with Kerr, learning deconstructed screen printing.  She has a wonderful DVD of her class, available for about $40. and you can preview it on her website.  Of course I bought the DVD…
(That's Kerr in the red apron)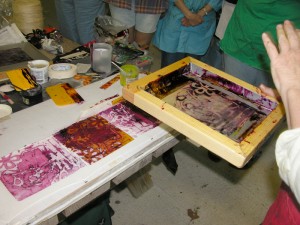 She showed us some very playful and spontaneous things, and I can't wait to build a screen surface for my cutting table, and get a couple screens.  I have everything else.  A cabinet full of dyes, all the materials for dyeing, even the fabric, which I picked up on Friday in Seattle.  My head is spinning with possibilities.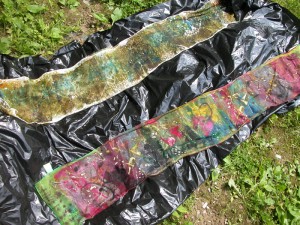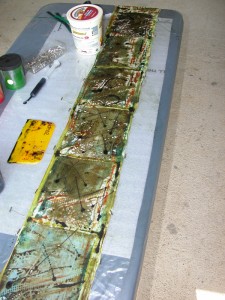 Here are a couple of my attempts at the medium, the silk chiffon scarves are still curing in a black garbage bag in my car in the heat.
I'll take a photo when they are rinsed and dry.
One final note as my excellent adventure winds down, I picked up a birthday card in one of the galleries in Bremerton, WA during our Art Walk Friday night.  It was actually a belated birthday card to me.  It featured the artwork of a local artist Amy Burnett, who was actually there to sign the cards.  In addition to the artwork, the year 1955 was written.  She has a series of cards for all different years, as a celebration to women.  Inside is a list of all the special things that happened that involved women in the year you were born.
I didn't realize that Rosa Parks, refused to move to the rear of the bus in December of 1955, the same year I was born, and I didn't realize that Rosa Parks was a seamstress.  I didn't know that Doris Humphrey founded Julliard's Dance Theatre in 1955.  I didn't know Louise Boyd at 67 years old was the first woman to fly over and around the North Pole in 1955.  I knew Annette Funicello was one of the original 24 Mouseketeers in the Mickey Mouse Club, but I didn't know it debuted in 1955.  It was one of my favorite shows.  And most importantly, I didn't know that Lenore Tawney, weaver and sculptor, exhibited nonfunctional weaving in shapes departing from the traditional two dimensional fabric form, thus introducing a new range of artistic expression, fiber art, in 1955.  I feel like I am surrounded by women who made a difference.
"Uh, oh, she's awake!…"
I don't usually do commercial announcements, but I know two of the brave souls who have worked tirelessly on the project below.  I did a brief bit of alpha testing, and the site has real potential.  Of course I'm still hoping you'll stop by my blog after getting your fill of online technology!  🙂
Today at noon, Weavolution the much anticipated new online gathering place for handweavers launched, and I have a brief press release here:
JOIN THE WEAVOLUTION
Weavolution.com, an online social network designed to meet the unique needs of handweavers, launches its beta test on June 8, 2009. Designed to bring handweavers together from around the world, Weavolution.com is a one-stop resource for every type of handweaver.
From hobby to production, from peg to dobby, Weavolution provides a place for weavers to meet, discuss and participate in moderated user groups and forums.
Members may post projects, looms, yarns, books, and accessories to share with others and solicit feedback from other members.
But you don't have to be a member or even a weaver to explore the site and learn about weaving free of charge.
Weavolution aims to become an inclusive, global community that encourages weavers by enabling them to discover and follow trends in weaving; find local, national and international resources; and find businesses catering to their needs. Weavolution members can search the site's databases to view items, group postings and research information catalogued by others.

Weavolution's goal is to provide a website for handweavers that is useful, fun and helpful, and to be a resource for shops, products and ideas from around the corner and around the world.
The project began in 2008 when three weavers from across the United States, Claudia Segal, Tien Chiu, and Alison Giachetti, met online and formed Weavolution. Working together with a host of dedicated volunteers, the team forged Weavolution.com into a website with the potential to become a community.
Come, take a look. Weavolution.com is available for anyone to explore. You don't have to sign up to see our site. But if you do, we hope you'll decide to JOIN THE WEAVOLUTION